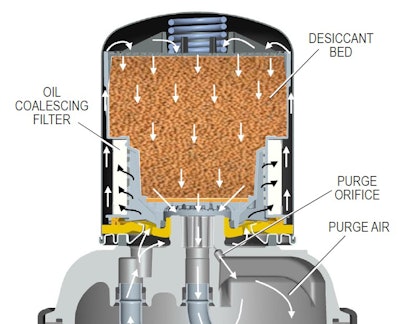 Bendix Commercial Vehicle Systems and Bendix Spicer Foundation Brake have published two educational documents to aid customers when making purchasing decisions to replace air dryers and air disc brakes in the medium- and heavy-duty truck aftermarket.
In its guidance for air dryers, Bendix CVS states for as long as there have been air braking systems, there's been a need for a supply of clean and dry compressed air to keep them operating safely and effectively. As air use expanded to include other vehicle systems and more advanced technologies, it has become even more crucial to prevent contamination. Bendix states Automated Manual Transmissions (AMTs), emissions controls and advanced safety technologies, such as full stability, all incorporate the use of compressed air. And with these higher levels of automation come solenoid valves that provide precise control, but require cleaner air than traditional manual brake valves.
Oil-coalescing cartridges, which remove and purge oil aerosols from the system's air, along with moisture, provide an extra level of protection for these components, which can be costly to replace. They achieve this through the use of two specifically engineered mediums: an oil filter and a desiccant to remove moisture – each of which Bendix says can do its own job, but not the other's. As more advanced technologies have become the norm, so have oil-coalescing air dryer filters.
Bendix says oil passed by the compressor is the enemy of the air dryer. Mixed with water, oil plugs up valves and coats the desiccant inside the dryer cartridge until eventually the cartridge can no longer remove moisture – which leads to excessive moisture in the service tanks.
When replacing a cartridge, Bendix says if a vehicle was originally equipped with an oil-coalescing filter, the replacement should be one as well. Upgrading from a standard cartridge to an oil-coalescing version is always a possibility – but never make the opposite swap.
"The replacement aftermarket is a much more confusing landscape than it was 10 years ago, even as the consequences of making an incorrect choice have gotten more expensive," says Richard Nagel, Bendix director of marketing and customer solutions – Air Charging.
Bendix writes end-users should ask a few technical questions when considering a replacement oil-coalescing filter:
Is the oil-coalescing filter placed before the desiccant?
If so, is the oil-coalescing filter placed horizontally above the desiccant?
"That question regarding oil-coalescing filter placement is especially important because today, some aftermarket suppliers have adopted the oil-filter-before-desiccant approach, but have neglected to take gravity into account," Nagel says. "If the oil-coalescing media is sitting on top of the desiccant, the oil droplets fall straight down into the desiccant bed, which means you're right back to degrading the drying efficiency."
Ask about the desiccant, too, Bendix notes. Even those desiccants considered good for some applications aren't always suitable for an air brake application where the dryer cartridge is exposed to high temperatures, water saturation, vibration, wild temperature changes, and pressure cycling, the company says. Failing desiccant can begin to clump, and at this point, it not only stops removing moisture but eventually turns into powder that can get into the air system and contaminate brake valves.
Air disc brake guidance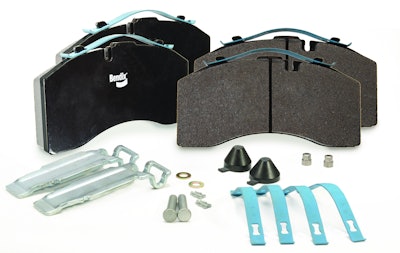 BSFB also notes the importance of vehicle owners understanding what their air disc brake (ADB) aftermarket choices mean for safety, uptime, and return on investment on their equipment.
"Air disc brakes are on more than 25 percent of all air-braked Class 6-8 tractor wheel-ends and nearly 15 percent of trailers – and we expect those numbers to increase, approaching one-third of all Class 6-8 air brake installations within the next couple years," says Keith McComsey, BSFB director of marketing and customer solutions, Wheel-End. "We feel a responsibility to make sure second and third owners of air disc-braked tractors and trailers are well-informed about aftermarket options and their long-term impacts."
BFSB says performance, quality and value are critical in selecting an ADB friction, no matter where a vehicle is in its life cycle. Proper friction selection matters on two key levels, the company adds: Maintaining safety and protecting return on investment. Aftermarket frictions that are unable to provide OE-quality stopping distances may bring a vehicle to a drum brake level of performance and/or extend performance out beyond 250 feet, which can put a vehicle out of compliance with FMVSS-121 requirements and may increase the potential for rear-end collisions and the risk for a vehicle rollaway.
Additionally, BSFB says incorrect friction decisions can not only offset the performance advantages gained by investing in air disc brakes, but it can actually wind up costing more in vehicle repairs and downtime as well. Beyond the friction itself, Bendix adds aftermarket air disc brake kits and components also vary widely with serious implications for safety and performance.
"More than ever, it's important to understand where your parts are coming from, and how your suppliers handle process and quality," McComsey says. "Air disc brakes are on more than 25 percent of all air-braked Class 6-8 tractor wheel-ends and nearly 15 percent of trailers, and we expect those numbers to increase, approaching one-third of all Class 6-8 air brake installations within the next couple years."