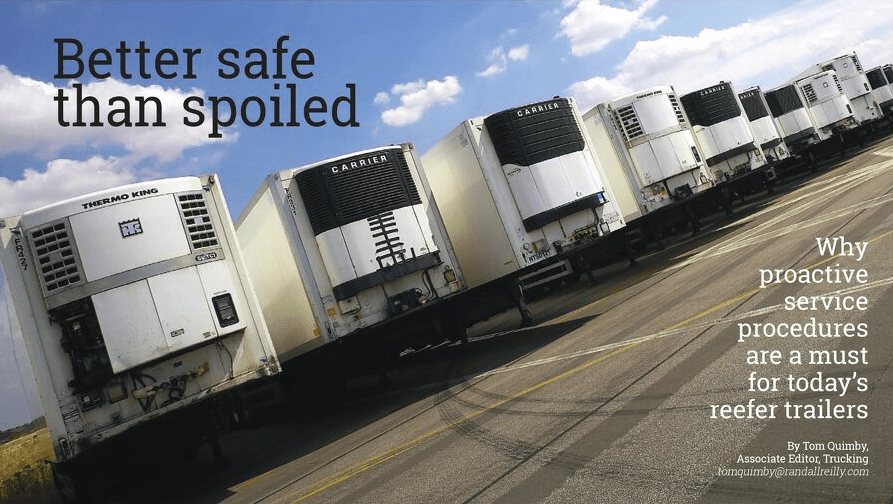 The pictures are pretty revolting: a reefer with gaping holes along its interior walls and insulation hanging out; rodent feces scattered across a trailer floor; insect larvae crawling in all directions.
These gut-wrenching scenes are all posted in a training module offered by the U.S. Food and Drug Administration (FDA) called Sanitary Transportation Carrier Training.
You can bet that none of those carriers set out to turn their reefers into nauseating headaches worthy of big fines, but there they are for the world to see. Looking back is easy. If they had only stepped up their maintenance plan or replaced that tired compressor, then they could have been spared the embarrassment and the fines.
But life gets busy and time is money, so they hit the road and take their chances. Not exactly a stellar business plan. Those that win plan ahead and take the time to correct problems before they get out of hand. There's just no getting around routine maintenance and with today's technology, it's easier than ever and doesn't leave much room for excuses.
"Today's transportation refrigeration units (TRU) are more durable and reliable than their predecessors and often use design improvements to reduce demand on unit engines," says Patrick McDonald, product manager, Carrier Transicold. "And, with many modern TRUs, preventive maintenance service intervals have been stretched out by as much as 15 percent compared to earlier models, leading to improved system efficiencies and reduced engine run-time hours when in start/stop mode. The built-in analytical and diagnostic features on many TRUs also can make it easier than ever to monitor and troubleshoot unit performance."
Before becoming Transervice national director of purchasing, Claude Ricciardi was responsible for the maintenance and operation of hundreds of reefers.
"Today's units are pretty sophisticated," Ricciardi says. "They run a series of self-checks. They communicate through telematics remotely in terms of any type of trouble. They're pretty much self-sufficient. However, it doesn't replace a good, sound preventive maintenance program, such as checking belts, hoses, return air vents, compressor or inlet-outlet pressures, keeping the coils clean on the evaporator and the condenser — all of the routine maintenance."
Ricciardi continues, "As long as we adhere to pretty much what the manufacturer recommends in terms of intervals, today's units are very, very reliable."
Training, pre-trips and telematics
While the FDA's free training module is a good place to start, it's vital to take a deep dive into manufacturers' recommendations.
Thermo King offers maintenance training on its reefers to customers at its corporate location and throughout its independent dealer network. Maintenance schedules and procedures are also available through dealers or online.
"It's like the owner's manual in your car. There's a checklist in it that says, 'I need to change my oil at this point. I need to check that at this point,'" says Thermo King Customer Solutions Manager Bob Roberts. "Following that diligently really sets your equipment up for success."
A solid maintenance plan in combination with a diligent pre-trip inspection process is hard to beat. This is especially true where the driver and the reefer work in tandem to ensure all systems are road-worthy.
"One of the handiest maintenance practices for operators is the pre-trip inspection routine, which should be run before the trailer is loaded," says Patrick McDonald, product manager, Carrier Transicold. "The pre-trip doesn't replace the need for scheduled service and preventive maintenance."
Carrier Transicold's pre-trip inspection includes a series of automated tests to let drivers know of possible problems.
"In less than 15 minutes, a Carrier Transicold unit pre-trip routine will conduct up to 17 tests covering hundreds of potential alarm conditions," McDonald says. "The pre-trip function tests electrical system continuity, engine high and low speeds, fan motor operation and refrigeration system valve operation, to name a few. The display module will indicate pass/fail results for all tests and any alarm conditions.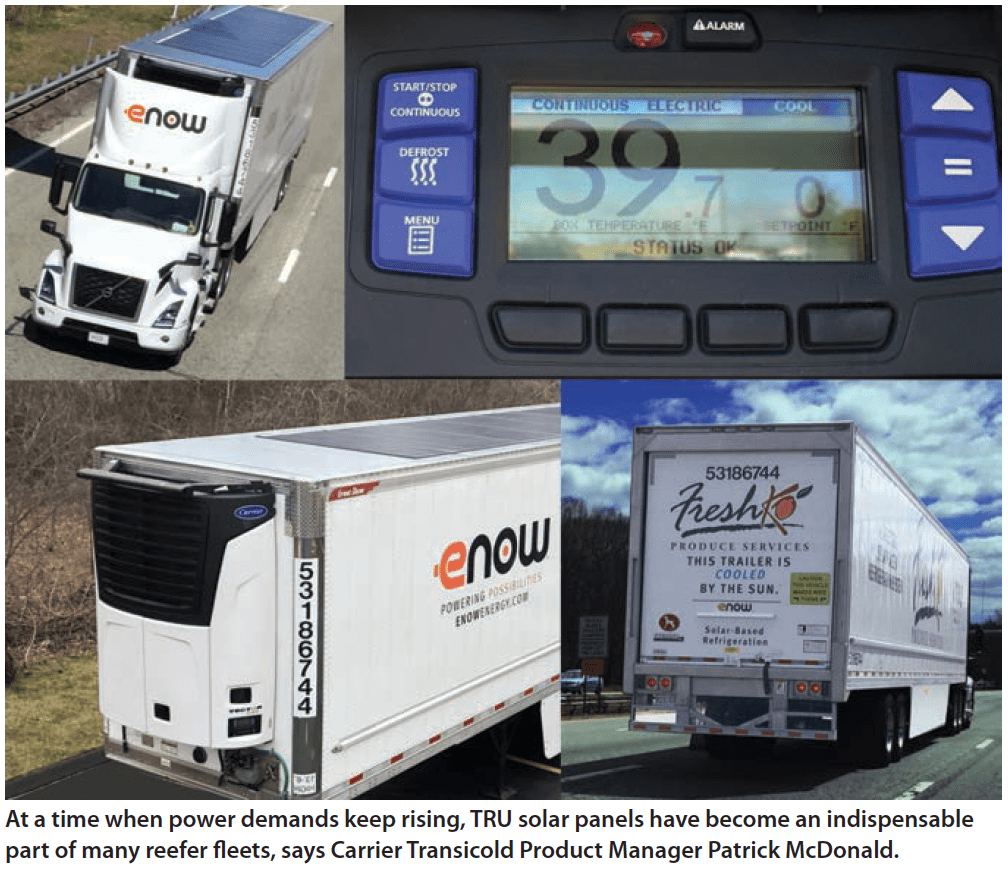 "Beyond that, adhering to the manufacturer's recommended schedule of preventive maintenance will help to ensure the diesel engine and refrigeration system mechanical components are all running true, and that fluid and filter changes are performed at appropriate intervals," he says.
Drivers' and service facilities' responsibilities during pre-trip inspections will vary depending on the operation. Ricciardi says typically a driver will hook up to a reefer trailer that's already running. At that point, it's critical to ensure the temperature set point is correct to preserve the product.
"Basically, the temperature set and the unit's ability to reach the temperature is predicated on a couple of things: primarily the condition of the load, and also make sure there are no obstructions in the air return within the trailer otherwise the reefer unit will short cycle and not cool," Ricciardi says.
Pieces of shrink wrap and other objects prone to getting airborne can easily find their way into the return, which will make the reefer work even harder to try to reach that critical set-point.
Ensuring a satisfactory fuel level prior to hitting the road is especially important for a reefer since the system's auxiliary power unit (APU) is powered by a small diesel engine. Run out of fuel and a load could be lost, which explains why some shippers won't even load a reefer unless its tank is showing three-fourths full, says New York-based Milea Truck Sales & Leasing.
Additionally, if a driver doesn't catch an issue during pre-check it's certainly possible the carrier signing his paycheck will. Telematics has opened the door to remotely monitoring critical aspects of a reefer.
"They're able to remotely monitor this equipment as it's going across the country throughout all its routes and be able to monitor things like any type of diagnostic codes, temperature inside the box, ambient temperature, refrigerant temperatures and pressures, engine parameters — how that unit is operating," Roberts says.
Plenty of options are available.
"There are some great apps and software that our lease customers elect to install on their reefer units," says Bob Douglas, vice president of field maintenance northeast region, Penske Truck Leasing. "These apps can push notifications to smartphones when temperatures are too high or too low. There are also other technology providers that offer more sophisticated programs that can integrate reefer monitoring into other parts of their operations. Transport refrigeration manufacturers also have apps that can be downloaded for their respective products."
Roberts says all new Thermo King trailer equipment comes standard with telematics hardware. It's just up to the customer to enable the feature for a telematics platform, he says.
Spec it right the first time
Reducing maintenance demands and prolonging the life of a reefer often comes at the start when spec'ing a reefer. Certain products require certain temperatures. If a reefer's insulation is lacking in R-value and it's traveling through a region with hotter ambient air temperatures, that APU is going to have to work harder to reach set temperature. Other factors also come into play.
"The biggest challenge is understanding each customer's needs and operations," Douglas says. "Proper spec'ing is where it all starts. You have to be aware of the required temperature, single or multi-temp, the fleet's number of daily stops, how many door openings per stop and time between stops for recovery. These are all required to spec proper unit size and proper insulation."
Stoughton Trailers is aiming to reduce an APU's cycle time by offering greater R-value through its PureBlue refrigerated trailer. Composite walls not only offer improved insulation, they also are devoid of rivets, which eliminates potential leaks during washouts.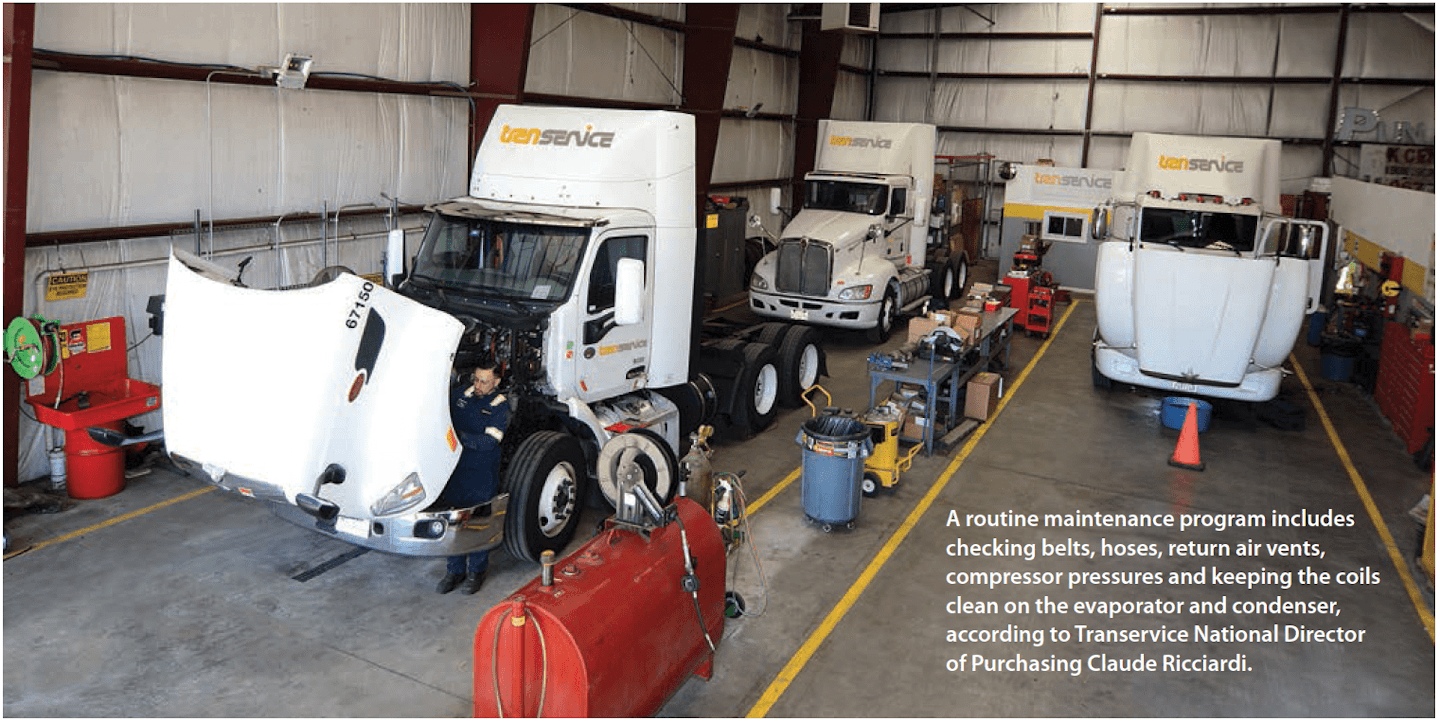 "We focus on thermal efficiency and weight," says Ted LeRoy, Stoughton's sales director and product brand manager. "We have a large amount of composite that we use in the reefer itself. There's zero wood in the trailer. No wood rot issues. We have long-life integrity. Also, when using composite, it gives us two-fold advantage: it's lightweight and it's thermally efficient because it doesn't conduct heat."
Insulated Transport Products' new Zephyr Return Air Bulkhead is de-signed to offer improved maintenance and greater cooling efficiency. Maintenance and cleaning gets easier thanks to a molded, built-in debris screen and quick release hardware.
"We've picked up a lot of market share with Zephyr and it's still grow-ing," says Royce Williams, regional account manager, Insulated Transport Products. "The reefer unit doesn't have to work near as hard to add return air back to the unit because the return air is close to the floor. It's got quick-release hardware included, which provides easy access to the evaporator and back install of the unit. You can put it on and take if off easily because of the quick-release hardware options. It also has removable, replaceable pallet stops, which is huge."
Also, be on the lookout for Insulated Transport Products' new Safe T Clear Curtain. For those tired of dealing with strip curtains, the Safe T Clear Curtain offers an easier to use and clean alternative.
"As you go through, it's like a café door: it swings inside and outside the trailer and closes back behind you. There's nothing out there like it," Williams says.
Increased demands on a truck's power system through telematics and other electronics means paying more attention to alternator spec'ing. However, getting a larger alternator to accommodate larger demands is only the first step. Purkeys Sales Manager Larry Rambeaux says changing out a 100-amp alternator for a 300-amp model is not enough.
"The cables on that truck were only built to handle a 100-amp alternator so if you don't fix the cable you're still not operating correctly," Rambeaux says.
Correct cable size and type also applies to grounds.
"If you don't do solid copper the entire length of that truck and the right size cables, you're never going to get the right current and the right voltage between all those different points," he says. "You can have the best battery in the world, the best starter in the world, the best liftgate in the world, whatever. If you don't have enough cable to connect it, it's not going to work right."
Loading, batteries and compressor life
A reefer's load can impact cycle times which can push an APU to work harder to keep things cool. "Proper loading is a big challenge, because you need good air flow around the product," says Douglas.
Another issue affecting cycling is temperature of the product prior to loading in a trailer.
"One of the key factors in safeguard-ing the perishable load is that it is put into the trailer at the desired temperature," says Ricciardi. "If you're doing a perishable at 32 degrees then typically the warehouses are temperature controlled. The load was stored in 32 degrees. The unit is set at 32 degrees and maintains it there.
"If you put a hot load in there, it might eventually bring the load to temperature but more than likely it will never happen," he continues. "It's just too much. There's too much heat emanating from the load for the reefer to be able to handle it."
Batteries can be an expensive maintenance item on reefers since they can sit idle for long periods of time. Solar chargers can change that.
"In a few short years, TRU solar panels have become an indispensable part of many refrigerated fleets," McDonald says. "Typically installed on the roofs of trailers, truck bodies and refrigerated rail cars, the TRU solar panel's primary function is to maintain the charge of the TRU's battery. This is especially important when the asset goes unused for brief periods because the TRU's battery is frequently being tapped to power accessory electrical devices, such as telematics systems, fuel-level sensors, interior lighting and other accessories.
"If the TRU has not been operated for some time and these accessories continue to draw power while the unit is off, the battery might not have enough charge to start the engine, which could result in a costly service callout," McDonald says. "Solar panels can also help conserve fuel by minimizing the need to run the TRU's engine to charge the battery, ultimately adding to the efficiency of the system."
In addition to solar, Purkeys also offers its new SteadyCharge system that is designed to extend battery life on reefers and heated trailers by up to 500 percent. Regardless of the power project, Rambeaux cautions fleets to not go it alone.
"We see people coming up with solutions on their own and they don't understand the big picture and they wind up shooting themselves in the foot," he says. "We look at years of data that we have from fleets, whether it's a food service, or an LTL, or over the road, we've got stacks and stacks of data recorders and information we've gathered from our experience and understanding of what that fleet is trying to do so we can make an entire system to cover their needs."
Maximizing battery life also means keeping batteries properly mounted in place so they're less vulnerable to jar-ring and vibration.
"Vibration is the biggest killer of batteries. When battery manufacturers come out with new updates, one of the biggest things they're always trying to do is to figure out how to secure those plates better," Rambeaux says. "Whether it's just vibration going down the road or severe jouncing because there's no hold-downs, you're knocking plate material loose, you're breaking electrical connections inside that battery — just all kinds of things that will greatly reduce the life of a battery."
In addition to meeting power demands, vehicle owners and their service partners also need to keep a close eye on compressor health. An excessive number of running hours or compressor freeze-up could be indicators of a failing compressor.
"A super heat test will actually test the efficiency of the compressor and, assuming the gas in it is good and the pressure differential is acceptable, then we need to start looking at a couple of other things," Ricciardi says.
An overhaul may be in order given accumulated hours of use. Better to address it now before it gives up during transit while carrying a load of perishables.
"All units have a life cycle and typically at the 16,000- to 18,000-hour level of operation the unit should be considered for a major overhaul including a replacement for the compressor because you'll lose efficiency at that stage of the game," Ricciardi says.