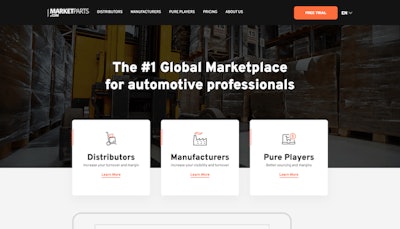 Marketparts.com took the next step in expanding the sale on aftermarket parts online recently in launching the world's first digital business-to-business (B2B) marketplace for automotive parts manufacturers, suppliers and distributors.
Though originally launched at Equip Auto Paris in October with an automotive focus, Marketparts.com says it intends to expand its reach into the medium- and heavy-duty commercial trucking industries as it grows.
Today, the website creates a unique opportunity for distributors of all sizes, wherever they are in the world, to directly access the products of global parts manufacturers at the best price, availability and service conditions.
"This is bringing something genuinely new and exciting to the aftermarket," says Christophe Riberolle, founder. "It is a huge opportunity for manufacturers and distributors in a marketplace valued at 700 billion euros annually."
He adds, "Marketparts.com is 100 percent designed for all players involved in automotive spare parts distribution worldwide. The approach is unique, open and innovative, and we believe it will quickly become a standard."
The website is said to offer both a global sourcing platform for all types of distributors, including warehouse distributors, retailers and pure digital players and a  sales and destocking platform for distributors and parts manufacturers.
The website's model is based on subscription fees paid by the buyers and sellers to access the global platform.