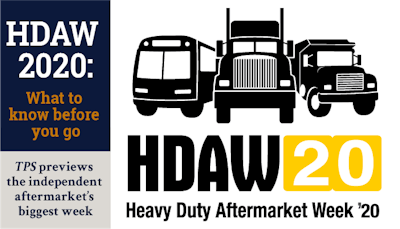 After a decade in the desert getting tuned up, detailed and running smooth, the Cadillac event of the independent heavy-duty aftermarket is hitting the road.
For the first time since 2009, Heavy Duty Aftermarket Week (HDAW) will be held somewhere other than The Mirage in Las Vegas when it kicks off Monday, Jan. 27, 2020, at the Gaylord Texan in Grapevine, Texas.
Event co-organizers Sean Ryan of Point Spring & Driveshaft and Tim Bauer of Eaton say they are excited about the move. While Las Vegas may have become a second home to the aftermarket over the years, it has been clear for some time that for HDAW to continue to grow and evolve to best serve the expanding truck parts industry, it would need to eventually leave The Mirage for greener pastures (and larger exhibit halls) elsewhere.
HDAW belongs to the entirety of the aftermarket and, as such, the entire industry deserves the opportunity to experience the event together under one roof and in a venue best suited to handle it.
With the Gaylord Texan, Ryan and Bauer say the aftermarket has found a perfect new home.
"It's been pretty apparent we've been busting at the seams for several years in Las Vegas and that's not going to be a problem at the Gaylord," says Ryan, HDAW's distributor co-chair and Point Spring & Driveshaft's president and treasurer.
"I understand with a new venue there can be a lot of nervousness but I don't think there needs to be … having seen the [Gaylord Texan] in action before, I think it's going to be great for HDAW," he says.
Bauer echoes the same optimism, noting the Gaylord Texan's much larger exhibit hall space, in particular, as one feature of the new location that shouldn't be overlooked. The cramped exhibit space at The Mirage — which had fractured HDAW's trade show into multiple ballrooms the last few years — has been replaced with a 180,000 sq.-ft. expo hall that can manage all of HDAW 2019's exhibitors and still provide plenty of room to grow.
"Yes, gone is the familiarity of Vegas, but one thing that isn't gone is the unwavering commitment of the HDAW Joint Operating Committee to put on a show that is second to none," says Bauer, Eaton's vice president, Aftermarket, Vehicle Group, N.A., and supplier co-chair. "All the things that people love about HDAW will still be there."
The co-chairs also believe HDAW 2020's theme "Command the Road Ahead" speaks to the future of the event and the industry at large.
"The venue isn't the only thing changing in our industry," says Bauer. "We are seeing a lot of changes with vehicle electrification, automated transmissions, e-commerce … and we've built a lot of the [upcoming] event around those changes."
Adds Ryan, "Change is inevitable and we believe you can embrace it and get better because of it."
HDAW 2020's workshop schedule was developed with attitude in mind. Focusing on customers, products and technology, Ryan says each workshop will offer distributor attendees useful information on changes coming to the aftermarket and offer takeaways enabling attendees to return home and "take control of their future."
HDAW 2020 also managed to nab one of its strongest keynote speakers in recent history with "Shark Tank" star and FUBU Founder Daymond John. Known for his business acumen and entrepreneurial expertise, HDAW's co-chairs are eager to hear John speak and believe his message will resonate throughout the week.
"Even before we had locked him in [as keynote], we were thinking about how great it would be for us to be able to bring him in," Ryan says. "I think his entrepreneurial spirit will speak to the majority of the audience."
Bauer agrees, adding, "We're thrilled to have someone of his stature who is well known across many industries. He can share his knowledge about branding, running a business and dealing with market changes in a way that can set the stage for the whole week."
This is the first of eight Trucks, Parts, Service articles previewing Heavy Duty Aftermarket Week (HDAW) 2020. The second article in the series will address the other aftermarket events scheduled in conjunction with HDAW and will be posted next Tuesday.