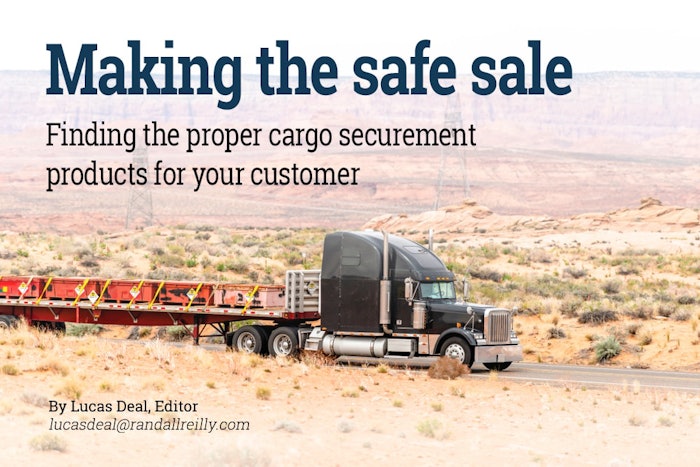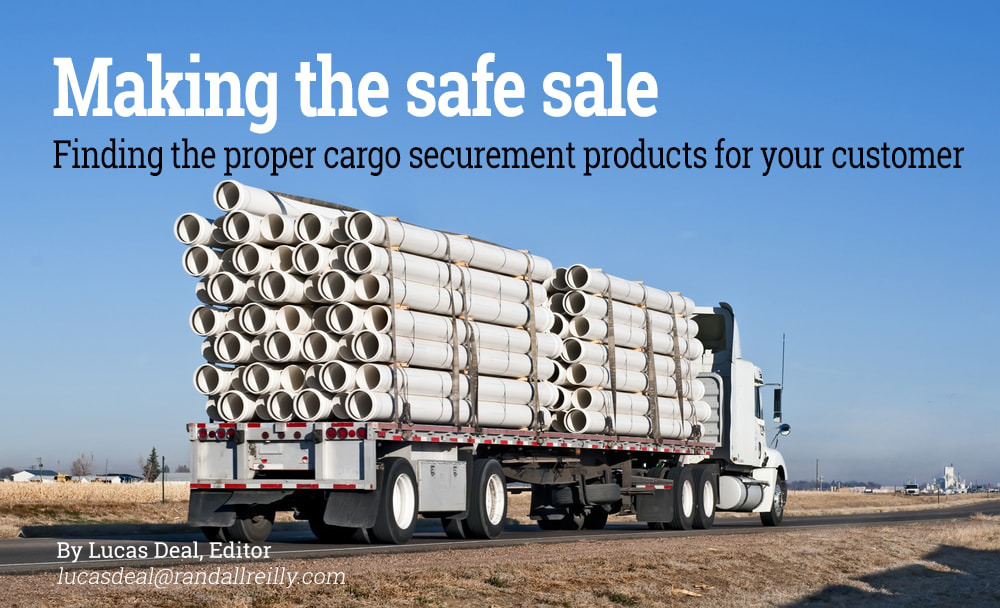 For many truckers active on roadways today, cargo securement is as simple as closing and locking a trailer door. Most trailers found in the North American trucking population are of the dry van or reefer variety, and in 2017 more than 75 percent of new trailers ordered fell into those two popular groups.
Internal trailer securement is still required for these loads of course, but the enclosed environment does eliminate the largest risk in cargo management — product falling off a trailer and into the path of other drivers. Yet even with so many boxes on wheels rolling down North American highways, there are still a large number of trailers in use that do not fall into those two categories. In the case of nearly all of these other units, cargo control and securement is one of the most important responsibilities a truck driver has.
"Loads shifting or falling during transportation could cause heavy traffic detours and serious injuries," says Daniel Liang, vice president, Tie4Safe.
And while any incident in which cargo is lost or damaged is costly, never is it more embarrassing or shameful for a driver than when a load simply falls off a trailer because it wasn't properly secured.
In the parts industry, being a successful distributor of cargo control equipment requires an understanding of the multitude of securement products that exist in the market, trailer configurations and loads for which each were designed and the needs and expectations of a customer.
Ralph Abato, president and managing director, Doleco USA, says the Federal Motor Carrier Safety Administration (FMCSA) has a number of rules governing cargo securement for over-the-road trailers.
"General rules dictate number of tiedowns, straps or chains, based on weight of cargo. There are rules based on length of the cargo, or cargo securement prohibition [such as] not using webbing tiedowns on sharp steel loads," he says. "There are also 11 commodity-specific rules that are more specific based on the commodity, like logs or concrete pipe."
Understand your customer's needs to ensure a proper sale
Ancra Cargo Executive Vice President of Sales and Marketing Jim Calico says ratchet and winch straps are the most common cargo control products used on today's flatbed trailers. Commonly used to tie down building materials, pipes, lumber and other heavy loads, Calico says these components "are available with a rating capable of handling most applications and are less likely to cause damage to a load than chain when properly used. They are lighter and easier to handle and store when not in use."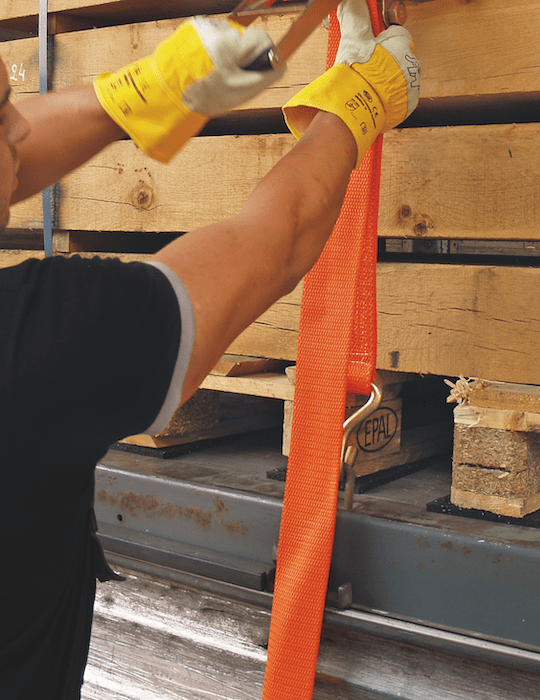 Adds Abato, "Ratchet and winch straps are typically used to provide indirect securement. That is, they provide downward pressure on the load to increase friction against the deck of the trailer to keep cargo in place. These are most popular with regular, even shaped cargo like lumber."
Chains are another common securement product, one Abato says is typically used to secure steel and other sharp or abrasive loads that may cut or wear through textile straps. Chains also are commonly used with heavy machinery and loads that are not fragile and will not be damaged by the weight of a chain, adds Liang.
Conversely, one product cargo suppliers say should not be used to secure loads are tarp straps or bungee cords.
"Tarp ties are meant to secure protective tarps over a properly secured load," says Calico. "Tarp ties are never to be used as a load securement strap."
Abato agrees, noting tarp straps "are not a rated load securement device."
Additionally, penalties loom for drivers and fleets alike that fail to select proper securement equipment for a load.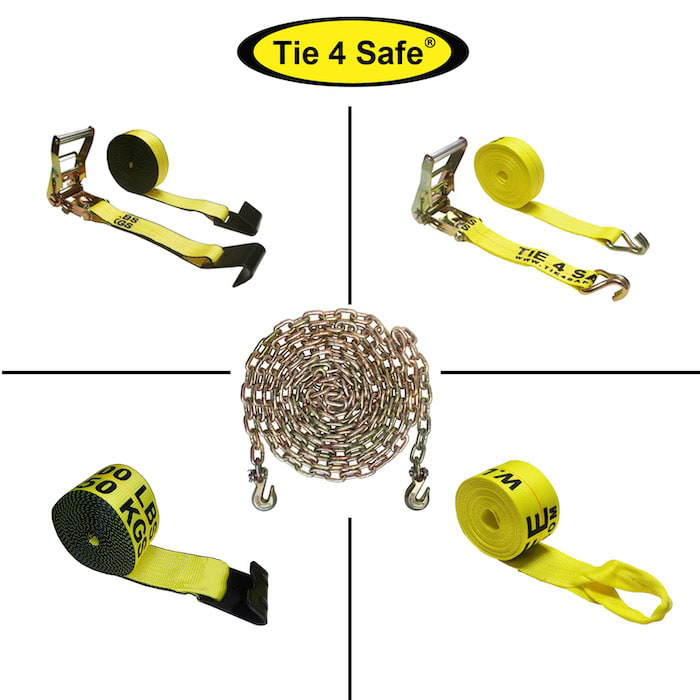 "It is very important to use marked securement devices to ensure you are using the correct cargo securement devices for the load to prevent you from not passing an inspection from the Highway Patrol or enforcement officers," says Liang.
Educate your customer on how to use their securement products
While most truckers know enough about tying down cargo to avoid spilling a delivery across an interstate highway, the FCMSA's CSA program deducts points from drivers and carriers for every cargo securement mistake they make, regardless of whether their shipment ever hits the pavement.
"Loads need to be secured against movement in all four directions," says Abato. "Often times, loads can shift and settle causing loose tiedowns. If indirect tiedowns are used and become loose, then the loads can slide fore and aft harming the driver or falling off the vehicle."
Short, insufficient tiedowns and improperly positioned tiedowns are just two of more than three dozen CSA cargo securement violations that result in a seven-point penalty for drivers — one point more than a defective, inoperable taillight and three points more than faulty braking system.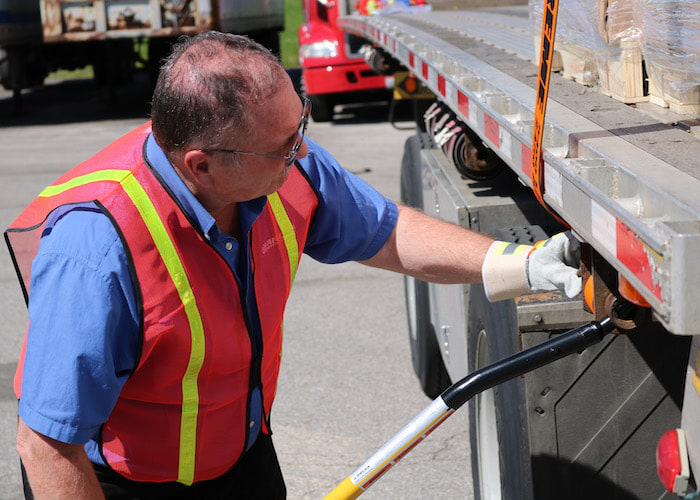 "The biggest risk is loss of life, serious injury and damage that can range from minor to catastrophic," says Calico. "Improperly secured cargo creates a serious risk to the driver and the general public. Remember, a trailer loaded to its maximum weight capacity can have more than 40,000 lb. of cargo."
"Improper load securement puts lives in danger," adds Abato. "It might be using a worn, cut strap or a damaged link chain, but in normal transit or emergency braking, any questionable load securement devices can fail and lead to catastrophic load release, injuries and death."
Such serious risk is why most cargo securement suppliers recommend drivers check their equipment not weekly or even daily, but every time they hit the road. Even properly-secured cargo can loosen under hours of high-speed, high-stress transit.
Suppliers note drivers should carry replacement components as well, and say it is imperative that distributors communicate that necessity to their end user customers. A driver should never face a situation where he attempts to continue a delivery with improperly secured cargo or be sidelined because a single product was damaged and a replacement component wasn't onboard.
"The monetary savings of using old, worn and cut straps is quickly erased by the consequences," Abato says.