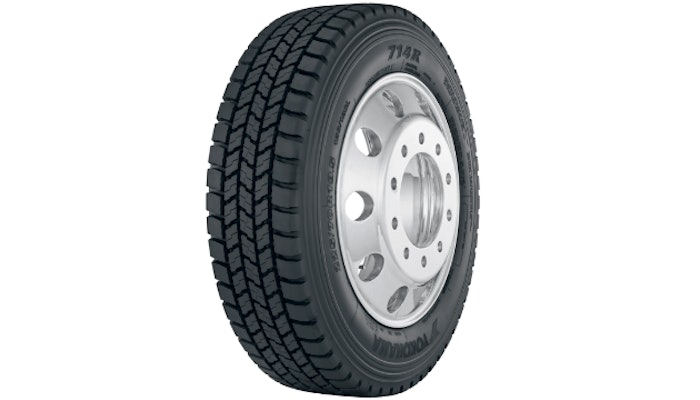 Yokohama Tire's new 714R is engineered for urban pick-up/delivery applications. The open shoulder drive tire is now available in sizes 225/70R19.5 (14) and 245/70R19.5 (16).
"The 714R was engineered to deliver all-weather traction, significantly longer wear and outstanding fuel efficiency," says Tom Clauer, Yokohama senior manager, commercial and OTR product planning. "Each are important characteristics our regional pickup and delivery customers need."
Yokohama says benefits of the 714R include:
Open shoulder grooves provide excellent traction in wet or snow conditions.
A newly designed wide tread pattern controls the ground contact pressure to deliver long, original tread life. Plus, tie-bar connectors control block movement to minimize heel/toe wear.
Funnel-shaped step grooves prevent stones and other debris from reaching the bottom of the groove where casing damage can occur.
Yokohama's advanced compound provides significantly lower rolling resistance for improved fuel efficiency.