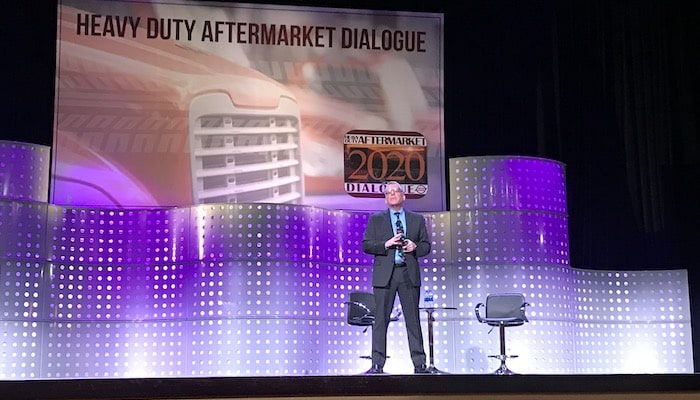 The Heavy Duty Manufacturers Association (HDMA) and MacKay & Company have announced panelists for a session titled "Parts and Service: The Fleet Perspective" for Heavy Duty Aftermarket Dialogue, which will be held on Jan. 25, 2021.
Being held virtually for the first time, event organizers say next year's HD Aftermarket Dialogue will still include the same high-quality, engaging and informative content that has made the program such a popular predecessor to Heavy Duty Aftermarket Week (HDAW) over the last decade.
Organizers say "Parts and Service: The Fleet Perspective" brings a diverse group of fleet executives together to discuss changes in the aftermarket and lasting lessons from the pandemic. Three industry executives will give their perspectives on the impact of the COVID-19 pandemic on trade cycles, parts purchasing, maintenance practices, inventory practices, and supplier expectations.
Additionally, HDMA and MacKay & Company note the panel will share successful practices inside their businesses, including technology advances, component specifications, and service issues.
Panelists include Gerry Mead, executive vice president, maintenance and equipment, Hub Group; Mari Roberts, senior director, transportation, Frito-Lay; and Amanda Schuier, senior vice president, Quality Transportation. The panel will be moderated by John Blodgett, MacKay & Company vice president, sales and marketing.
HD Aftermarket Dialogue is designed to bring together thought leaders from all segments of the aftermarket who can share applied knowledge on the state of the marketplace and what steps are necessary to be sustainable and prosperous as the industry evolves.
Organizers say the conference delivers this critical information by identifying the toughest emerging problems in the heavy-duty aftermarket industry, as well as sharing the most successful strategies being implemented to counter them.
For more information, and to register and take advantage of early-bird discounted rates, please CLICK HERE.