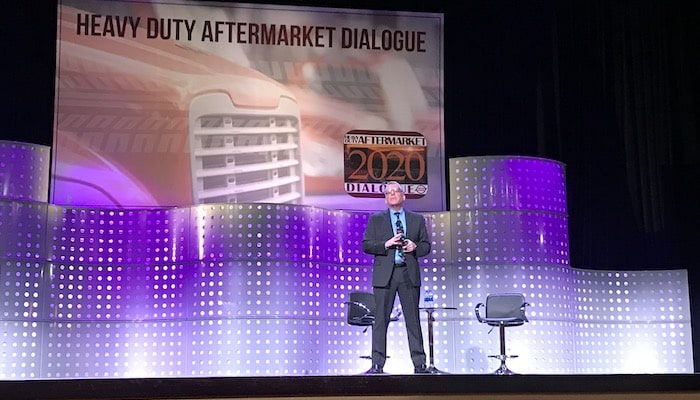 The Heavy Duty Manufacturers Association (HDMA) and MacKay & Company have announced panelists for another session titled at next year's virtual Heavy Duty Aftermarket Dialogue, set for Jan. 25, 2021.
During the event's "Technology & Distribution" session, panelists will be Al Dragone, CEO, FleetPride; Kent Jones, president, Americas, SAF-Holland; Wayne McKitrick, vice president, Sales, N.A. Williams Company; and Tyler Robertson, CEO, Diesel Laptops. The panel will be moderated by HDMA President and COO Tim Kraus.
Event organizers say this panel discussion will offer a comprehensive view of aftermarket technology through the lens of distribution. The group will share their changes to the sales approach in a socially distanced world and best practices on how to stay connected, as well as what technologies their organizations and partners adopted during the pandemic and e-commerce's impact to distribution given the pandemic environment, note HDMA and MacKay & Company.
HD Aftermarket Dialogue is designed to bring together thought leaders from all segments of the aftermarket who can share applied knowledge on the state of the marketplace and what steps are necessary to be sustainable and prosperous as the industry evolves.
Organizers say the conference delivers this critical information by identifying the toughest emerging problems in the heavy-duty aftermarket industry, as well as sharing the most successful strategies being implemented to counter them.
For more information, and to register and take advantage of early-bird discounted rates, please CLICK HERE.