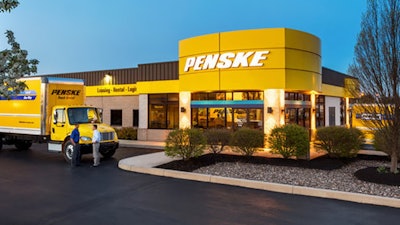 Penske
American Trucking Associations (ATA) has announced Penske Truck Rental is now an ATA Affinity Program Provider.
This gives ATA member companies, including members of ATA's Moving & Storage Conference, access to discounted fixed and mileage rates on Penske's van, truck and trailer rental services, available immediately. In addition, an additional 10 percent discount will apply on one-way truck rentals.
"Ensuring the profitability of our industry is a core part of our mission at ATA. Through this Affinity Program, we're able to leverage the size and scale of our membership to provide exclusive cost-saving opportunities that can't be found elsewhere in the marketplace," says ATA President and CEO Chris Spear. "This program will offer real benefits to fleets of any size as they address their capacity and equipment needs."
Rick Slusser, vice president—rental, Penske Truck Leasing, says, "Our company greatly values our long-standing ATA membership and the association's commitment to our industry. We are very pleased to further our partnership with ATA members by supplying preferred pricing through the Affinity Program. We have a wide array of inventory available across the country."
With one of the newest and among the largest rental truck fleets, Penske Truck Rental provides businesses with semi-tractors (sleeper and day cabs) and trailers, straight trucks, flatbeds, refrigerated vans and more light-duty equipment. Penske rents the top brands of light-duty, medium-duty and heavy-duty commercial vehicles. Penske offers do-it-yourself movers, well-maintained rental trucks as well as moving equipment, packing supplies and accessories.
Penske also provides full-service truck leasing and used trucks for sale.