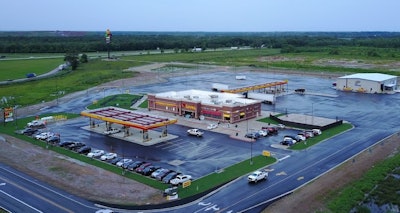 Love's Travel Stops and TravelCenters of America each announce new locations.
Love's Travel Stops is now serving customers in Monroe, La., and Elk Grove Village, Ill., with two new travel stops. The Monroe store, located off Interstate 20 (335 Highway 594), adds 80 jobs and 90 truck parking spaces to Ouachita Parish. The Elk Grove Village store, located off Illinois Route 83 (1900 Busse Road), adds 50 jobs and 17 truck parking spaces to Cook County.
"We're excited to open our 10th and 29th location in Louisiana and Illinois, respectively," says Love's co-CEO Greg Love. "We place Love's in locations that are easy to access and help get customers back on the road quickly and safely. These two locations — one in the South and one in the Midwest — fit the bill."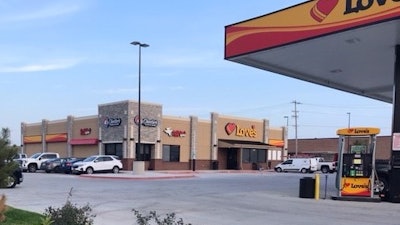 Both locations are open 24/7 and offer many amenities, including:
Monroe, La.:
More than 13,000 sq. ft.
90 truck parking spaces
Eight diesel bays
Elk Grove Village, Ill.:
More than 8,000 sq. ft.
17 truck parking spaces
Five diesel bays
In honor of the grand opening, Love's will donate $2,000 split between Ouachita Parish High School and Louisiana State Police – Troop F in Monroe and $2,000 split between the Greater Chicago Food Depository – Elk Grove Village branch and Alligator Aquatics Swim Club in Elk Grove Village.
In addition to Love's locations, TravelCenters of America has announced a new location in Edgarton, Kan., along Interstate 35, at exit 205.
The new TA Express is a franchised location and expands TA's total nationwide network of travel centers to 275, including 42 franchises. Network growth is a key component of TA's transformation and TA will continue to focus on franchising to expand its footprint, the company says.
TA Express Edgerton is a newly constructed 9,000 sq.-ft. building, offering a convenient stop between Kansas City and Wichita. The travel center provides professional drivers with 90 truck parking spaces and six diesel fueling positions with diesel exhaust fluid (DEF) on all lanes.
Over the past decade, the city of Edgerton has experienced transformational growth, including the addition of thousands of jobs, over $1 billion worth of construction projects and miles of improved roadways. A recently opened green space area was created to provide more enjoyable recreation activities for the community.
"As we continue expanding our footprint across the country, we are strategically opening travel centers in locations where our services are needed by both professional drivers and motorists," says TravelCenters of America CEO Jon Pertchik. "In partnership with our franchisee, we are proud to join the growing and vibrant Edgerton community and look forward serving both travelers and residents along the Interstate