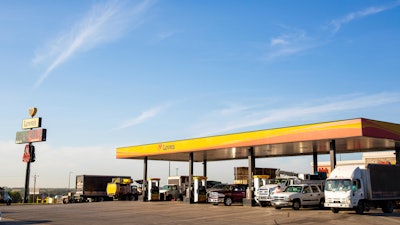 Love's Travel Stops has added two locations. One in Texas and one in Colorado. The two stores add 15 service bays to the company's operation.
The Cañon City, Colo., facility is 41 miles northwest of Pueblo and is located off Four Mile Parkway and US Highway 50. It has more than 13,000 sq.-ft. It features six service bays and a CAT scale. The location also will house a Love's RV Stop in September.
The Cotulla, Texas, facility is located off I-35 at exit 65. It is 89 miles south of San Antonio. The facility is more than 19,500 sq.-ft., and features nine service bays, a CAT scale and a Speedco that will open on Sept. 6.
"We're excited not only to open two new Travel Stops, expanding our Highway Hospitality in Colorado, and Texas, but to soon serve RV customers with a new RV Stop," says Shane Wharton, president of Love's. "The Travel Stops offer the same clean spaces and friendly faces customers have come to expect from Love's, and the RV Stop is the latest example of our commitment to provide first-rate service to RV travelers."