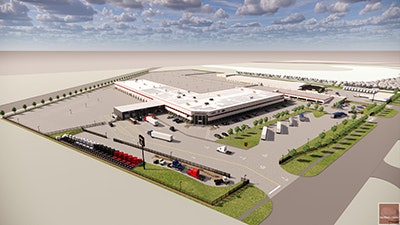 Stoops Freightliner-Western Star
As trucking becomes more clean, David Shane, vice president of operations for Stoops Freightliner-Western Star says truck dealerships and repair centers need to follow suit.
"When an opportunity arises to be sustainable, not only is it something that helps us lead by example," Shane says, "but if we're going to sell sustainable trucks, I think it carries some weight for our customers (to be sustainable ourselves) and helps us understand the space better."
Plus, while sustainability features may be more money upfront, they can pay for themselves over time. That's what Sean Yentsch, Penske's vice president of facilities, says about the company's plan to build several LEED-certified locations across the country.
"The savings — energy, plus employee comfort — pays for itself," he says.
Self-Sustaining and Ready for Change
Stoops is building a new facility in Indianapolis, right next door to its present location.
"We owned 43.5 acres that the current dealership is on," Shane says. That property included the dealership, as well as some other buildings that were leased to an electrical contractor. The contractor eventually outgrew the space, as did Stoops.
"Our dealership on the property is very aged," Shane says. "It's not a bad working environment, but not a great working environment in this age."
Stoops looked at renovating the existing facility, but it would disrupt their customers and employees too much, Shane says. Plus, the site work alone for a renovation would've topped $30 million, and that was before COVID-19.
So the company decided to build a new store. And in doing that, it's had the opportunity to add some sustainable features.
The new dealership will be 215,000 sq.-ft., with 60 service bays. The parts warehouse is also bigger.
One useful new feature will be a solar array on the roof that will power a microgrid, and a 53-ft. trailer full of battery storage that will take the facility off the city's power grid during peak power times, when energy prices are at their highest. "In the dead of summer, when it's 102 degrees outside and everyone's pumping their air, 90% of the time, we're going to be on stored power," Shane says. The microgrid will reduce blackouts and brownouts that have hit the area in recent years, stopping work and inconveniencing employees and customers alike.
The site also will have diesel generators as backups to the backup, Shane says.
"All of that is to help employee and customer satisfaction," he says.
Additionally, the new dealership will have all LED lighting and an all-electric infrastructure, including water heaters, and will be set up for whatever the future holds for commercial transportation.
Investing in the Future
Stoops also is taking advantage of local and state incentives to build greener, which the company has done for more than 10 years since it first started putting solar panels on its locations.
Shane says Truck Country — also a part of the McCoy Group along with Stoops — retrofitted its Cedar Rapids, Iowa, location for solar a decade ago. It's been moderately successful in terms of ROI, he says, but it might be more successful now given the advances in technology in the last 10 years.
"It's a rapidly changing space," Shane says. "Even the OEs, it changes month by month. We have to be careful we're spending wisely. My guess is by the time we're finished building, there would've been more we could've done that's just not available today."
The company is planning a new location in Greeling, Mich., which will also take advantage of green-building incentives, which Shane says may even wind up being more lucrative than those in Indiana.
"We're jumping off the pier here in Indianapolis," Shane says. "We're hoping to learn more as more states and municipalities release incentives."
Stoops turned to Daimler Trucks North America, its OEM, as well as its tax preparer and solar vendors for help on taking advantage of some of those incentives. He says having a dedicated expert in place is critical to making sustainability features pay off.
"You'll always feel like you're playing from behind unless you have someone with their finger on the pulse to help you through," he says.
LEED Certification
For companies that answer to environmental, social and governance (ESG) directives, there's LEED certification. LEED stands for Leadership in Energy and Environment Design. It's run by the U.S. Green Building Council, which verifies and reviews potential projects for certification.
Projects earn credits based on features that address carbon, energy, water, waste, transportation, materials, health and indoor environmental quality. LEED Platinum projects earn 80 or more points; Gold projects, 60-79; and Silver 50-59. Basic certification starts at 40-49 points.
Benjamin Skelton is president of Cyclone Energy Group, a company in Chicago that specializes in high-performance buildings. Cyclone works with Penske on its LEED-certified facilities.
"LEED is the most recognized sustainability brand in the world," Skelton says. The program provides a guideline for many companies to show that they've met ESG goals. It's tough for heavy-duty facilities to certify, often because of location.
"There's some points that come automatically just based on the ZIP code of your building," Skelton says. "(Heavy-duty facilities) are typically not in a space where you're not getting a lot of points for access to transportation. They're in places that aren't a priority for the LEED checklist."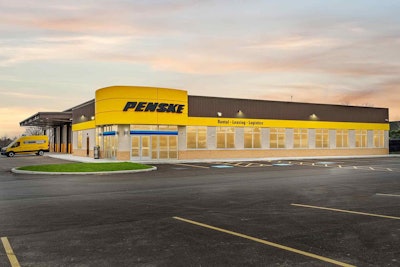 Penske's LEED Projects
Penske's latest crop of buildings are all LEED certified. The company used Cyclone to help them through the process, taking the extraordinary step of volume certification for a slew of new facilities they're building.
Volume certification involves certifying a prototype with strategies that can be applied across a group of projects, ideal when a large company is planning several new locations. Skelton says for Penske, which has an "aggressive" building plan, volume certification made sense.
"We made a commitment a few years ago to build LEED-certified," Yentsch says. "We're striving for our sustainability goals."
Many of the things Penske needed for LEED certification they were already doing, Skelton says.
"Energy efficiency-wise, we didn't have them make any changes to their building," he says. Penske's sustainability features include LED lighting, efficient HVACs, low-flow faucets, native landscaping, recycled water truck washes, recycled asphalt, solar power, construction waste recycling and more.
All of those add up to enough points for certification, Skelton says, and his company helps Penske and other customers walk through the process.