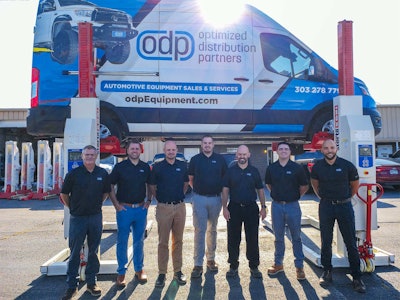 Stertil-Koni has added Optimized Distributor Partners (ODP), a family-owned and operated automotive equipment distribution and service company located in Commerce City, Colo., to its exclusive North American distributor network.
As ODP proudly states, "We know automotive equipment," with in-depth expertise in vehicle lifts, wheel service, shop equipment and heavy-duty service equipment. The company is headed by Jeff Murray, president and his brother Tim Murray, vice president. They are supported by an experienced team of service technicians, sales experts, and back office support. ODP also has a commercial sales specialist, Matt Elder, who will focus on the Stertil-Koni product line.
"We are extremely pleased to welcome the ODP team to the Stertil-Koni network. What makes this partnership so special is that both companies have built their respective businesses by focusing on the delivery of world-class customer care, superior product selection, and an unwavering focus on safety," says Stertil-Koni General Manager, Scott Steinhardt.
Adds Stertil-Koni President Dr. Jean DellAmore, "ODP brings a deep, experienced team to the Colorado region for Stertil-Koni and we are pleased to welcome them into our growing family of outstanding distributors."