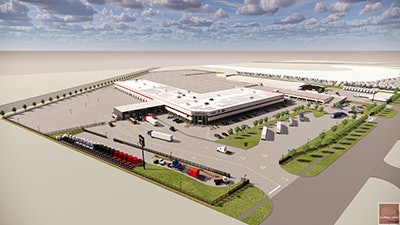 Stoops Freightliner-Western Star is building a new facility in Indianapolis, the company announced Tuesday.
Demolition has started on a location next to the current site and the new facility will be finished by spring 2025, the company says. Stoops will remain open during the construction.
[RELATED: Stoops Trailers is a finalist for the Trailblazer Award]
"We are excited about investing and expanding our current operations in Indianapolis," says Brian McCoy, president of Stoops Freightliner-Western Star. "This investment is focused on giving our customers a best-in-class experience. The new facilities will provide even more capacity to train and mentor our employees. We anticipate adding 50 jobs and will have expanded employment opportunities. This state-of-the-art corporate building and dealership will reinvigorate this side of Indianapolis, and we are excited about the future."
Halstead Architects designed the new building, which will feature a 46% increase in service bays and a 30% increase in the parts department. Customer waiting areas are also designed to maximize customer comfort, including the four-legged ones. The new facility will include a pet lounge and dog park to accommodate those traveling with pets.
The larger building will make more room for employee growth as well, Stoops says. Planned new hires include diesel and maintenance technicians, body shop and trailer technicians, office administration staff, sales staff, parts and warehouse personnel, marketing coordinators, database and IT administrators, and other positions.
In making the new hires, Stoops will partner with EmployIndy's Modern Apprenticeship Program. Stoops will allocate 5% of an estimated abatement value to fund up to 12 apprenticeships annually throughout the abatement period. Stoops operates a certified diesel technician program, a three-year technical curriculum that combines 27 weeks of classroom instruction, at minimum, with on-the-job training. Students attend courses at Stoops Training Academy in Indianapolis before returning to their home dealerships in Indiana, Michigan and Ohio. When they graduate, students earn recognition as Freightliner-certified technicians and receive a nationally recognized apprenticeship certification.
Construction of the new facility features partnerships with Indianapolis city leadership, the Chamber of Commerce and Develop Indy regarding tax incentives and workforce development. Part of the project is an 1.1-megwatt mounted solar array on the building which will produce an estimated 1.4-gigawatt hours of energy annually. Stoops is also incorporating a 0.75-megawatt-hour battery energy storage and microgrid solution. In the event the facility loses power, the battery storage can meet facility demand.
"In addition to the environment, social and governance (ESG) benefits, which is a great focus of Stoops, this system will reduce our energy consumption and costs, and provide operational stability through modern technology, freeing up the budget for workplace improvements, training and development," says David Shane, Stoops' vice president of operations.
Stoops is poised to stake $6.5 million in personal property for a solar and microgrid installation with AES Indiana. A Cummins power generator and electric vehicle charging stations will also be installed.
"Working with mission-minded companies like Stoops and HSI (Solar) that put a concerted effort into sustainable design choices like integtrating solar panels exemplifies our city's value of fostering innovative public-private partnership," says Aletha Dunston, director of Develop Indy. "Stoops' investment aligns with our goals of fostering economic growth and enhancing the region's workforce. We are excited to see this project's positive impact on the local community."