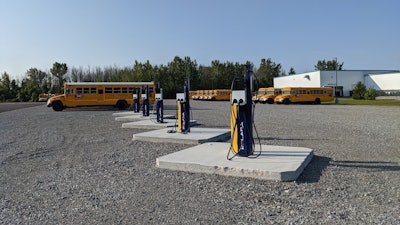 Blue Bird Corporation announced this week dealer New York Bus Sales has added a new dealership location to help the school bus manufacturer meet the increasing demand for its state-of-the-art school and multi-purpose buses.
New York Bus Sales opened a new 20,000 sq.-ft., dealership location in Batavia, N.Y. The facility offers a comprehensive line of new and pre-owned Blue Bird and Micro Bird school, commercial, and multi-purpose buses for 10 up to 90 passengers. Vehicles range from traditional diesel buses to low- and zero-emission propane and electric powered buses, the company says.
Blue Bird and its authorized dealer, New York Bus Sales, anticipate increased demand for clean student transportation in the state. New York State passed its statewide mandate for all new school buses purchased to be zero-emission by 2027 and all school buses in operation to be electric by 2035. The legislation was accompanied by $500 million in funding through a subsequent voter-approved environmental bond act.
[RELATED: What's new in school bus technology?]
"We are thrilled to expand our presence in the Empire State and to bring the full line of Blue Bird and Micro Bird buses to school districts in the western part of the state," says Sean Finnerty, president of New York Bus Sales. "In particular, we are pleased to help school districts transition to electric, zero-emission school buses. We have eleven, state-of-the-art service bays at our disposal and will be able to charge simultaneously up to 80 electric school buses on site. The future of school bus transportation is electric. Blue Bird and New York Bus Sales are clearly at the forefront of technology leadership and customer service."
New York Bus Sales customers can rely on nearly 25 certified sales, service, maintenance, repair, and parts support staff to ensure the safe and reliable operation of vehicles ranging from individual buses to large bus fleets, the company says.
"We are excited to build on our long-standing partnership with New York Bus Sales in New York State," says Tim Gordon, vice president of sales and marketing of Blue Bird Corporation. "More and more school districts adopt low- and zero-emission school buses. For nearly a century, Blue Bird has provided reliable student transportation. We are confident that the first-rate dealership staff at New York Bus Sales will continue to provide excellent service to Blue Bird and Micro Bird customers, thereby, maximizing vehicle uptime and performance."