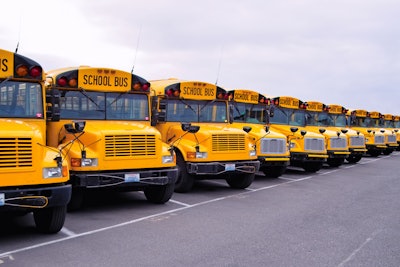 It's back to school time and, around the country, the yellow buses are rolling out again. Here are some of the latest innovations from U.S. bus makers.
IC Bus
Navistar's IC Bus recently launched a new, increased passenger CE Series in both electric and diesel powertrains. Key safety features on the next-generation CE Series include Bendix's Intellipark and Wingman systems, both available on air brake units; a No Student Left Behind child monitoring system; single-panel glass on the entrance door for improved driver visibility; entrance doors integrated into the dash cluster with a door ajar warning; daytime running lights with an automatic twilight sensor and electronic stability control.
[RELATED: IC Bus gives $10,000 to Kids in Need]
IC Bus is also equipping buses with a camera system specifically designed for school buses. The Full View Camera Technology by Rosco gives the driver a full view around the bus during situations such as reversing or opening the door, the company says.
The new CE Series is built with 16-gauge steel body and interior panels and 14-gauge steel threaded body bows with continuous runners connecting the roof bows. Stamped parts are used whenever possible for the CE Series, IC Bus says, providing increased strength and tighter tolerances.
Increased connectivity is another new feature on CE Series buses. IC says the OnCommand Connection provides GPS data and route history as well as real-time vehicle diagnostics and predictive maintenance tools. The system also allows for driver monitoring, including harsh braking, hard acceleration and idle time reporting. IC Bus 360 provides owners with seamless communication on repairs, VIN-based specifics, service request information, estimate approvals and a complete service history, the company says.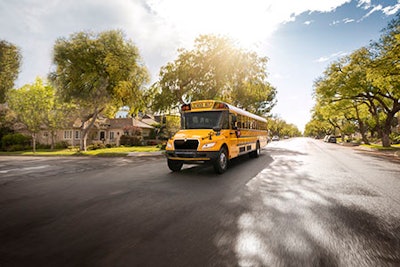 Thomas Built
Daimler's Thomas Built Buses stayed busy over the summer, launching Electric Bus Authority Infrastructure Consulting, a group of consultants helping school bus dealers and customers navigate EV infrastructure planning and execution.
"We're thrilled to introduce Electric Bus Authority Infrastructure Consulting as the missing piece to our dealers' electrification puzzle," says Nick Rini, director of the Freightliner Specialty Vehicles eMobility Group at DTNA. "Our team of experts will provide a seamless, turnkey approach to electrification for our customers, who can, in turn, focus on delivering safe, reliable and efficient transportation."
[RELATED: Daimler opens parts redistribution center]
Some of the areas the group will cover are route analysis, total cost of ownership analysis, charge requirement analysis, vehicle-to-grid analysis, and project integration.
There are three plans for customers to choose from, the company says. The Volt Package is recommended for customers in need of basic infrastructure knowledge or EV transition support. The Amp Package is recommended for customers who need strategic infrastructure planning and capital and operating expenditure estimates. The Joule Package is for swift execution of complete projects, featuring seamless management and turnkey support.
"We want to ensure that no matter where you are in your electrification journey, you feel supported and confident along the way," Rini says.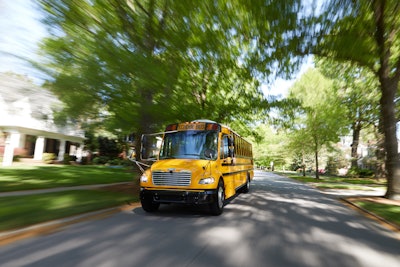 Blue Bird
Blue Bird also debuted a new bus over the summer, the next-generation Vision electric bus. The Type C bus was built through a partnership with Accelera by Cummins, Cummins' zero-emissions segment.
[RELATED: Blue Bird adds dealer in southeast]
The Vision holds 77 passengers and features a 196kWh batter that can run up to 130 miles on a charge. It takes three hours to fully recharge with an 80kW charger. The warranty also has been upgraded to 360MWh of throughput, more than double the standard battery warranty, which Blue Bird says will allow its customers to utilize vehicle-to-grid capabilities and sell excess energy in the batteries back to electric power companies.
"With our next-generation Vision electric school bus, we continue to take clean student transportation to the next performance level and provide superior zero-emission buses to school districts across North America," says Britton Smith, president of Blue Bird. "Blue Bird is ever-evolving."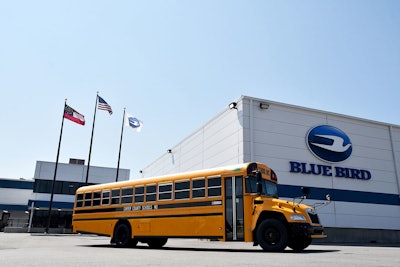 GreenPower Motor Company
GreenPower, an all-electric truck company, produces the BEAST and Nano BEAST buses.
While it doesn't have a new model out this school year, it has been expanding its reach across the United States, naming an exclusive dealers in Virginia (Kingmor Supply) over the summer and announcing Zach Walsh as the head of Eastern U.S. All-Electric School Bus sales.
"With demand continuing to grow nationwide for GreenPower's all-electric, purpose-built, zero-emission school buses, the company found a seasoned bus sales expert in Zach to ensure a sharp focus for sales of our school buses manufactured at our new West Virginia facility," says Michael Perez, GreenPower's vice president of school bus, contracts and grants. "We are thrilled to have him as part of the team, heading up a critical territory as school districts look to implement all-electric school buses into their fleets."