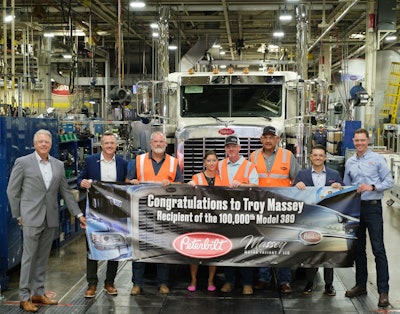 Peterbilt marked its 100,000th Model 389 at its Denton, Texas, plant on Thursday.
The truck, which features a limited-release Model 389X special edition package, will go to Massey Motor Freight of Nacogdoches, Texas, founded in 2016 by Troy and Abby Massey.
"We are extremely pleased to present the 100,000th Model 389 to Massey Motor Freight," says Jason Skoog, Peterbilt general manager and Paccar vice president. "Troy Massey is a longtime Peterbilt customer who recognizes the craftsmanship, performance and durability of the Model 389 and is the perfect customer to receive this milestone truck."
Massey ships freight nationwide and operates 325 along with Tri-State Vacuum & Rental, also owned by the Masseys.
"It is a great honor to receive the 100,00th Model 289 and celebrate this milestone with Peterbilt," Troy Massey says. "Massey Motor Freight's long-standing relationship with Peterbilt is based on the common values our companies represent and our commitment to exceed customer expectations."
[RELATED: Peterbilt will replace its Model 389 with new Model 589]
Peterbilt's 389 was introduced in 2006 and will end its production run at the end of this year. It will be succeeded by the Model 589, introduced earlier this year. Production on the 589 will start in January at the Denton factory.