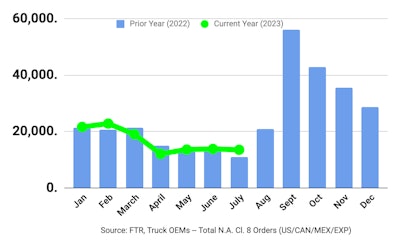 Class 8 truck orders in July exceeded expectations and 2022 totals, ACT Research and FTR reported this week.
ACT Research's preliminary orders for the month were 16,000 units, up 45% year over year. FTR's estimate wasn't as high at 13,500 units, down 8% from June, but was still up 25% compared to the prior July. FTR says Class 8 orders for the previous 12 months have totaled 301,000 units.
"As represented by seasonal factors, this is the time of the year when expectations for orders are low," says ACT Research President and Senior Analyst Kenny Vieth. "For both the medium-duty Classes 5-7 and heavy-duty Class 8 markets, July is the traditional low-water mark for monthly order placements.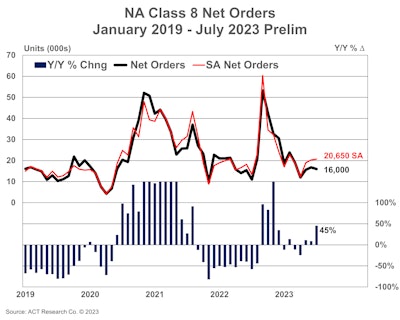 "That low expectation is reconfirmed this year as both medium- and heavy-duty 2023 backlogs, as measured by backlog to build (BL/BU) ratios, are essentially full," he says. "In addition to already filled backlogs constraining order flows, 2024 order boards are not yet, or just barely open, making the opportunity for bigger numbers elusive. All that said, July order activity was largely in line with or slightly above year to date trends."
[RELATED: Oil industry's new category to help with emissions, efficiency]
Vieth adds seasonally adjusted Class 8 orders were 20,700 units, up 5.5% month over month.
FTR echoed that sentiment. The company states July was above expectations but the "absolute level of orders was weak." Yet with this being the normal slow season for the market, seasonal order weakness is helping to reduce the backlog.
"We had expected net orders to fall below 10,000 units monthly several months ago as fleets wait for OEMs to open 2024 build slots, but that did not occur," says FTR Chairman Eric Starks. "Build slots are anticipated to open soon, so orders likely will not fall much further, if at all, in the near term. Build slots for 2023 are already filled, so it is unclear when these orders will be slotted, and the situation clearly will add pressure to increase production through the end of the year."
ACT Research also reported preliminary Classes 5-7 orders at 16,600 units, up 21% year over year. Seasonally adjusted to 19,300 units, the total was up 1% from June.