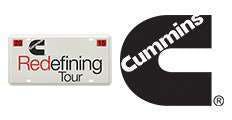 Cue the music; Cummins is "heading out on the highway."
The company announced Wednesday at the Mid-America Trucking Show in Louisville that it will hold a Redefining Tour this summer to showcase its products and technologies available for customers in the North American truck market.
The tour will feature a fleet of Cummins ISX15-powered heavy-duty trucks, and will visit dozens of cities across the United States and Canada.
"We are very excited to announce the 2015 Redefining Tour," says Amy Boerger, vice president, North American engine business at Cummins. "The Cummins powered fleet not only demonstrates our products in a real-world application, it also allows us to bring the product demonstrations and displays directly to our customers – some of whom we don't have the opportunity to engage with on a regular basis."
During the tour, Cummins says customers will have an opportunity to interact with Cummins experts to learn about current and future products and technologies, including ADEPT technology, a suite of advanced electronic features delivering improved fuel economy, and Connected Diagnostics, the first application in the suite of Cummins Connected Solutions that provides instant notification and expert diagnosis of engine faults.
Additionally, customers can view real 2017 prototype engines powering the truck fleet, as well as engine system displays representing the product lineup for the North American truck market, the company says.
Taking to the road to demonstrate innovative products and the efficiency of Cummins powered vehicles is not new for Cummins.
In 1931, Cummins founder Clessie Cummins installed a Model U diesel in a truck chassis manufactured by the Indiana Truck Company and drove it across the United States. Interestingly, the payload for the coast to coast journey was the Cummins #8 race car, which also set efficiency records of its own. The coast to coast run spanned 3,214 miles, and was completed on $11.22 worth of fuel. That approach was used to not only validate the efficiency and durability of Cummins engines, but also allowed customers to experience the product firsthand, the company says.
In conjunction with the tour, Cummins is launching a website, www.cumminstour.com, where customers can track the fleet's progress, view photos and learn about Cummins products and technologies. Customers can also follow the Cummins fleet on its journey on Twitter at www.twitter.com/cumminstour.
The Cummins Redefining Tour begins in June, and will continue through the fall. The cities and dates of the tour stop will be announced soon.