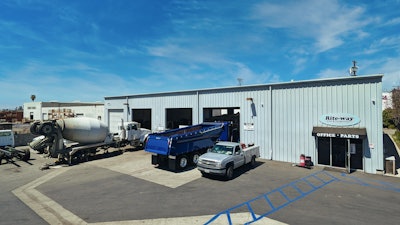 Betts Company has acquired Rite-Way Axle and Suspension of Sun Valley, Calif., from owners Kelly and Nancy Virchow.
Founded by Clarence and Dick Virchow in 1964, Rite-Way is a third-generation family business. Rite-Way Axle will join Betts Company as a truck parts and repair service center under the Betts Truck Parts & Service division.
While offering many of the same heavy-duty repair services as Betts, including spring, steering, suspension, and wheel end repair, Rite-Way also offers driveline capabilities, which will be an area of product expansion for Betts Truck Parts & Service in Southern California.
Rite-Way will become Betts Truck Parts' sixth location in California, and the eighth location overall, with two other locations in Phoenix and Portland. It will become their third branch in Southern California alongside branches in Fontana and Santa Fe Springs.
Betts Company says all 10 Rite-Way employees will continue to manage day-to-day operations under the supervision of Betts Truck Parts & Service district manager, Ruben Gutierrez.
"We are excited to have a company like Betts acquire Rite-Way," says Kelly Virchow. "We feel like it's a great fit. Nancy and I naturally gravitated to being acquired by Betts Company, being a family-owned business like ourselves. Rite-Way has been in our family for three generations. Betts Company has been family-owned for six generations, so they recognize the value of a family legacy."
"On behalf of Betts Company and Betts Truck Parts & Service, we are excited to welcome the Rite-Way team as Betts team members," adds Bill Betts, president, Betts Company. "The Virchow family has developed a great reputation in the Southern California market. We are excited to have their team join us and continue their tradition of excellent customer service. Rite-Way has a fantastic brand reputation, and we look forward to learning from them as well as bringing some of our strengths to their team."