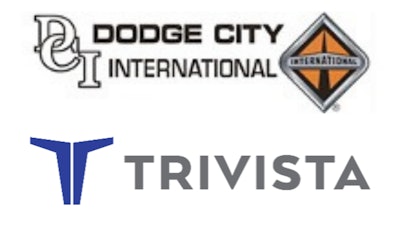 Trivista Companies Inc. recently acquired Dodge City International. This expands Trivista's presence to include two locations serving Dodge City and Garden City, Kansas. The new locations will provide Trivista with access to more than 1,3200 prospects and 5,000 vehicles in a 50-mile radius, according to RigDig Business Intelligence.
Dodge City International (CDI) offers the complete line of International medium-, heavy- and severe service trucks, diesel engines and International brand parts. Founded in 1989, the dealership has grown to two locations and has a staff of 20 industry professionals.
"An enormous thank you to our customers who have allowed Dodge City International to serve you for the past 32 years. Our customers are in good hands with Trivista Companies. Under the leadership of partners Jim O'Halloran, John Shireman, John and Vince Cerni, we are confident this business will have a very successful future," says Matt Selzer, Dodge City International general manager.
"On behalf of myself and my business partners, John and Vince Cerni and John Shireman, we are thrilled to welcome Dodge City International to the Trivista family," says TriVista CEO O'Halloran. "Dodge City International has built a reliable business and trustworthy team. Trivista Companies is proud to continue carrying the torch and will work to deliver best-in-class service to all DCI's customers each and every day."