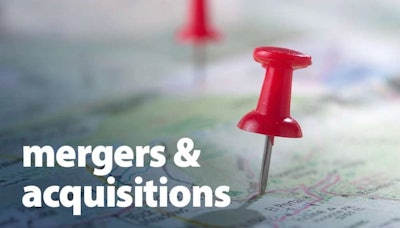 The fourth quarter is off to a slow start on the acquisition front in the dealer, aftermarket and supplier channels.
The month started with big news in the dealer channel, an expansion announcement by one of the nation's largest Volvo and Mack dealers. But there have been few announcements in the weeks since. Maybe as winter inches closer we'll see more acquisitions across the market.
The Oct. 1 Mack/Volvo dealer announcement came from Vanguard Truck Centers, which added five locations through its acquisition of Advantage Truck Centers and Advantage Truck Leasing. "We are thrilled to welcome Advantage Truck Centers and Advantage Truck Leasing to the Vanguard family," said Tom Ewing, president and CEO, Vanguard Truck Centers. "We will build on what Advantage has established and continue to provide best-in-class trucks, parts, service and leasing for our customers."
[RELATED: Catch up on September's biggest acquisitions]
Dickinson Fleet Services (DFS) followed the next week with news it had added Mobile Fleetcare — a California-based fleet maintenance provider. DFS has been one of the service industry's fastest growing companies in recent years, with this move marking its 12th acquisition since 2017. "Geographic growth remains a core focus area for Dickinson, and Mobile Fleetcare will play an important role as we expand our Northern California reach," said Mike Dickinson, executive officer, DFS.
Another finalized acquisition this month was DexKo, which announced Oct. 18, its wholly owned subsidiary Dexter Axle Company acquired National Trailer Parts Warehouse located in Swift Current, Saskatchewan, Canada. "We see great value in adding National Trailer Parts to the Dexter business, extending our quality products and exceptional customer service in western Canada, furthering our customer relationships," said Fred Bentley, CEO, DexKo Global.
Yet the slow month did end with a bang, as it was announced Oct. 27 that Rush Enterprises would purchase Summit Truck Group. Rush, Summit and Navistar executives also decided through the transaction to sell five former Summit facilities to Justin Fink, in partnership with Kyrish Truck Centers and Southwest International, to form a new dealer group Peak Truck and Trailer. Navistar's Mark Belisle said of the move: "The eventual merger of these dealerships will create a powerhouse in the south — attracting the highest quality talent and utilizing resources to provide best-in-class service and support."
On the flip side of the M&A space, there was also the announcement by Karmak to sell its powersports dealer management division to PBS Systems. "We believe PBS will invest in and grow the ADAM Systems' business and team. ADAM and PBS both have terrific people with vast industry knowledge, so this is a very positive move for all parties. This allows Karmak to fully focus on being the premier DMS provider in the heavy-duty space," said Jim Allen, CEO, Karmak.