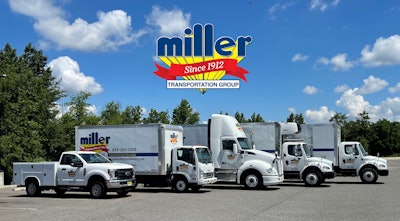 Miller Truck Leasing has acquired the assets and facilities of fellow NationaLease member Leroy Holding, headquartered in Albany, N.Y.
The acquisition is an excellent fit with Miller's strategy to expand their services into selected markets where a strong independent truck lessor and maintenance company can provide a great service alternative, Miller Truck says.
Miller Truck Leasing has serviced its customer for over 110 years and has grown to provide over 5,000 trucks from 30-plus locations.
"We are excited to move into the markets Leroy has served faithfully over their 55-year history and look forward to continuing to be a vital part of our customers' businesses," says Mark Miller. "Leroy has always been the top service provider in its markets, and we look forward to continuing the tradition of outstanding service that Leroy and its employees have always shown.
Today, Miller is the largest, privately held commercial truck lease and rental company in the Northeast and Mid-Atlantic and provides the personal touch and service of a family-owned company with the size and scale of a large national truck leasing company, Miller Truck says.
Miller will offer a full line of rental and lease equipment to service its existing and future customers. Miller also will provide contract maintenance for fleets that desire to outsource their truck maintenance and dedicated trucking and logistics for customers who desire to outsource their transportation.
Miller's shops are equipped with all modern technology and manufacturer software so Miller technicians can diagnose and fix problems immediately, minimizing downtime. The company says it's well-known in the industry for its outstanding service and customer satisfaction.