Peterbilt Motors Company has named Jackson Group Peterbilt as its 2020 North American Dealer of the Year. The award was announced this week at the company's annual dealer meeting, held virtually for the first time.
Peterbilt's Dealer of the Year is awarded to the dealer group that best represents Peterbilt's commitment to excellence and the never-ending pursuit of driving customer uptime. This is Jackson Peterbilt Group's third Dealer of the Year honor. It also was recognized as the OEM's top dealer in 2008 and 2013.
"Jackson Group Peterbilt has spent the last 27 years investing and growing their dealer footprint to six states and 19 locations, with plans for additional growth in 2021. During 2020, they spent $8.8 million relocating their Ogden and Magic Valley locations to brand new facilities to expand service capacity and drive uptime," says Jason Skoog, Paccar vice president and Peterbilt general manager. "This commitment highlights Jackson Peterbilt Group's strong desire to provide the very best experience for their customers and represents the level of class Peterbilt customers have come to expect."
In addition to the 2020 Dealer of the Year, Jackson Group Peterbilt also received the 2020 Paccar Parts Dealer of the Year award, which honors the dealer organization that provides outstanding sales, breadth of product, parts availability and fleet sales support to their customers. Jackson Group Peterbilt also saw seven of their locations win Platinum Oval awards, which are given to the elite Peterbilt dealership locations that have demonstrated outstanding performance, Peterbilt says.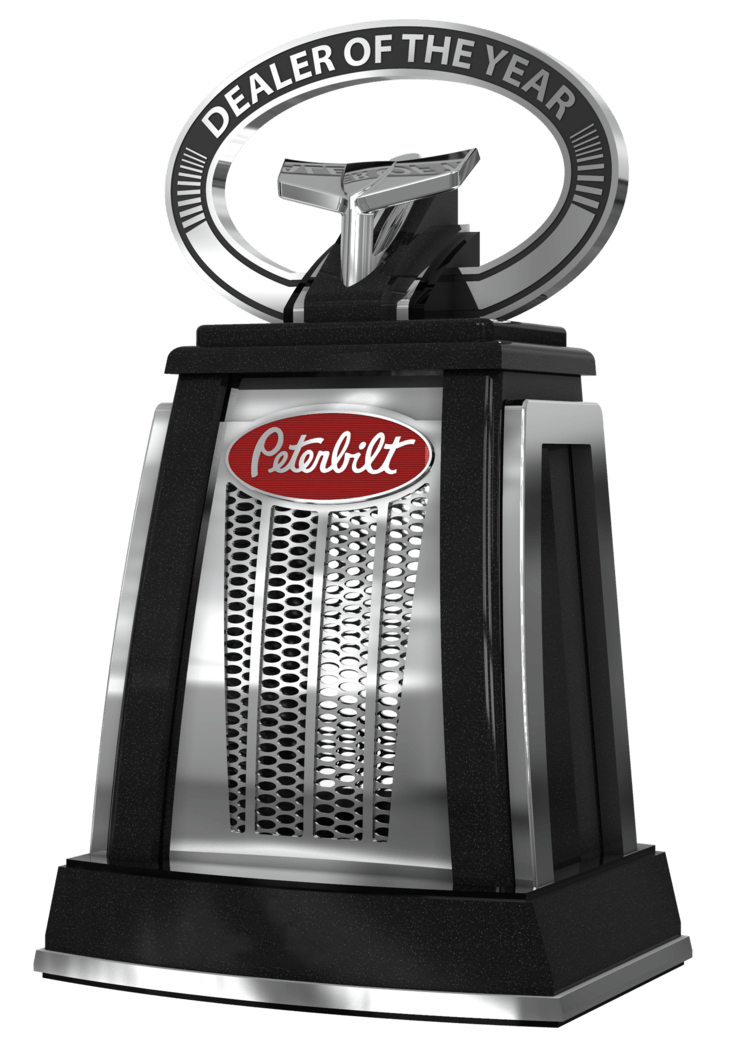 "Being recognized as Peterbilt's Dealer of the Year Award is an amazing honor for the entire team at Jackson Group Peterbilt and I'd like to thank all our great employees and our customers who everyday help make our business a success," said Blake Jackson, dealer principal of Jackson Group Peterbilt.
Jackson Group Peterbilt also finished 2020 as one of the Peterbilt's top performing dealerships in parts and service, medium-duty sales, Class 8 sales and MX engine sales.
Other dealers earning top honors from Peterbilt for their 2020 performance were as follows:
MX Engine Dealer of the Year: Allstate Peterbilt Group
Medium Duty Dealer of the Year: TLG Peterbilt
Service Dealer of the Year: Peterbilt Pacific Inc.
TRP Dealer of the Year: Peterbilt Manitoba
Red Oval Dealer of the Year: TLG Peterbilt
Peterbilt also presented the Best-in-Class Awards this week, which are based on a combination of Peterbilt's Standards of Excellence scores, financial performance, parts and service performance, and use of Paccar training and programs. The company says dealerships receiving 2020 Best-in-Class Awards include: Allstate Peterbilt Group; Jackson Group Peterbilt; JX Truck Center - Peterbilt; LaBeau Brothers Peterbilt; Performance Peterbilt; Peterbilt of Atlanta; Rush Peterbilt Truck Centers; Stahl Peterbilt; TLG Peterbilt; and Valley Peterbilt.
"We are incredibly proud of the effort and investment made by these award-winning dealers, as well as the entire Peterbilt Dealer Network in 2020. Peterbilt dealers continue to add and expand facilities, increase hours of service, hire the best technicians for their locations, and offer mobile service solutions that drive uptime and profitability for our customers," says Peyton Harrell, Peterbilt's director of dealer network development.