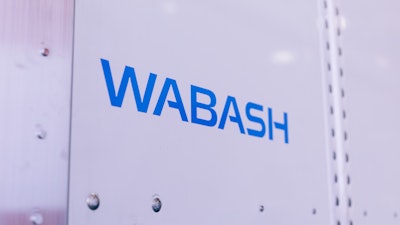 Wabash reported its financial results this week for the quarter ended on Sept. 30.
The company says its net sales for the third quarter were $655.2 million, an increase of 35.8 percent versus the prior year quarter as the company continued to execute well on strong customer demand.
Consolidated gross profit was $92.0 million, or 14.0 percent of sales. Operating income was $52.9 million, or 8.1 percent of sales during the quarter. Versus the same quarter last year, Wabash says gross and operating margins expanded by 340 basis points and 430 basis points, respectively.
Total company backlog as of Sept. 30, 2022, was approximately $2.3 billion, which is an increase of 20 percent versus the third quarter of 2021 and also represents an all-time third quarter record.
[RELATED: Paccar posts record net incomes in third quarter]
"During the third quarter, Wabash executed very well to generate record sales of $655.2 million as well as record quarterly earnings per share [EPS] of $0.73," says Brent Yeagy, president and CEO. "This is a meaningful step forward in our financial performance and what makes the quarter even more exciting is the progress made against our strategic plan as we added new dealers, announced a new product line brand, and added additional strategically-aligned expertise to our board of directors that will support Wabash for years into the future."
For the full-year ending Dec. 31, 2022, the company maintained its outlook for revenue of $2.5 billion and increased its EPS guidance to $2.15.
"Demand conditions remain strong as evidenced by our order book, which set a third quarter record at $2.3 billion and implies $1.7 billion of orders in 2023," says Yeagy. "Our process of booking orders has shifted from transactional to strategic as we engage with customers to plan for how Wabash can serve their needs from across our first to final mile portfolio for the next several years as opposed to the usual one-year out conversation and we expect to have updates on that front in the weeks and months to come."