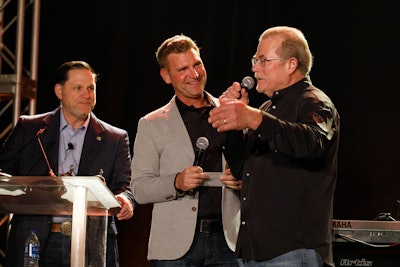 Courtesy of Erik Fossum
Rusty Rush is glad to be back in person for the Rush Tech Rodeo.
"I don't have to go stand in front of a screen and wave at it," he says. "No more virtual crap."
Events like the rodeo, which was held in San Antonio this week, are what keeps people working for Rush Enterprises, the president and CEO of the company says, especially the more seasoned Level 3-5 technicians. He says the recognition they get from their peers and from the company goes a long way toward keeping them loyal.
And the money doesn't hurt, either.
"I was hatched on the shop floor," Rush says. He calls service the heartbeat of the truck center. Products are closer than ever before to each other, he says, so it has to be service that's the differentiator.
And that means a well-trained technician workforce.
"Training is something that always evolves," Rush says. "You think you get trained up and it's over and it's not. It's a constant thing. We look at it as an investment."
[RELATED: A Rush Tech Skills Rodeo first: Two women techs compete]
Rush's investment is paying dividends. The company had a record year in 2022 and expects 2023 to be a little more soft, but still not a bad year by any stretch of the imagination.
"The Fed will get its way," Rush says when asked to look ahead into the next year. "It's like a snake eating a rat. It takes a little while for it to get through the system."
The first part of the year will be much the same as conditions and the end of 2022, he predicted, with softer back end as interest rate hikes bring their full force to bear. Rush says he's looking for a little "r" recession.
"Really, truly, the most affected will be the small guy," Rush says. "Big guys are still behind (in fleet updates and buying) and they're not leveraged."
[RELATED: ACT sees optimism for truck orders entering new year]
Rush Enterprises is used to the cyclical nature of the trucking business, Rush and COO Mike McRoberts say, and the company will continue to make adjustments.
If 2023 includes any more big acquisitions like Rush's purchase of Summit, the executives were mum.
"I feel good about the acquisition," Rush says of the Summit deal. And he feels good about the company's moves in Canada.
What Rush is less positive on is the expansion of electric Class 8 trucks.
"We can act like electric is here, but it's not," Rush says. "It took 120 years for internal combustion engines to build an infrastructure."
He does expect to see more electric vehicle in around-town commerce, refuse trucks and medium-duty trucking, but not in Class 8 over-the-road.
"It's just not there," he says.
What is there is natural gas, especially if Cummins' 15-liter natural gas engine works as expected. Rush says NG trucks can be a bridge between diesel and electric. Large companies — including Rush Enterprises — are under more pressure to be environmentally conscious.
"Which is proper," Rush adds.
But the electric and hydrogen infrastructure doesn't exist. Natural gas is more widespread, Rush says, especially in the refuse market. And room is there for it to grow.
Both Rush and McRoberts see supply chain issues stabilizing and, with an EPA decision on emissions expected before year's end, a banner year for truck sales in 2025 and 2026. But truck sales are expected to be back to pre-COVID numbers as soon as the end of 2023, McRoberts adds.