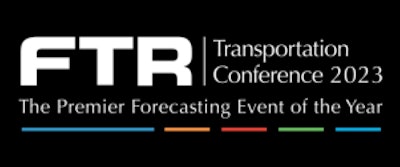 FTR announced keynote speakers for its 2023 Transportation Conference, Sept. 11-24 in Indianapolis.
The speakers will feature Goran Nyberg, executive vice president of commercial operations for Navistar. He will speak Sept. 11 on truck equipment. Nyberg has a global perspective of commercial vehicle eqquipment, having previously served with MAN, where he launched its new generation of trucks. He's also worked in international positions with the Volvo Group in Sweden, Malaysia, Thailand and the United Kingdom.
[RELATED: Navistar publishes sustainability report]
Rebecca Wlazlo will speak Sept. 12 on truck freight. She is the senior vice president of supply chain at Crate & Barrel Holdings. She is currently leading a transformation to a modern and responsive supply chain, FTR says, and she has a deep knowledge of the end-to-end supply chain with experiences that include inventory management, procurement, distribution operations and transportation strategy.
[RELATED: FTR: Trucking Conditions Index shows weakness for carriers]
On Sept. 13, Alan Shaw, president and CEO of Norfolk Southern, will speak. He has been driving a transformational change in the company's culture to create what he calls a "customer-centric, operations-driven, service organization," FTR says. He will speak to attendees about rail freight.
Jeff Lytle, president of CIT Rail, will discuss rail equipment Sept. 14. He recently led the integration of CIT Rail into First Citizens Bank. Lytle is the vice chairman of the Railway Supply Institute and serves as the chairman of the membership committee.
The aftermarket speaker for rail equipment will be Vince de Luca, chief financial officer at National Steelcar.