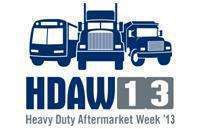 I received an email note earlier this week reminding me it's time to sign up for Heavy Duty Aftermarket Week (HDAW 2013). As the premier event for independent heavy-duty parts distributors and service providers, I immediately started planning to head back to Las Vegas in January.
HDAW is a great event, and for those working in the independent aftermarket, it is not one to be missed. For those who've never been, get in touch with someone who does make the winter trip to the desert and ask them if it's worth it. I can assure you they will say it is. From the one-on-one business meetings with suppliers to the daily education sessions and aftermarket show floor, HDAW has a little bit of everything.
And this year, it appears, it is going to be even bigger.
The Heavy Duty Manufacturer's Association (HDMA) — which in recent years has presented its Heavy Duty Dialogue seminar on the Monday before the opening of HDAW — announces it has expanded Heavy Duty Dialogue from a one-day event to three separate seminars spread out at different industry events next spring.
HDMA says the conference has been split to allow more focus on three unique market segments: the aftermarket, on-highway commercial vehicles and off-highway commercial vehicles. The first of those segments and the one near and dear to our hearts, the aftermarket, will be the focus of the first ever Heavy Duty Aftermarket Dialogue, to be held the Monday preceding HDAW on Jan. 21, 2013 at The Mirage in Las Vegas.
Heavy Duty Aftermarket Dialogue will be jointly presented by HDMA and MacKay & Company, HDMA says, and will focus on issues related to the suppliers to this market, with presentations and panel discussions from the supplier, fleet and distribution perspectives.
According to HDMA, the decision to split Heavy Duty Dialogue into a three-day event was an obvious one. There is so much to discuss, and more events mean more opportunity to do so.
"Some of our members play in all three markets, some in one or two, and our member feedback indicated that each segment needed its own focus and with speakers that specialize in each particular area," says Tim Kraus, president and COO of HDMA. "Dividing Dialogue into three separate programs allows for expanded trend coverage, as well as locating them each in conjunction with events in accessible markets, minimizing our members' travel to multiple events."
I think this is a great addition to the HDAW 2013 experience, and is just another reason for distributors to congregate in Las Vegas in January. By focusing all of Monday's time to the aftermarket, the HDMA has built a presentation to accent the events that follow during HDAW. That's a great move.
For more information, and to sign up for Heavy Duty Aftermarket Dialogue, go to http://www.hdma.org/Main-Menu/HDMA-Events/Heavy-Duty-Aftermarket-Dialogue/HDAD13.
For more information, and to sign up for HDAW 2013, go to http://hdaw.org/hdaw2013/public/Content.aspx?ID=186&sortMenu=105000.
A copy of the HDAW 2013 schedule also can be found at http://hdaw.org/hdaw2013/public/content.aspx?ID=164&sortMenu=102006.
Hope to see you there!
– Lucas