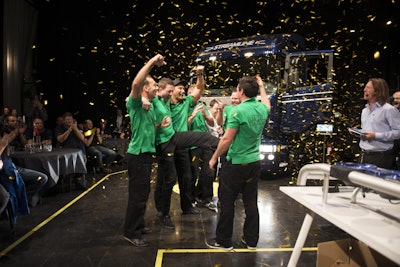 A group of service technicians from Australia defeated teams from New Zealand and Finland in a head-to-head knockout competition this past weekend in the Scania Top Team world finals.
The Aussie team took the lead on a lighting bar mounting challenge.
"Unbelievable," team leader Phillip Sage said of the Australian team's victory. "It's the best experience ever."
The Top Team final was divided into four challenges. The first two, a theoretical and a practical one, determined the starting order for the remaining two.
After the initial two challenges, New Zealand was in the lead: 25 seconds ahead of Australia, and 70 seconds ahead of Finland.
Despite the time penalty, the Australian – Team Southern Stars – worked hard and fast to assemble a lighting bar and mount it to a truck.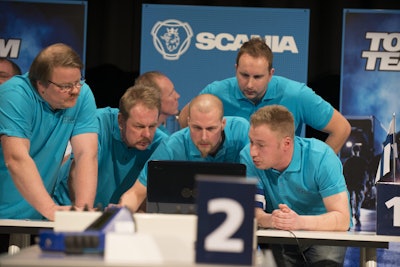 "It was good teamwork," Sage says. "We said to each other, 'Never to give up.' We never got stressed. We knew we could do it."
The competition was somewhat of a spectator sport and was closely followed by 400 on-site spectators, including the finalists from Argentina, Austria, Germany, Italy, Peru, Slovakia and Switzerland. The event was also watched by numerous viewers via live broadcast online.
1st place, Australia: Team Southern Stars from Preston, Sydney. Team members are Phillip Sage, Graham Andrews, Michael Farrell, Logan Hoser and Benn Jeffery.
2nd place, New Zealand: Team Kiwis from Whangarei. Team members are Scott Cann, Michael Adams, Gavin Brindle, John Burhenne and Shane Parker.
3rd place, Finland: Team Kirkkopuiston Sissit from Lahtis. Team members are Janne Murtoniemi, Saul Ala-Akkala, Jari Korhola, Petri Levonen and Teemu Tiihonen.