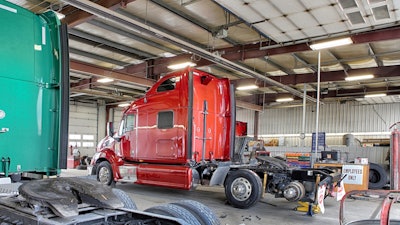 Commercial fleet carriers intend to scale down their reliance on outside service shops in 2021. At least that's the sentiment among nearly 450 fleets surveyed by Trucks, Parts, Service sister publication CCJ last month.
CCJ surveyed its audience an in effort to uncover how commercial fleets have managed the rollercoaster of the past year and how their recent experiences have changed their vehicle maintenance practices.
For most fleets, the challenges of COVID-19 have had little impact on how they've serviced their trucks. Nearly 1 in 4 fleet responders (23 percent) said they made no changes to their outsourcing practices from 2019 to 2020, and an even greater number (32 percent) said they don't intend to alter those practices in 2021.
Coupled with nearly 31 percent of responders who perform all of their service in-house and 11 percent of responders who outsource everything, approximately 75 percent of the fleet market appears unlikely to shift service shop volumes in 2021.
The problem is the remainder of the fleet community. Among fleets that altered their service practices last year or intend to do so this year, a majority are choosing to scale back their outside reliance on service shops rather than become more dependent on the dealer and independent service channels.
Among fleets with more than 10 power units, more than two-thirds (69 percent) say they intend to outsource less service work in 2021 than they did last year. That's a jump of nearly 20 percent from 2020, where a reduction in outsourced maintenance was reported by only 51 percent of 10-plus power unit carriers that made changes to their service practices.
The sentiment for service shops isn't any better when including small fleets and owner-operators.
Among survey responders of all sizes, 52 percent of those who adjusted their outsourcing practices last year sent less work to their local shops. This year that number is expected to jump to nearly 77 percent.
Cost appears to be the most likely reason for the shift. Only 27 percent of CCJ survey responders said their fleet's downtime rose last year, but maintenance expenses were up for 49 percent for small and large fleets alike.
What does this mean for the service channel?
RELATED: Nomination period open for Distributor of the Year, Successful Dealer Awards
Increased competition for new business and rising expectations from existing customers seem to be the channel's two most likely challenges for the year ahead. Doing some quick back-of-the-napkin math, if 77 percent of the 25 percent of fleet responders planning to alter their service practices pull back on their outside service needs, that's a total of 19 percent of fleets who are looking to do less business with service providers this year.
It's safe to say most of those carriers won't exit your business entirely. Most fleets rely on service shops because they aren't capable of doing everything. There's a reason only 31 percent of fleets do all of their service in-house. But whether it be due to your costs, the speed at which you're able to complete repairs or the quality of the repairs you're providing, the fact that nearly 1 in 5 of your customers intends to rely less on you should be alarming.
As for the remaining seven percent of carriers who say they want to outsource more — I can't imagine they'll be easy customers to land. With a larger contingent of customers pulling back on outsourcing, the fleets who have work to bid on will be in high demand. You'll need to promise the moon and come through to grab and keep their business.