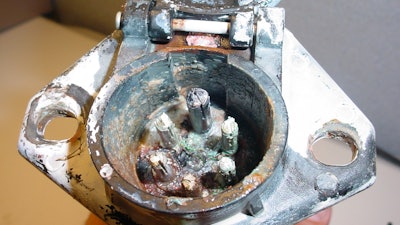 Phillips Industries
Have you ever taken your personal vehicle to the car wash and once all that dirt, road salt, etc., has been removed, it feels like your ride drives better? I always feel that way even though I realize it's silly.
While my recently washed SUV doesn't immediately result in better performance, service providers who improperly clean a customer's truck can result in undercarriage corrosion. It might seem counterintuitive that washing a truck to prevent corrosion might actually cause it, but such can be the case. Oh, the irony.
Last month I wrote a feature for Trucks, Parts, Service about ways to minimize undercarriage electrical corrosion during the winter weather. The TPS feature covered the causes of corrosion, how to spot it and remove it without replacing components (if possible) and, probably most importantly, how to prevent corrosion.
Undercarriage electrical corrosion can be caused by many factors. The most common appears to be the chemicals used to deice roadways.
Phillips Industries has seen an increase in corrosion due to the usage of calcium and magnesium chloride, says Andrea Smeby, marketing content specialist. Smeby says the chemicals are effective in keeping ice from adhering to the road but can create havoc to the truck and trailer components because commonly used deicing chemicals are approximately 50 percent smaller than traditional road salt, meaning it's easier for them to fit into tighter spaces.
"How a vehicle is washed can either help keep corrosion at bay or invite it to stay. Regularly washing your equipment reduces the buildup of road grime, mud, grease and deicing chemicals, which can cause the onset of corrosion over time when left on a vehicle," Smeby says.
"Washing your equipment regularly can help you avoid trouble down the road, but there's a catch-22. Washing your equipment the wrong way and with the wrong type of cleaning agents also can cause damage and corrosion," she adds.
Chris Sterwerf, chief financial officer and chief operating officer, Fairfield Auto & Truck Service, agrees there are dangers of pressure washing the undercarriage of trucks.
"Some fleets add insult to injury when they have their trucks pressure washed to help remove corrosive material from their truck," Sterwerf says. "Big trucks look strong and sturdy and many think they are invincible to something as harmless as a little pressurized water."
Sometimes the pressure stream is too high and directed at sealed connections and components that shouldn't be subjected to pressure washing. "The high pressure can push out or push past protective gaskets or protective material in the connection that are meant to prevent corrosion," he adds.
So how does a service provider avoid doing more harm than good when pressurizing a truck's undercarriage?
Smeby says washing equipment can help combat corrosion, but it must be done properly.
"If a vehicle must be pressure washed, take care to avoid electrical connections as this can force water into any open connection on the electrical system where it can't escape, causing corrosion," she says.
Smeby also urges service providers to avoid washing vehicles with harsh detergents, chemical degreasers and products that contain acids, which can cause cable jackets and air hoses to dry out. "When degreasers come into contact with electrical connections, it increases the corrosion reaction. Do not leave soap residue on any electrical connection. Choose mild products to avoid damage," she says.
Sterwerf advises against aiming high-pressure spray directly at the input, output, pinion, breather and wheel seals to avoid pushing contaminants into and past the seal lips. "The same can be said for engines, transmissions, bearings, air system components, hydraulic components and drive axle assemblies," he says.
These power washing tips will help keep the undercarriage clean without doing short- or long-term harm to the undercarriage components on the vehicles shops are servicing.