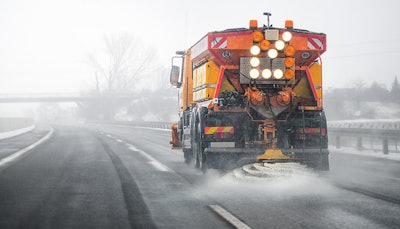 Is the era of rock salt as North America's preferred road deicing chemical coming to an end?
That may sound hard to believe, but an increasing number of researchers stating the continuous use of chloride-based salts and brines to clear roadways has increased the salinity levels of freshwater lakes and rivers and endangered native plants and wildlife across the continent.
As a result, many municipalities in the United States and Canada have started evaluating organic and natural deicing alternatives to keep their roadways clean during harsh winter months.
Some of these alternatives are likely to have a longer shelf life than others — this editor doesn't see beer waste ever becoming a dominant road clearance tool, even in Wisconsin — but when weighed against the further environmental risks posed by excessive salt use, it appears likely a change is on the horizon.
Unquestionably good news for the fish of Saskatchewan and deer of the Midwest, this transition also will likely have a slight impact on the truck parts and service industry. Chloride-based rock salts and slurries aren't just damaging to local environments, the extremely corrosive concoctions also cripple undercarriage components and electrical systems on today's commercial trucks and trailers.
A shift away from salts might be good for the environment, but it's unlikely to lead to more parts sales.
Former ATA Technology & Maintenance Council (TMC) Chairman Roy Gambrell told Trucks, Parts, Service in 2011 that rustjacking — the process in which corrosive chemicals seep into a brake system and separate a pad from a shoe table — costs the commercial trucking industry between $2 billion and $10 billion per year on Class 8 trucks, alone. At the time Gambrell doubted state transportation departments would ever willingly move away from destructive chloride solutions because of their superior deicing power, stating: "I've had four or five DOT officials tell me that if these chemicals can save one life, they're worth it. We have to realize that we're stuck with this [problem]."
But as more data is put forth regarding the damage these chemicals can cause once they leave the roadway, many communities and their transportation departments are proving more adaptable than Gambrell believed them to be.
In Calgary, Alberta, Road Department District Manager Jim Fraser told the Canadian Broadcasting Corporation in 2017 his city's early tests on natural solutions had been very promising and that the city was hoping to do a larger trial later in the year. Similar tests have since been done across the U.S. and Canada leading to even more adoption.
Yet it's important to note most natural and organic road-clearing products don't directly replace salt-based deicers so much as complement them, and therefore reduce a salt product's overall use. Beet juice, which has become a popular natural deicing enhancer across the continent, is typically mixed at a 20/80 percent ratio with a conventional salt brine to treat snowy and icy surfaces, states the Missouri Department of Transportation (MODOT).
Priced similarly to calcium chloride — the most corrosive chemical added to salt brines — MODOT says beet juice "has been proven to lessen the corrosive properties of the salt that we use to apply to the road."
The value of the organic solution comes from its impact on the chemical reaction that melts ice. Beet juice contains just 12 percent sodium chloride and when used alone will not melt ice. But MODOT says when mixed with a salt brine, beet juice's natural sugars strengthen the existing deicing solution. Additionally, because of its natural adhesiveness, beet juice also serves as a bonding agent for salt brines and enables municipalities to spread fewer gallons of deicing solutions to keep roadways clean.
MODOT says 1 lb. of salt can capably melt 46.3 lb. of ice at 30°F but just 3 lb. of ice at 0°F. However, when combined with beet juice at temperatures between 25° and 5°F, MODOT says it is able to enhance the performance of its salt solution without excessively covering roads and creating significant long-term environmental hazards.
That isn't to say beet juice and other natural deicers don't have any drawbacks.
Beet juice doesn't emit a pleasant odor, nor is it appreciated for its stickiness in non-deicing circumstances. Darker colored beet juices have been known to discolor and stain concrete and asphalt when dispersed too soon before a storm, and recent research indicates the solution may have a negative impact on insects — particularly mayflies.
Yet when compared to the status quo, beet juice and other natural deicers appear to offer a clear corrosion reduction and environmental advantage.
A 2010 University of Maine study concluded all "common chlorides (sodium, calcium, magnesium) show high impact through atmospheric corrosion to metal," and the study's author Jonathan Rubin told the Associated Press in 2018 that "adding salt to the environment does have negative impacts."
"Salt [chlorides] and pollutants are very corrosive to bare carbon steel," adds Catherine Houska, CSI, TMR Consulting, in her white paper "Deicing Salt – Recognizing the Corrosion Threat." "They are also corrosive to the sacrificial metallic coatings made from zinc and aluminum that are commonly applied to carbon steel."