Corrosion is a 365 day-a-year problem. From the United States' Northeastern region to the Southwest and all over Canada, trucking companies constantly are battling road chemicals that lead to corrosion. In the past decade, that battle has escalated.
So has the prevalence of rustjacking. In case you're wondering, yes, the two go hand-in-hand.
Rustjacking occurs when corrosive anti-icing and de-icing chemicals seep into a brake system and lodge between the pad and shoe table. Over time, the chemicals create rust pockets on the shoe table that slowly push the pad away from the table and reduce the brake's usefulness. If left unattended, an affected brake will deteriorate and eventually fail.
A brief history
Always an underlying issue for fleets and owner-operators in past years, rustjacking has moved to the forefront of the Class 8 trucking industry recently as a result of the introduction of highly-concentrated and highly-corrosive de-icing chemicals. The recession of the last decade hit state governments and departments of transportation as well as the trucking industry.
To cut costs, many states turned away from mainstays like salt and cinders and began utilizing stronger chloride-based chemicals to keep their roads clean.
The new chemicals have proven to be more powerful than salt ever was, and have become much more of a nuisance. Unfortunately for the trucking industry, the new chemicals are here to stay. So is the constant fear of rustjacking.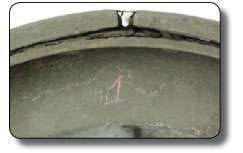 Roy Gambrell, director of maintenance for Truck It, first introduced the problem of rustjacking in 1999. A self-proclaimed "fanatic" when it comes to brakes, Gambrell says that's when he began noticing corrosion and cracks in brake pads and shoe tables of salt-tempered brake systems.
When research showed the cracks and corrosion weren't the result of heat, Gambrell approached the American Trucking Associations' Technology & Maintenance Council (TMC) about the problem, which he called "rustjacking."
In the 12 years since his discovery, Gambrell still is on the rustjacking case.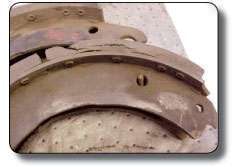 The issue hasn't disappeared, but a decade of research and development has resulted in new parts, strategies and solutions to fight the corrosive problem.
Rustjacking today
Due to its decade-long presence as a hot-button issue, rustjacking is not quite the problem in 2011 it was in 2001. OEMs, fleets, owner-operators, aftermarket repair garages and associations like TMC have gone to great lengths to fight rustjacking and prevent it from destroying brakes.
Gambrell says that's a start, but adds the issue is never going to go away. Now that municipalities have made the transition from salt (sodium chloride) to the cheaper alternatives of calcium chloride and magnesium chloride, he says they aren't going to turn back.
These chemicals work, and fast, and that's enough to justify using them in spite of the obvious corrosion risks.
"It's never going to go away. Not now," Gambrell says. "(Rustjacking) is costing the commercial trucking industry between $2-10 billion a year, and that's just Class 8 trucks. These new chemicals and these chlorides attack everything. They eat away at everything. But they work, and that's what matters to the states and the DOTs."
He adds, "I've had four or five DOT officials tell me that if these chemicals can save one life, they're worth it. So we have to realize that we're stuck with this (problem)."
The heavy-duty industry has spent the last several years getting used to it.
New chemical corrosion tests have been created to complement an older salt corrosion test, and most OEMs have begun producing brake parts with chemical-resistant exterior coatings. The coatings are designed to slow the progression of rustjacking and extend brake life.
But the test and coatings aren't the only way to slow rustjacking. Anita Byrne, national accounts manager for Spraydown USA, says preventive maintenance is also key when fighting the destructive nature of rustjacking.
Unlike salt, magnesium chloride and calcium chloride are not easily removed from a vehicle by rinsing or a quick wash. As a matter of fact, rain on a vehicle covered in magnesium chloride can cause more corrosion, not less.
Byrne says truck owners must be diligent in cleaning their vehicles after they come in contact with these chemicals and must continue to thoroughly wash vehicles on a schedule throughout the year.
States are using these chemicals year-round and nationwide, so rustjacking — and all corrosion — is not just a winter risk. These chemicals pose the same risks as a dust suppressor in Arizona in August as they do as a de-icer in Delaware in December.
Gambrell says his company has added a rustjacking check to its comprehensive service schedule, and he also has created a simple test to identify when rustjacking has set in.
"If you can take a business card and slide it between the shoe table and the lining, then you're starting to experience (rustjacking)," Gambrell says. "Once we see that, that truck is flagged and we have to pay close attention to it."
Asa Sharp of International Marketing Inc. says a brake doesn't have much life left once rustjacking sets in. Chemicals don't affect tires, Sharp says, but wheels, brakes and axles all can corrode and thanks to these new chemicals, no metal is safe.
"It used to be traditional road salts hurt iron and steel, but this new stuff causes problems for aluminum as well," he says. "We used to just worry about the ferrous metals; and now we're worrying about things we never thought would corrode before."
Looking forward
The introduction of new chloride tests and coated braking systems are the start of the continuing battle against rustjacking. Spurred on by customer feedback, advances are made every day.
"(Rustjacking) is a subject that was addressed at TMC for at least five years before (OEMs) finally started making changes," says Mike Pennington, manager of industry relations for Meritor. "Customers were pleading, 'Somebody please do something to stop this.' There was a real desire from the end-users to address the issue and not just talk about it."
With coatings designed for salt no longer good enough, the OEMs were forced to raise their game. Several companies responded with new products, and the race to find the perfect coating still is going on today.
Gary Ganaway, Bendix Spicer director for the foundation drum brake group and marketing, says his company has been using protective coatings on its braking components for 15 years.
Even with that much experience, he says the company still is undergoing tests to improve its products.
"One of the things our industry found was as new chemicals came on the scene, old testing methods weren't sufficient and needed to evolve," he says. "The testing procedures needed to change. We weren't just fighting the salts anymore. The coatings weren't made for these new chlorides."
Pennington says Meritor is doing the same research to improve its products. The company introduced its newest corrosion resistant coating in 2009, and he says tests are being done constantly to improve the product and extend its useful life.
"The engineers test it six ways from Sunday, but the customer makes the decision when we've hit upon something," Pennington says. "They let us know."
Gambrell says no amount of testing will ever create the perfect coating solution — the chemicals are just too powerful. He says the industry's best bet to minimizing rustjacking is to be cautious.
Most new coated brake shoe tables and pads are under warranty to a certain mileage, and Gambrell says it's best not to push it when a part reaches the end of its service life. He says he commonly sees brakes start failing his "business card" test between 36,000 and 52,000 miles, and says safety checks are a daily requirement after that.
Sharp agrees, adding that replacing a part when it starts to wear may cost more in the short term, but is safer and more cost effective long term. Better a truck be off the road for an afternoon getting new parts than a week from an accident.
"I think we have better tests for (rustjacking) now and we know what it is, but the issue isn't going anywhere," Gambrell says. "These states aren't going to go back to salt. This is an expensive problem we have to live with."