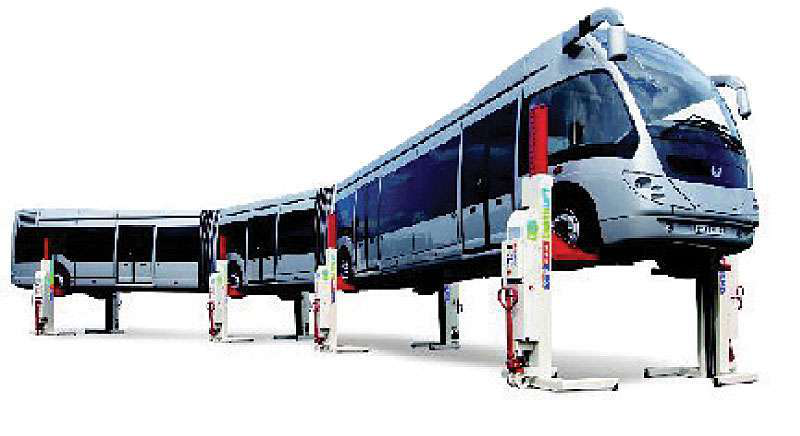 Wireless Mobile Lift Column
Stertil-Koni announced its new Earthlift wireless mobile column lift is now ALI/ETL certified and available for immediate sale in the United States.
According to Stertil-Koni, features include:
* A variable speed controller that is the industry's first.
* An advanced operating system with a graphical user interface that digitally displays lift speed, the weight bearing on the individual column, battery charge level, lift direction, lift extension measurement and more.
* A self-regenerating power supply that increases productivity by reducing the time a lift spends offline charging.
According to the company, the lift's columns can be operated independently and up to eight Earthlifts can be wirelessly linked in seconds, using Stertil-Koni's ID Key technology.
Once linked, the multiple lifts function as one synchronized system that delivers safe, smooth control even when load distribution is unbalanced, the company says. The Earthlift's variable speed control allows the operator to adjust vehicle height accurately.
The new lift has an 18,000-lb. load capacity and comes with 14-in. pick-up forks standard. The lift is designed to provide a 10-in. clearance between the column and the vehicle, preventing contact in the event of an on-lift tire or suspension failure.
Stertil Koni
Visit tpsdigital.com/info

Top Chest For Roll Cab
Snap-on's KRA2410 55-in. top chest is an add-on storage solution for the company's roll cab.
The top compartment is 5 in. deep to store power tools, standing sockets, bulk cases and personal items, while 10 interchangeable 2- and 4-in. drawers can hold up to 120 lbs. each; the 4-in. drawers will accommodate an extra set of slides to hold up to 240 lbs.
The top chest is predrilled for an optional power strip, while the flip lid is designed for easy operation and uses high-strength gas struts for safe, convenient lifting and shutting, the company says.
Snap-On
Visit tpsdigital.com/info
High-Performance, Refrigerant Leak Detector
Tracer Products has introduced the TP-9360 PRO-Alert, a portable refrigerant leak detector that features high-performance, heated-diode sensor technology to detect refrigerant leaks down to 0.25 oz. per year (7 g/year).
According to Tracer, the PRO-Alert features dual-sensitivity controls — a high-sensitivity setting when initially checking the general leak area, and a low-sensitivity setting to hone in on the exact leak site.
It is self-calibrating to neutralize background contamination, sensitive to both R-12 and R-134a refrigerants, and certified to meet SAE J1627. Its variable-intensity audible alarm and flashing LED help pinpoint leaks.
The cordless, compact PRO-Alert is specifically designed to make leak detection efficient and easy, Tracer says. Its 17 in. long, chrome-plated, flexible metal probe slides into tight spots and holds its position for more thorough inspection.
Tracer also says it includes a powerful, built-in positive displacement pump that draws a test sample into the detector for fast, accurate sensing. The PRO-Alert comes complete with sensor, replacement filters and two D-cell alkaline batteries packed in a plastic carrying case.
Tracer Products
Visit tpsdigital.com/info
Vertical Carousel With Interchangeable Carrier

The Megamat RS Vertical Carousel from Kardex Remstar features an interchangeable carrier design, allowing parts and service operations to mix, match and change storage configurations more easily, the company says.
With a standard multipurpose carrier, companies can add partitions, dividers, intermediate shelves, rollout drawers and a variety of front lip height and depth clips to customize the unit to meet their storage needs. To change carrier configuration, remove the stored goods from the carrier, add the carrier insert (partitions, dividers, intermediate shelves or rollout drawers) and return the stored goods.
Each carrier comes standard with a 0.3-in. front lip to help prevent stored goods from migrating out. Carrier depth or height clips can be added, providing a taller or deeper front lip to help secure various-sized totes or boxes from migrating out of the carrier. Each carrier also has a partial top to help prevent carrier overloading.
Kardex Remstar
Visit tpsdigital.com/info
HVAC Diagnosis, Repair Textbook
Mobile Air Conditioning Society Worldwide's "Modern Automotive HVAC Systems" is a 160-page textbook designed to sharpen technician skills through both a review of basic principles and presentation of industry-accepted best practices for all aspects of HVAC diagnosis and repair.
The book is designed for both the automotive technical classroom and the professional working in the field. The classroom version includes a Powerpoint presentation with 211 slides.
MACSW
Visit tpsdigital.com/info

SuperKrome Plating Ratchets
SK Hand Tool has reintroduced its full line of SK-branded ratchets and ratchet sets featuring the company's SuperKrome plating.
According to the company, SuperKrome helps provide technicians with added ease of cleanup and corrosion resistance.
Available in metric and standard sizes, SK ratchets feature an enclosed ratcheting mechanism designed for ease of removal and replacement for cleaning or rebuilding.
SK says triple-tooth contact helps provide a smoother ratcheting action with little back movement, while the hardened pawl and teeth help facilitate durability and a long service life.
For better handling, all SK ratchets feature diamond-knurled grips, while chamfered ends help lead the socket over fastener heads.
SK Hand Tool
Visit tpsdigital.com/info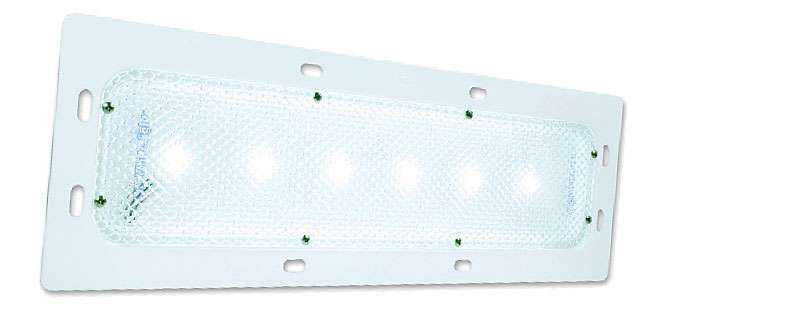 New Marker Lamp
Grote Industries has announced the introduction of its new MicroNova Dot, a family of clearance/marker lamps with dual intensity capabilities that it says is specifically designed to resist the dimming common in other penny-sized LED lamps.
According to Grote, small LED clearance/marker lamps share a flaw — they visibly dim as they age. Heat and negative transients cause this reduction in brightness and functionality, and Grote says its new lamps are designed with a rectifier diode that protects LEDs from the effects of negative transients.
The lamp is designed for dual-intensity performance and comes in red, amber and white colors.
Grote's MicroNova Dot is available in P2- and PC-rated versions, which the company says allows it to meet the photometric requirements for a broad spectrum of applications. The P2 designation means that the MicroNova Dot can be used as either a side marker lamp or a clearance lamp, but not both at the same time.
Grote says the PC designation means the lamp will meet light angularity requirements for both the clearance and side marker lamps simultaneously.
According to Grote, the lamp is suited for a broad range of applications. The lamps require no mounting fasteners and have a profile that extends only 3/8 in. from the mounting surface.
It comes in a 12-volt model and a 24-volt, ECE-rated model. An optional adapter is said to add more flexibility to the line by allowing the lamps to function in a dual-intensity mode, needed for applications such as high-mount center lamp configurations.
Grote Industries
Visit tpsdigital.com/info