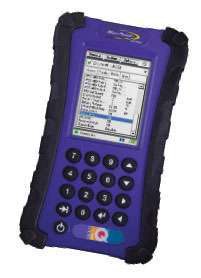 Handheld Diagnostic Tool
The new Blue-Point Pocket iQ (EEHD181030S) is a handheld diagnostic tool that can be used for all commercial vehicles from light-duty to Class 8 trucks. Powered by Nexiq, this scan tool claims to be a productivity and efficiency enhancer.
Features and benefits include:
* For medium- and heavy-duty trucks: reads active fault codes; reads and clears inactive fault codes; monitors J1708 and J1939 engine, brake and transmission data
* For light-duty trucks: reads active fault codes; reads and clears inactive fault codes; monitors OBD II engine data
* Reporting tools enable technicians to save vehicle diagnostic and fleet performance information in PDF or text format. Reports can be printed
to a standard PCL3 printer or transferred to a memory stick
* Port allows for future updates/upgrades and provides the ability to download reports to your memory stick
Snap-On
Visit tpsdigital.com/info

Fuel Injector Cleaner
Rislone has released a fuel injector cleaner with an upper cylinder lubricant.
According to Rislone, the cleaner is designed to fix noisy fuel injectors and pumps, rough idles, hard starting, engine hesitation, reduced engine power, poor fuel economy and harsh fuels.
Super-concentrated Rislone Fuel Injector Cleaner with UCL is a complete fuel system tune-up, the company says.
It combines a unique blend of additives to clean and lubricate the entire fuel system and protect the engine.
According to the company, continued use of the cleaner in every tank of fuel offers full-time lubrication, reducing friction, wear and excess heat. It also reduces carbon build-up that can cause pre-ignition, power loss, burned valves and broken rings.
Rislone says its Fuel Injector Cleaner with UCL can be used with all gasoline, ULSD diesel and E85 Flex-Fuel engines.
It works with all unleaded, oxygenated, reformulated and bio fuels. It will not void any vehicle manufacturer's warranty, the company says.
A standard dose is approximately three ounces per 10 gallons of fuel, and Rislone says the dosage can be doubled for vehicles with known fuel lubrication problems.
Rislone
Visit tpsdigital.com/info
Maximum Torque Screwdrivers
SK Hand Tool has re-introduced its SureGrip line of professional-grade screwdrivers.
The screwdrivers' square handle is manufactured from Butyrate, has a contoured design and a no-slip grip to help technicians gain leverage and maximize torque. It is also is said to be resistant to shop solvents, oils and chemicals.
The screwdriver's chrome vanadium shaft strikes a balance between strength and durability, according to the company. It resists rust, plus features a vapor-blasted tip that tightly engages fasteners even from the most awkward angles.
Many SureGrip models provide the added benefit of a built-in hex bolster at the shaft top that acts as a turning paver when used with a wrench.
The screwdrivers are backed by a full lifetime guarantee, and are available individually or in a variety of kits including standard, long reach, extra-long reach, torx, heavy-duty and stubbies. There is also a nine-piece combo set.
SK Hand Tool
Visit tpsdigital.com/info

Vibration-Reduced Air Hammers
Ingersoll Rand expanded its MAX family of air tools with the new 118MAX long barrel and 122MAX short barrel air hammers.
According to Ingersoll Rand, the 118MAX and 122MAX vibration-reduced air hammers are designed to deliver comfort, power and productivity to help technicians handle material prep and fabrication jobs.
The new air hammers feature a patented anti-vibration design that Ingersoll Rand says reduces tool vibration by more than 30 percent when compared to standard air hammers in its class. Noise output also is reduced by up to 3 dBA as compared to standard air hammers, and the tool has been equipped with an improved ergonomic grip to provide additional comfort during extended use, the company says.
The new hammers also feature new quick-change retainers that reduce wear, and allow for faster chisel changeovers for increased productivity. In addition, each of the tools is offered in a kit that includes a blow molded case and five-piece chisel set (models 118MAXK and 122MAXK).
Ingersoll Rand
Visit tpsdigital.com/info
Tractor-Trailer ABS Kit
Noregon Systems announced the release of its newest diagnostic service kit for heavy-duty tractor and trailer anti-lock braking systems: No. 70050 Heavy Duty Tractor/Trailer ABS Diagnostic Kit.
The kit includes:
* Hewlett Packard 635 notebook;
* Heavy-duty ABS OEM software bundle consisting of Bendix ACOM, Haldex ABS, Wabash ABS and MeritorWabco toolbox;
* JPRO DLA+ PLC adapter kit; and
* All necessary cabling.
Noregon Systems
Visit tpsdigital.com/info

High Capacity Heavy-Duty Shock
Bilstein introduced a new super high capacity 60mm diameter, monotube gas pressure shock absorber for the of heavy-duty commercial vehicle market.
With a 60mm internal working piston, this shock is said to be one of the largest in this market segment.
Bilstein's monotube design is said to completely eliminate oil cavitation under all performance conditions, offering improved chassis isolation and damping accuracy.
The company says the 60mm working piston features a surface area that is more than twice the size of other pistons. The company's Comfitrac valving is said to react instantly to suspension input by self-adjusting for any road condition.
The monotube construction of the high capacity shock body and interior components provide excellent torsional durability and increased tensile strength, according to the company.
The results of this engineering and manufacturing design are said to be improved vehicle stability and reduced harshness, with improved control and ride comfort.
Shocks are available for Class 4 through 8 trucks, emergency vehicles and military applications.
Bilstein
Visit tpsdigital.com/info

Wheel Stud Cleaning Brush
Tru-Balance's X-2511-SB heavy-duty stud brush features an open design for cleaning wheel studs with one pass without reverse rotation.
The independent brushes are made from stainless steel and can be rotated as needed for added brush life; one brush can be removed for using the tool with a drill to clean wheel holes.
The brush collar is designed for proper stability, positioning and performance, Tru-Balance says. The hex drive can be used with a cordless drill or air tool.
Tru-Balance
Visit tpsdigital.com/info
Waste Oil Cleaner
Dieselcraft Fluid Engineering's Fuel Factory, a modular drum top centrifuge processing system driven by a gear pump, is designed to clean 216 gallons of waste oil per hour.
The system is built to clean waste motor oil, diesel fuel, transmission fluid, hydraulic fluid and vegetable oil without any filters. It also will separate any solid from the liquid and remove water.
The device is built on a ¼-in. powder-coated aluminum plate that holds the two centrifuges, pump, motor, switch and 12-in. pour opening.
The Fuel Factory is designed to fit inside and just below the top edge of a standard 55-gal. open top drum; by being below the top ½-in., there are fewer spills on the ground.
Pour the waste oil product through the pour opening, turn on the heater and turn on the pump; the processed oil then is pumped to the storage drum by use of the same pump that drives the centrifuges. The device is designed for easy removal from the drum.
Dieselcraft
Visit tpsdigital.com/info
All Steer/Position Radial Tire
Bridgestone Commercial Solutions (BCS) has launched the Firestone FS507 PLUS steer/all-position radial.
The FS507 PLUS is approved for use on Environmental Protection Agency (EPA) SmartWay-certified equipment and complies with California Air Resources Board (CARB) rules.
With the top layer of its twin-layer tread formulated for longer wear, the FS507 PLUS promotes excellent mileage, Bridgestone says. The lower layer of the tread helps shield the casing from damaging heat for extended life and retread ability.
Shoulder wear protector ribs are said to minimize cupping and step-down wear while stress-relief sipes claim to fight irregular wear and provide hundreds of biting edges to enhance traction.
The FS507 PLUS uses a deep original tread and casing construction with four steel belts and an all-steel body ply. The FS507 PLUS is available in both low profile and 90-series sizes. The low profile tread pattern has five ribs and the 90-series four ribs. Both are available in "G" and "H" load ratings.
Bridgestone Commercial Solutions
Visit tpsdigital.com/info

Chrome, Stainless Accessories
TRP Aftermarket Parts announces the availability of a chrome and stainless line of accessories that are manufactured with tested 304-grade or 430-grade stainless steel to resist corrosion, while chrome plating provides a uniform finish.
The accessories provide a durable and long-lasting performance, TRP says.
The accessories can be used for axle and hub covers, steel bumpers and a variety of other applications. TRP says the parts can be buffed back into original condition when needed.
TRP Aftermarket Parts
Visit tpsdigital.com/info
Wheeled Battery Charger
Associated Equipment Corp.'s Intellamatic Model ESS6011 smart 12V/24V 70/35 amp charger is designed to provide a stable power supply to all battery types for extended service procedures or reflashes.
The wheeled charger provides 70 amps of charging power in 12V mode, 35 amps in 24V mode, 220 amp boost capability and 70 amps in power supply mode for 12V and 24V flooded, AGM and gel cell batteries.
Associated Equipment
Visit tpsdigital.com/info
Air Cooler Charger
Alliance Truck Parts now offers a charge air cooler product line for most makes and models of Class 6-8 commercial trucks and buses.
The charge air coolers are all-new construction — not remanufactured or refurbished — and feature bar and plate construction for added durability and more efficient heat transfer, according to the company.
Alliance Truck Parts
Visit tpsdigital.com/info