Oil filter capacity does not refer to the amount of oil that needs to be added when changing both oil and filter.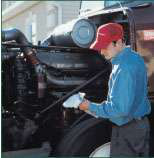 According to Chuck Kerrigan, director of marketing for Purolator Filters, oil filter capacity describes the amount of debris an oil filter can hold before it becomes obstructed and causes the filter's bypass valve to open.
When selecting a replacement oil filter for your customer's vehicle be certain the filter has sufficient capacity to capure and hold all the debris it's likely to encounter during its service life, he advises.
The longer an engine oil filter is in service, the more debris it will hold. Eventually the filter can become completely obstructed, causing the bypass value to open and direct unfiltered oil to the crankshaft, engine bearings and other components.
There are a number of sources of particles inside an engine, Kerrigan explains. Casting flash can break off the inside of the engine block or the connecting rods, pistons and valve train components.
"Sources of non-metallic debris include dust and dirt, pieces of gasket material that may become dislodged over time, pieces of disintegrating valve stem seals and even bits of hardened carbon that can build up on valve train parts and then break off. It also may be other oil-wetted internal parts that are subjected to high temperatures that can bake oil into hard carbon deposits," he says.
All of this can add up to substantial amounts of debris that can build up over time.
Another thing to look at is the filter's efficiency. Efficiency is a measure of the percentage of particles of a given size a filter is able to capture.
The goal, according to Kerrigan, "Is to select an oil filter that you can be confident will safely remove all the debris it might meet inside the engine, while maintaining its ability to continue to provide properly filtered oil where it is needed most — between highly stressed moving parts in the heart of the engine."