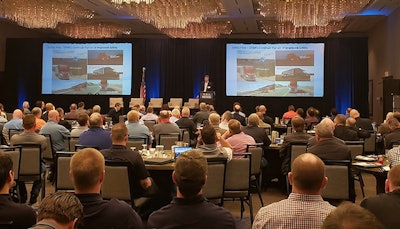 The HD Repair Forum has announced the release of its educational program and agenda for this year's event, the only event dedicated to the heavy-duty collision repair market.
The two-day event will be held March 24-25, 2020, in Fort Worth, Texas. It will be filled with a fast-paced agenda featuring speakers from industry leading companies and individuals driving change in the industry.
Organizers say some of the topics include:
Frame, Cab, and Trailer Repair
Advanced Driver Assistance Systems (ADAS), Scanning, and Diagnostics
Business Strategy and Employee Relations
Steering, braking, and other key repair knowledge
The speakers and content for this program are a derivative of the work, input, and direction of the HD Repair Forum advisory board. 
"What makes the HD Repair Forum unique is that we have direct input on the content, speakers, and direction of the conference. As a result, it's an event created for the people, but more importantly by the people in the industry," says James Svasaand, Penske Truck Leasing, and HD Repair Forum advisory board member.
Additionally, the HD Repair Forum continues its goal to expand and include other industry stakeholder groups. For the first time, a bus manufacturer (Prevost) will be presenting at the conference.
Fellow advisory board member Mark Polzin with Budget Truck & Auto states, "We repair cars, trucks, RVs, and buses. I'm thankful Prevost will be at the event. Their participation will shed light on some areas the industry can clearly benefit from, as it relates to the availability of parts information and repairability."
For more information about this year's event, and to register, please CLICK HERE.