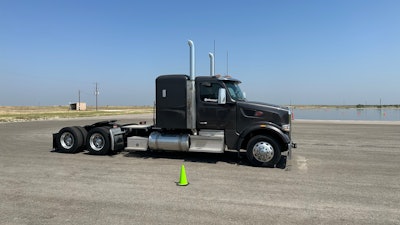 Bridney Jordan
Every Continental tire goes through Uvalde, Texas.
The 4,927-acre facility carved out of the blistering desert hosts a variety of tracks, laboratories and other features for testing tires. Joshua Swain, training manager for Continental, says if their engineers can dream it, Uvalde can build it.
[RELATED: ContiTech air springs to now be branded Continental]
More and more, Uvalde also tests other vehicle components. Only about 30% of Conti's business comes from tires any more, says Trey Thompson, who manages a field solutions team for ContiConnect, the company's tire pressure management system. More than 1 billion vehicles worldwide have Continental parts, whether owners or drivers know it or not. Most of those parts are white-labeled or bear the OEM's name. Most of those go through Uvalde's punishment, too.
3:09 p.m., 134 degrees
None of the media corps invited by Continental to the Uvalde Proving Grounds knew that a car thermometer would go so high. It became a terrifying sort of game, watching it climb from station to station during the ContiXperience, a one-day event that brings press, fleets and other customers to Uvalde to see, touch and drive the products.
To say it was hot was an understatement. As soon as you stepped out of the climate-controlled Ford Transit van, the heat tugged at your life force. Conti personnel pushed waters and had fans going, but it was still withering. It was as much of a test on people and equipment as any of the obstacles engineers created in Uvalde. While the sun baked, vehicles and tires were pushed to their limits.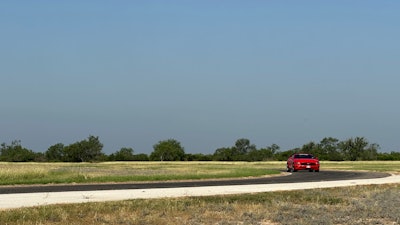 Stop 1: The Dry Track
A white Dodge Challenger and a red Ford Mustang carted us around the shorter asphalt dry handling track at the proving grounds. Our course was a hair over a mile long and had a 1,200-ft., straightaway as well as six curves and a short slalom course. The Mustang wore a set of General Tire G-Max 02s while the Challenger got the grippier Continental ExtremeContact Sport 02s.
Each of us were handed the keys for two laps and rode shotgun for two laps in the Mustang. Professional drivers were on hand for tips, tricks and war stories. Continental isn't the only one that uses those tracks. OEMs and others can rent the facility or portions of it to do their own testing of tires, vehicles and other components. European trucks and trailers, domestic cars and more were seen working at facilities not part of the Xperience.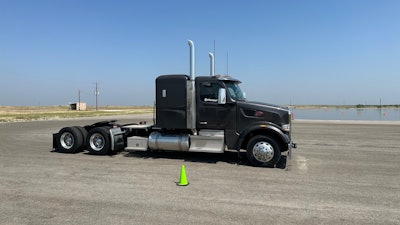 Stop 2: The Wet
Next was wet handling. Uvalde is home to North America's largest wet handling track. The pad is 15 acres, looming like an oasis in the midday heat. It has a 1% grade across an 800-ft., square that allows water to fall in controllable amounts up to .11 inches over the surfaces.
Water from this and other wet tracks at the facility is reclaimed as much as possible and stored in ponds that bob with a layer of black plastic balls to prevent the brutal heat from evaporating it all.
This time, we got the keys to a Peterbilt 567 sleeper to steer around the sopping pad and brake twice. The rig was equipped with Conti Ecoplus HS3+ steer tires and ContiTread HDL 3 LTL-R retreads on the drive tires. Try as we might, experienced and rookie drivers alike couldn't get the tires to misbehave, and the truck took stately, sweeping turns (some of them slowly, ahem) around the pad.
There is a track where engineers and drivers can force the tire to hydroplane. This allows them to see the exact failure point of the tire and how it behaves after the driver loses control. There's also a braking test area where the truck is subjected to a slick straightaway. The driver gets up to speed, then performs a hard stop and the distance from braking to stopping is measured.
Bridney Jordan, truck tire product marketing manager for North America, showed the test results from a Continental retread tire and a similar budget new tire. The retread performed better, she says, than the budget tire, showing both the importance of keeping the casing in the best shape you can and the quality of using a good retread and a good retread partner.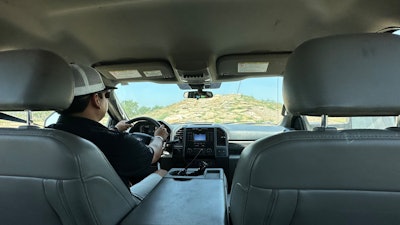 Stop 3: Offroad
After a break for an air-conditioned lunch, we were back out in the furnace with a Ford F-450 work truck sporting Continental Terra HD3 tires. The truck bounced happily (my back less so) over a variety of aggregates and obstacles, showing off traction on hill climbs and through sand and water.
Conti representatives also had their next-generation Continental HSR 5 and HDR 5s on display. These tires, available at the end of 2023, are Continental's fifth-generation tire and the first to be intelligent tire ready. Developed in partnership with Ford, these tires feature a new tread compound that delivers improved rolling resistance and durability and full-width siping for better traction and handling. They're both three-peak mountain snowflake certified (of little use to us broiling in Uvalde, but a nice thought) and come with RFID impeded in the tire, meaning the tire can be tracked from cradle to grave. It also comes with a pocket built in for the ContiConnect sensor, which we would learn more about after an hour-long tour of the whole facility.
Stop 4: Finally, the A/C
It's mid-afternoon and you could be forgiven for thinking Uvalde is on Mercury or some other planet markedly closer to the sun. The A/C is humming in the media van, where it's staving off the worst of heat exhaustion but little else and we romp around the whole facility, seeing labs and courses designed to do what we had yet to do – make these tires fail.
There were tracks with spikes. With hideous, wheel-popping curbs. With ridges and adjustable potholes. Adjustable. Potholes. Offroad courses that looked like they'd snap both axles and vertebrae.
Every Continental tire and component braves all of those.
And then we came to the CST endurance building, where some of Conti's toughest tires go to die. The CST facility is so dangerous that it sits by itself in the desert. No one is allowed in during testing; cameras watch the tires get slowly tortured to death while personnel watch from another building a safe distance away. This facility kills commercial tires from those on rigs like the Peterbilt up to specialty tires meant for giant earthmovers. It's a lot of destructive force in one place, hence the safety precautions. Ominously, a yellow light slowly blinked off and on, letting us know that testing was in progress. Even staring too long through the fences felt dangerous.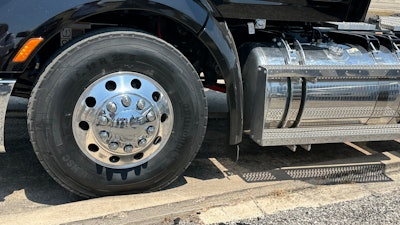 Last, But Not Least, the Future
The final stop of the day brought us to Continental's digital solutions. We'd seen this in action earlier during the tour, when a Peterbilt 567 day cab bopped over a series of curbs, making the tires bulge and stress. A technical assistance van, equipped with a Continental yard sensor, sat nearby to read out the measurements on the tires at the beginning and end of every run.
Continental has these vans around the country under Trey Thompson's watchful eye. He showed off the latest Continental TPMS systems, including this year's ContiConnect LIVE, which monitors pressures in real time over the air for trucks, trailers and combos.
In addition to tracking fleet assets (Thompson asked a Peterbilt 579 UltraLoft Sleeper to make a three-mile oval trip and showed us the data on a dashboard from beginning to end, as well as an alarming temperature of more than 140 degrees where the truck was cooking on the parking lot), it also shows tire pressures, temperatures and locations on the rig.
While Continental doesn't have its own auto inflation system, it does, at a customer's request, partner with those providers as well as telematics solutions to work seamlessly on managing fleet or truck data. Carolina Wagner, marketing director for commercial vehicle tires, says those partnerships are customer-driven so Continental can tailor its solutions for any fleet and any usage.
The Uvalde course – and the ContiXperience – was a synergistic look at how a tire company can become a complete vehicle company, designing solutions for human transport no matter how many wheels it has in parternship with OEMs and other providers.
"This place really embodies who we are and what we do," Swain said as the van (reading 132 degrees) bounced through the desert, wearing a grin only someone who is passionate about what they do can have in that kind of heat.
This story was edited on June 26.