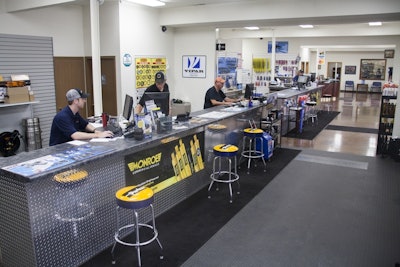 For aftermarket distributors, providing value-added services has been a tried and true sales method for ages. Selling truck parts is a profitable business, but also providing industry knowledge and expertise, maintenance, repair and other options is a proven way to expand customer relationships and your bottom line.
At Sadler Power Train, it's the way of life.
Founded as a rebuilding and machining company called Sadler Machine Inc. in 1958, the business has grown considerably over the last five decades. It expanded into truck parts distribution in 1975 and now has four locations in Iowa, with two providing drive-in service and repair. The business also still operates Sadler Machine as part of the organization at a 60,000 sq. ft. facility in Cedar Rapids, providing remanufacturing and rebuilding operations.
John Sadler, president, says each area of the business is an important aspect of its overall success. By providing so much, he says Sadler Power Train has created a value-added product offering to keep customers engaged and loyal to the business.
"We have been fortunate over the years to acquire the customers we have," he says. "We understand they have a choice in who they decide to do business with, and we work hard to provide them what they need."
Sadler says the company's machine operation is a great asset because it allows the business to offer quality aftermarket products at multiple price points through remanufacturing, as well as rebuilding services for repairs.
Sadler says another great asset his company has is its people. Sadler Power Train's 136 employees are a dedicated group, he says, constantly working together to provide value and quality customer service. He says the company's employees also show a desire to learn, which has been a great asset as the business expands.
"We understand that growth is not automatic, and when we stop learning we will stop growing," he says.
Sadler Power Train is currently building a new facility in Davenport, Iowa to replace its existing location. The facility will be located just a few miles from its present spot, and will be equipped with an expanded parts warehouse and eight drive-in service bays. Expected to be completed later this year, Sadler says his Davenport employees are thrilled about their new location and are working diligently to prepare.
He believes their investment in the company is a major part of that. The combined staffs of Sadler Power Train and Sadler Machine have more than 1,300 years vested to the business for an average of 9.8 years per employee.
Sadler says his employees take pride in their work and where they work, and the value that adds to the operation cannot be overlooked.
"The hard work put forth by our employees is unquestionably the reason we have continued growth in the industry," he says. "Our employees make our business what it is today."
Headquartered in Cedar Rapids, Iowa, more information on Sadler Power Train can be found at www.sadlerpowertrain.com.