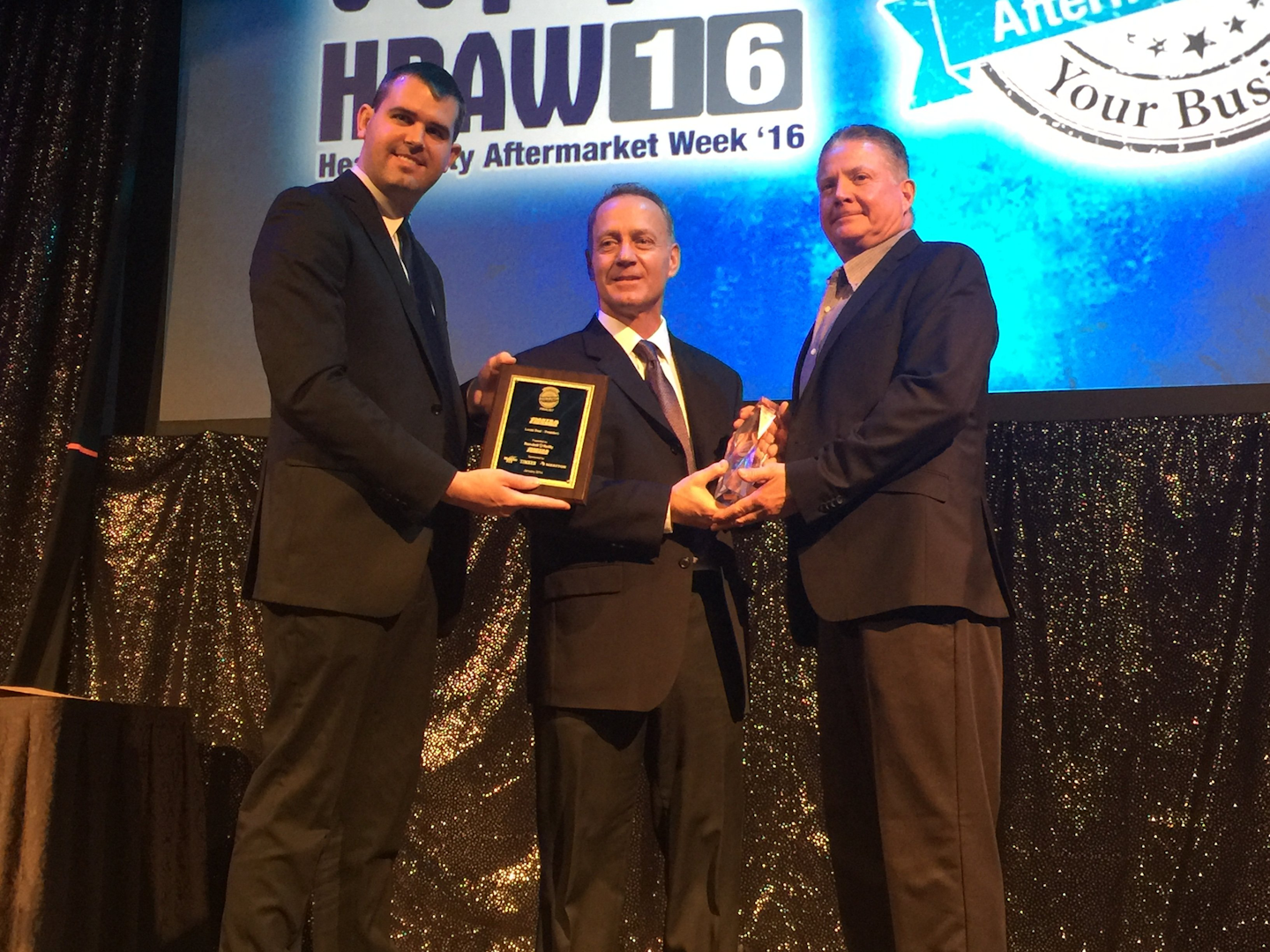 If you spend much time with the people of Sadler Power Train, one trait you'll hear mentioned a lot is loyalty.
The company is loyal to its suppliers and its buying group. It's also loyal to its employees, who reciprocate in impressive fashion.
Then there are the customers.
Sadler Power Train prides itself on a willingness to go above and beyond to help its customers. And the company's commitment to earn that loyalty doesn't go unnoticed.
Thanks to an outpouring of customer support, Sadler Power Train has earned three consecutive Truck Parts & Service Distributor of the Year nominations; and now the 2015 Distributor of the Year award, sponsored by Meritor and Minimizer. The award was presented Tuesday, Jan. 26, 2016 at Heavy Duty Aftermarket Week (2016) in Las Vegas.
Headquartered in Cedar Rapids, Iowa, Sadler Power Train is a four-location distributor offering parts and service to customers in Iowa, Illinois and Wisconsin.
Opened in 1974, it was the second business founded by Roy and Myrna Sadler, who opened Sadler Machine Company nearly 20 years earlier.
Originally opened to complement Sadler Machine by selling driveline, differential and transmission parts, Sadler Power Train has significantly expanded its product offering over the years and now sells components covering nearly all light-, medium- and heavy-duty truck and trailer systems.
According to second-generation President John Sadler (son of the company's founders) Sadler Power Train's success all stretches back to that concept of loyalty. The people of Sadler Power Train are committed to Sadler Power Train, and that dedication has provided the business a steady framework from which to build on and expand.
"We have so many great people across our entire operation," says Sadler, who has worked for the family business for nearly 45 years. "Our employees make our business what it is today."
Sadler says the average number of years of experience for employees at Sadler Power Train is nearly a decade. There are scores of employees with more than 20 years at Sadler Power Train under their belt; so many that employee milestones are practically monthly occurrences.
Sadler says he's grateful for such loyalty, and heaps a lot of credit for the company's stellar retention rate on his management team. Sadler may wield the compass, but it's his management team that steers the ship.
"You have to see all of the great people I get to work with every day," he says. "To see how hard they work for this company and the great ideas they come up with for this company is amazing."
He also gives a lot of credit to a culture established by his parents that still infuses in the operation.
Both Sadler Machine and Sadler Power Train were built on the principles of "quality products and great customer service." Sadler says every de- cision his parents made while running the companies were anchored by those values, and as such, they continue to guide him (and brother Tom, who runs Sadler Machine) today.
Each is clear in Sadler Power Train's most recent changes and improvements. Since its first Distributor of the Year nomination in 2013, Sadler Power Train has opened a new, larger parts and service facility in Davenport, Iowa, hired almost 20 new employees, rapidly expanded its online sales presence and continued to add even more product lines.
Customer response to each improvement has been phenomenal, Sadler says.
The Davenport facility opened in March 2014 to near universal acclaim — "Everyone who comes in compliments us on how nice it is," he says — and has been overflowing with customers since day one. Sadler attributes some of that success to the building's appearance and improved accessibility, but also lauds the Davenport staff for upping its game.
He says the employees at the Quad Cities location immediately took ownership of the facility, and have steadfastly worked to provide a level of service expected of the impressive new store.
The same was true when the company was forced to open a new headquarters in Cedar Rapids after a devastating flood destroyed their previous facility in 2008.
"When the flood hit it destroyed everything. We had to start all over," Sadler says. "It was really difficult for all of the employees to recover but they did a tremendous job. All of the business we are doing now, we could not have done this much in the facility we had back then."
He adds, "I wouldn't ever wish a flood on anyone, but I can't begin to tell you how many great things have happened to us since 2008."
Having such a rock-solid foundation also allows the company to be open-minded when presented with opportunities to expand.
Sadler says his management team regularly investigates growth opportunities pitched by external sources, and says several of the product lines the company has taken on over the past few years can be directly traced back to a customer or supplier recommendation.
An open dialogue also exists at the company between its workforce and management team. Sadler Power Train encourages its employees to speak up when they see opportunities to improve the business, and doles out recognition when such suggestions are implemented in the operation.
"I was born with the name that's on the building, but I'm only as good as the other people inside," Sadler says. "We have 40 people here [in Cedar Rapids], which means there are 39 other people who have ideas on how to make this business great … And we value every one of them."
Sadler Power Train's strong relationship with its employees also is shown in the company's ability to grow with its people. Companies don't achieve retention rates as high as Sadler Power Train without a willingness to evolve with its workforce.
Sadler mentions the company's 2015 decision to add engine components and service at its Davenport facility as one example.
Until last year Sadler Power Train had never sold engine parts or performed engine repairs in its service bays, but when the Davenport location was fortunate to hire aftermarket veterans with engine expertise, the company decided to expand its capabilities to include the skills of its new employees.
To a company rooted in "quality products and great customer service," the decision was an obvious one.
"When you get the right people with the right knowledge it becomes a lot easier to make a product line work," Sadler says.
All of these factors make John Sadler excited for what's to come for his family's busi- ness. With two of his sons employed at Sadler Power Train and Tom's son working at Sadler Machine, chances are good that the principles Roy and Myrna Sadler implemented 60 years ago will remain in their businesses for decades to come.
Not that John — or Roy, for that matter — are planning on slowing down any day soon.
"He still comes in to check up on everything, to make sure I'm still working," John says of his founding father. "I even got him new business cards."
Loyalty, indeed.