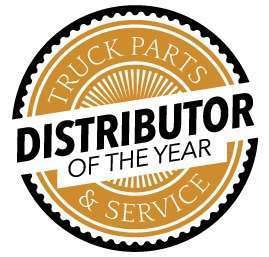 One newcomer and four past finalists have earned nominations for the 2016 Truck Parts & Service Distributor of the Year award, sponsored by Minimizer and Meritor.
Earning its first nomination this year is Action Truck Parts. The other finalists for the 15th annual award include Blaine Brothers (past nominations 2014, 2015), Harman HVS (2015), Long Island Truck Parts (2013) and Weldon Parts (2011).
More than three dozen distributors earned at least one nomination during the open nomination period for this year's award, with the finalists pulling in the most votes from the industry at large. Five past winners and three previous finalists were among the other businesses nominated for the 2016 award.
This year's open nomination period also resulted in the most nominations in program history, surpassing last year's record by nearly a dozen.
Each Distributor of the Year finalist will be briefly profiled in the Truck Parts & Service newsletter beginning next week, and will receive a corporate profile in the pages of Truck Parts & Service beginning next month.
The 2016 Distributor of the Year will be awarded by Truck Parts & Service, Meritor and Minimizer at Heavy Duty Aftermarket Week (HDAW) 2017 next January in Las Vegas.