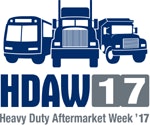 Heavy Duty Aftermarket Week 2017 (HDAW 2017) conference organizers have announced "Developing Diverse Solutions " as the theme for the upcoming annual conference, to be held Jan 23-26, 2017, at The Mirage in Las Vegas.
"Distributors, suppliers and fleets are all able to learn and build off this exciting program. Every participant has something valuable they can take away to empower creativity and positive energy throughout the industry," says Carl Mesker vice president of the Aftermarket Americas at SAF-Holland and HDAW '17 co-chair. "Finding new solutions to problems is what our industry needs, that is exactly what this year is all about."
"This event is going to be outstanding, filled with fresh ideas and ways of thinking," says Don Purcell partner and co-owner of Stone Truck Parts, and co-chair of HDAW'17.
Heavy Duty Aftermarket Week 2017 will offer industry participants four days of education programs, a product expo with the latest in heavy-duty parts-services and information, peer networking, social activities and one-on-one meetings during which suppliers and distributors spend time discussing their businesses and opportunities for growth in their relationships. All designed to help serve end-user customers better.
Now in its 12th year, HDAW is the largest North American gathering of the independent heavy-duty aftermarket industry. More than 2,300 executives and managers from the U.S., Canada and six other countries – including distributors, suppliers, service providers, educators and industry media – attended the 2016 conference in Las Vegas
For more information on next year's event, please go to www.hdaw.org.