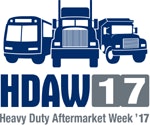 Heavy Duty Aftermarket Week (HDAW) organizers CVSN, HDDA and HDMA announce Don Purcell, partner and co-owner of Stone Truck Parts, and Carl Mesker, vice president of the Aftermarket, Americas at SAF-Holland, will be co-chairs for the next year's 12th annual event, set for Jan. 23-26, 2017, at the Mirage in Las Vegas.
The HDAW co-chairs are responsible for the strategic leadership of the event and involvement with the volunteer/staff program planning teams, which consist of more than 40 individuals from aftermarket supplier and distributor companies and organizations, organizer says.
"Our goal is to exceed HDAW attendee's expectations by planning an excellent education program for 2017 with helpful take-aways distributors can immediately implement in their businesses." says Purcell.
"We are building on the foundation of the first eleven Heavy Duty Aftermarket Week conferences, to provide continued opportunities for distributors and suppliers grow their relationships, while learning ways to improve their business practices," says Mesker.
The HDAW leadership team focuses on delivering relevance for the annual conference's key elements including the distributor education program, pre-scheduled supplier/distributor one-on-one meetings, the HDAW product expo and the numerous networking opportunities that are an integral part of the conference, organizer says.
Heavy Duty Aftermarket Week 2017 will offer industry participants four days of a highly-targeted distributor education program, a world-class product expo with the latest and greatest in heavy-duty parts-services and information, peer networking and social activities, and the extremely valuable one-on-one meetings during which suppliers and distributors spend time discussing their businesses and opportunities for growth in their relationships – to serve end-user customers better.