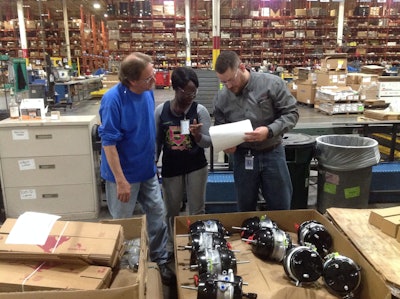 "Are you at Meritor? Like, you're actually there?"
That was when it first started sinking in, Brandon Woodard says.
Days after touring Meritor's Aftermarket Distribution Center in Florence, Ky., talking on the phone with a fellow Wyakin Warrior.
Woodard had known for months that Meritor was serious about supporting the Wyakin Warrior Foundation. As one of the Foundation's first graduates, he'd been introduced to the company months prior and had spent the summer of 2015 building being mentored by Meritor President, Aftermarket & Trailer and Chief Procurement Officer Rob Speed.
When they first met, Woodard was contemplating signing up for law school. He still was, in fact, when he arrived in Kentucky. But since meeting Speed and discovering Meritor Woodard had learned a lot about the heavy-duty aftermarket, and even if his mind was still on law school, his eyes were open to another path.
And it was there, days after a tour of Meritor's facility with Speed and his team, receiving ecstatic and jubilant words of encouragement from another Wyakin Warrior that Woodard realized the truth. Meritor's commitment to the Wyakin Warriors was more than just lip service. Woodard hadn't just been brought to Kentucky to learn more about the business sector.
He had been recruited.
For the first time since he'd medically retired from the U.S. Army in 2012, Woodard saw a career track open in front of him. He'd spent more than three years battling through uncertainty and darkness but he'd found his path again.
He'd officially start at Meritor less than a month later.
"You hear this can happen. But until you actually see it, and see it happening in front of you, you have a little bit of hesitation," says Woodard, who started as second shift facilitator, Value Added Services, at Meritor on March 7. "I think Meritor has given veterans hope that the process works. That they can go from where they were—from that hole in the darkness—to a great career."
The industry hopes Woodard is just the beginning. Now that Meritor and the Wyakin Warrior Foundation have successfully placed one of the foundation's alums into the heavy-duty aftermarket, the next step is to build a pipeline.
Woodard may be the first, but he won't be the last.
"To us, this represents a culmination of a couple of years' worth of work with the [aftermarket] industry and Wyakin Warriors," says Jeff Bacon, Wyakin Warrior Foundation President. "We've wanted to create this type of relationship, and [Woodard's hiring] is a manifestation of that concept."
There are thousands of combat veterans like Woodard who are eager for a career and professional purpose when exiting the military. The Wyakin Warrior Foundation is doing everything in its power to educate these young men and women and help them assimilate back into life at home. But finding a job and a career takes more than just a degree, and Bacon says Meritor's hiring of Woodard is an enormous commitment to the long-term success of the Wyakin Warrior Foundation and all of its students.
That much was clear in Woodard's phone call.
Once word got around in the Wyakin community that real, tangible career opportunities were within reach at Meritor and in the aftermarket, interest and enthusiasm within the program skyrocketed.
Other veterans realized "this can legitimately happen" to them as well, Woodard says.
"It's no secret that Brandon was escorted into this industry and now is in a great position. So right behind him [in the Wyakin Warrior Foundation] are guys who have started to study automotive technology or mechanical engineering with the idea of looking into this industry, too," Bacon says. "We have guys that find out about this industry and pivot their education so they have a chance to enter this industry."
Clear paths like that are invaluable for exiting servicemen, says Meritor Product Manager Jay Urban, a fellow Army veteran.
Urban says government Veterans' programs offer guidance to help enroll in college courses, or provide assistance to help point veterans toward job boards and open listings. Urban says it helps, but it's not nearly as all-encompassing as what organizations such as Wyakin and Cameron Brooks [the group that helped Urban] hope to do.
"Anyone who works with organizations like those two—that's not only the simplest way but it's also probably the best way to actually support military veterans," he says. "Because there's a breach there [regarding how career information is distributed to veterans]. Those groups help fill that gap pretty effectively."
With just one hire, Meritor's commitment to Woodard and Wyakin has created hope for dozens of injured and disabled veterans. And Woodard says he knows first-hand how life-saving that can be.
"It's given me hope," he says. "Wyakin and Meritor have given me a purpose in life that I didn't have before, and I'm extremely grateful for that."
Woodard's path to Meritor indirectly began when he enlisted in the U.S. Army after high school in 2004.
A native of Sylva, N.C.—a rural community near Great Smoky Mountain National Park—Woodard says his decision to enter the armed forces was a pragmatic one. He didn't like the potential future he saw for himself in his hometown and saw the Army as stable, responsible career.
He was assigned to the 82nd Airborne Division and quickly found himself in Iraq. He would do three tours there totaling 25 months, only to later be sent back overseas a few years later to Afghanistan.
While there, Woodard served as a company intelligence team leader, heading an isolated division tasked with gathering information and reporting back to the rest of the U.S. forces on the ground in the region.
To say the position was intense wouldn't begin to do it justice.
Woodard was leading a unit in an unstable region. He put his life on the line for his country daily, and after 12 months, he was finally sent home.
He would spend his final days in service at Walter Reed Army Medical Center in Washington, D.C., leaving the facility on Feb. 6, 2012, and was officially granted his medical retirement on May 22, his birthday.
The moment was bittersweet.
Retirement meant Woodard would no longer be sent back into active duty. His combat days were over. He'd never be asked to put his life in danger in service again.
And yet, after eight and a half years, he had no idea what to do next. He had experienced horrors and trauma most Americans couldn't imagine, but everything he'd done in the military had been for a clearly defined purpose.
Now he had none. And with a wife and two small children, Woodard says he was overcome with fear about what to do next.
"I re-enlisted twice," he says. "I liked being an infantryman. I liked jumping out of airplanes. I remember thinking 'I get to do this forever?' but that didn't pan out."
The one thing he did know was that he wasn't cut out for the urban gridlock and congestion of D.C.—"I really didn't want to be around people"—so he and his wife Annie packed up the family and headed west.
Their manifest destiny trip eventually led them to Idaho, and Woodard enrolled at Boise State University.
"It was maybe two and a half days and I dropped it," he says. "I went to the V.A. and told them 'this wasn't panning out.'"
But while on the way to formally withdraw from school something incredible happened. Woodard bumped into two leaders of the Wyakin Warrior Foundation, and over time, they convinced him to give school another try.
"I got a semester in and started to get the hang of things then I tanked again. I went off the rails pretty hard," Woodard says. "But oddly enough, Wyakin was there again."
It was time to sign up.
"I was hesitant about veteran programs, but they had helped me again," he says. "I thought 'Both times I've failed, Wyakin has been there to help. And I'm not even admitted to their program yet. Maybe I should look into it.'"
Woodard was accepted to the program and got back into class only to stumble again a third time. The uncertainty that had been plagued him since his military career ended had enveloped him.
"I was kind of done. I was done with life," he says.
He was temporarily hospitalized but quickly began recovering. The day he left the hospital, "Wyakin was there to pick me up."
Woodard was again re-admitted to school and provided a support system of mentors and fellow veterans. The encouragement and support was life changing, he says. With the constant support of his family and the Warriors, Woodard graduated last spring with a degree in history.
Not long after he was introduced to the heavy-duty aftermarket.
"It was going to be about a year before I was going to start law school, and [former Wyakin Executive Director Todd Monroe] came up with the idea to get me out talking to people from some of these different industries that were out there to see if we could find a fit for me," Woodard says.
Monroe introduced Woodard to Meritor, and Speed specifically, a few weeks later. The duo quickly developed a professional mentoring relationship.
"We started by having a call every month," Speed says. "It was really just focused on his career path. What was the career path he wanted? Then trying to identify his skills and talents."
Early on the two addressed the allure of a law degree, but with each passing call Speed says Woodard became more open to pursuing a career in the business world. Eventually Speed says it became clear that if Meritor wanted to hire a Wyakin Warrior that Woodard was a perfect fit.
Cue the Florence recruiting trip.
"For Meritor it's been a huge win," says Speed. "Everybody loves him here and thinks very highly of him, and I knew they would. I got to know Brandon pretty well and I knew he'd do really well."
Speed says Woodard will spend six months to a year working in three different departments (distribution, customer care and product strategy) to become familiar with all aspects of Meritor. After he's completed the loop he'll be moved to the division and position where he is most comfortable, and has the highest likelihood of long-term success.
"I see Brandon as a potential leader within our organization. He has great leadership qualities. I want to nurture that, but I want to do it in a way that he first learns about the business," says Speed.
Woodard says his first two-plus months have been a blur. He admits he's been overwhelmed at times, but says the Meritor team has been incredibly patient and supportive as he's learned on the job. And thanks to encouragement from Speed and a welcoming culture in Florence, Woodard has been able to build relationships quickly. He says that's helped him stay active since Annie and his now four children—Urijah, 7; Rueger, 5; Kinsley 2; Orrin, 11 months—are still in Idaho until June 7 finishing the school year.
He's also stayed plenty busy with his first assignment in distribution.
In some ways he says it's like being back in the service. Woodard says he's given a list of tasks that need to be completed at the beginning of his shift each day, and then works with his team to develop an action plan to efficiently and safely complete each task.
"There's still that competitive edge to it," he says. "You still have that adrenaline rush and you still have deadlines you have to meet and impossible tasks that are placed in front of you that you have to achieve."
"There are many things in our business that are very familiar to the military that I don't think he realized," adds Speed. "He's said 'It's so much like the military. I've got a team, I don't want to let them down. We count on each other. We have a mission to complete,' and he's really liking that."
It's that success that makes both Meritor and Wyakin eager to give another veteran a similar chance.
"Our industry is facing a talent gap, and as more and more people age out of this industry, the younger generation just isn't entering our industry. They just aren't. And yet you've got this great resource of very dedicated, self-motivated and disciplined individuals that if we can go grab them and bring them in to our industry, I think it's a huge win for us," Speed says.
Bacon agrees, adding, "We want to start this engine of supply and demand between Wyakin and the aftermarket community so that organizations that need employees … we can be that interface to start bringing veterans into this industry.
"Because it's such a great industry."