The following comes from the May 2016 issue of Truck Parts & Service. To read a digital version of the magazine, please click the image below.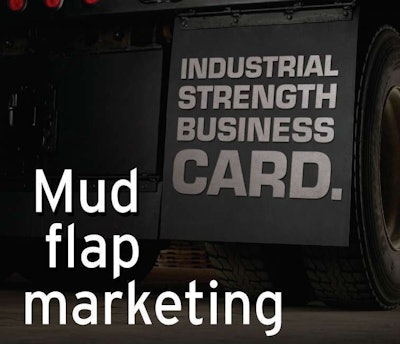 Spend 15 minutes on a busy highway and you'll see a half dozen of them. Fleet and truck dealers will be well represented. So will used truck lots and modification centers.
Seems like everyone is getting into the customized mud flap business.
Which begs the question, why haven't you?
Customized mud flaps offer a low-cost, low-effort and high-reward marketing opportunity. Mud flaps are products customers want, need and use. And thanks to their universal presence on North American roadways, mud flaps with messages can reach customers anywhere at any time.
For aftermarket operations hunting for more business, offering customized mud fl aps is the perfect grassroots marketing campaign.
Never was that more obvious than during the heyday of CATCO Parts & Service.
CATCO spent almost two decades outfitting its customer's trucks with customized mud flaps and became one of the more well-known Midwestern distributors because of it. The company exited the market four years ago when it was sold, but thanks to its mud flaps, recognition of the CATCO brand endures.
"I still travel the country a lot, and I think I saw maybe six or seven sets of them during my last road trip," says former CATCO executive Dave Gerdes. "It's great that there are still some out there."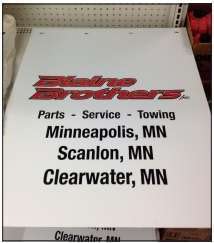 Other distributors have since taken up the torch in hopes of gaining similar levels of brand awareness.
Dean Dally says he's starting to see it pay off at Blaine Brothers.
Now the second-generation owner of Blaine Brothers, Dally says his father toyed with idea of mud flap marketing many years ago. The older Dally decided against the move at the time, but in recent years Dean decided to go for it. Dally wants Blaine Brothers to be an eminently recognizable name in its marketplace, and mud flap marketing is helping the company achieve that goal.
"We have them for all four of our different companies. I think they're a good thing," he says. "Ours are very nice looking and I think they are good at grabbing people's attention."
Which is exactly the idea. Once they enter circulation, customized mud flaps work like rolling billboards. Customer vehicles become a fleet of trucks out promoting your business.
"It's really no different than a car dealer who puts the [branded] license plate cover on any car he sells," says Steve Taylor, vice president of medium-duty at Rush Enterprises. "It's a branding tool puts your name out there."
"They are an extremely inexpensive way to spread the word on your business," adds Steve Hansen, director of corporate accounts at Minimizer, which produces customized mud flaps. "Whether you're parked outside the jobsite or driving down the road, people will notice."
For customers within your marketplace, mud flap marketing provides reassurance. It keeps your business in their sights and minds so they remember who to call when something goes wrong.
That's what Blaine Brothers is going for, Dally says.
"Just the name recognition for the driver alone" is valuable, he says. "He becomes familiar with us because he's seen our name time and again. When he's looking for service he sees us and knows 'I've seen that name before.'"
"I think it worked for [CATCO] because if you knew who we were, and we were constantly putting that logo in front of your face, you knew to call us," Gerdes says.
And because they're seen by everyone, mud flaps also reach potential customers who might not have otherwise known they even desired your services, such as farmers and small business owners.
Each new customer is just one internet search away, Hansen says.
"With mobile devices, it's never been easier to simply Google-search a company and start doing business," he says.
Mud flap marketing also works like a customer testimonial. Gerdes says customers aren't going to drive around with your business on their truck if they aren't pleased by your performance. Their acceptance of your brand on their vehicle shows they're willing to place their trust in your business.
"We had a great reputation. Our customers thought we were a good company," he says. "I don't think it would have worked as well otherwise."
Including mud flaps in large parts or service purchases also provides customers an excellent value added service. Free hats and jackets are great ways to promote a brand, but a mud flap does the same while also addressing a customer need.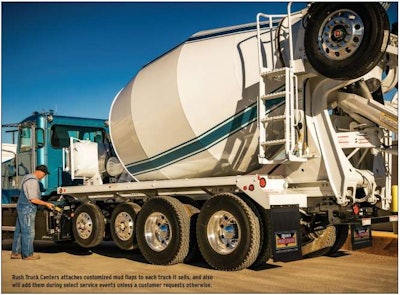 A mud flap is a gift customers can use. Taylor says employees at Rush Truck Centers are allowed to giveaway mud flaps to customers when they perceive a need. He says most accept the mud flaps, and appreciate Rush's assistance.
"It's nice to be able to be able to help them out," he says.
Blaine Brothers does the same thing, and will throw in a free set of mud flaps for customers who spend a set amount in any one purchase, or as part of a promotion. The added products provide a positive coda on what was ideally already a helpful experience for the customer.
"Customers like getting stuff for free. Especially stuff they can use," Dally says.
And then there are financial benefits. Mud flap marketing isn't the cheapest form of promotion, but it's hardly cost prohibitive. Most mud flap manufacturers charge a one-time fee to create a customized mud flap template, then a nominal fee for each shipment of flaps.
Taylor says the per-unit cost for a customized mud flap for Rush Enterprises is one of the company's most economical marketing commitments.
"With the number of trucks we sell, it's very inexpensive," he says.