The following comes from the May 2016 issue of Truck Parts & Service. To read a digital version of the magazine, please click the image below.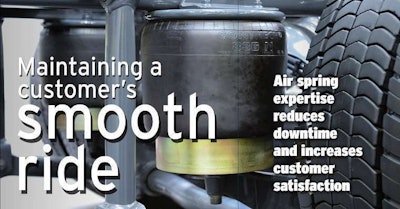 Driving across damaged roadways are an unfortunate way of life for many truck drivers. But while cracked roads and potholes increase the potential of a bumpy ride, it typically takes a mechanical failure for every vibration caused by poor road conditions to reach a driver and their cargo.
One failure in particular that can make for a rough ride is a non-functioning air spring.
As one of the key components in an air suspension system, air springs aid in cushioning a suspension against extreme duress to provide a steady, smooth ride across any surface. Today's air spring manufacturers use highly fl exible and robust materials to build these springs, and in optimal conditions many last more than 500,000 miles.
But that longevity doesn't make the components impervious to damage.
Severe operating conditions, roadside debris, driver error, system malfunctions and foreign material buildup are among the factors that reduce the life of heavy-duty air springs.
"Manufacturers can make the greatest products the world but if [vehicle owners] never look at them and take care of them they can fail," says John Hilkirk, aftermarket sales manager at ContiTech. "Air springs are like anything else. They have a life cycle and it needs to be observed."
By offering comprehensive air spring inspection and maintenance services, aftermarket facilities can help customers reduce these risks, and allow their drivers to maintain a smooth ride for years to come.
Regular inspection by drivers and service providers is the first step in avoiding air spring downtime.
The Technology & Maintenance Council (TMC) says in its Recommended Practice 643A, "Air-Ride Suspension Maintenance Guidelines," that drivers should include a succinct spring and suspension visual check during any pre- and post-trip inspection.
Hilkirk says if daily isn't an option a weekly checkup should be considered. "That doesn't necessarily happen but that's our suggestion," he says.
Those brief checks should then be supplemented by comprehensive spring and suspension inspections, scheduled based on duty cycles and operating conditions.
This is where aftermarket businesses can showcase their expertise.
Manufacturers advise severe-duty and off-road equipment be extensively checked every one to two months, and all equipment regardless of duty cycle be fully inspected at least twice a year.
Routine inspections, "according to a pre-determined mileage maintenance schedule will extend the life of the vehicle, provide consistent ride and handling characteristics during use and reduce overall maintenance expense and downtime," says David Brinkman, segment business leader, Air Springs, at STEMCO.
Whether part of a PM or as a separate maintenance event, these inspections should be all-encompassing.
"We are working to train technicians to inspect the entire suspension system," says Shane Crook, product manager, heavy-duty at Firestone Industrial Products. "Sometimes technicians can get a little myopic and focus too much on the spring but you can't just check them."
For service providers building a comprehensive suspension inspection procedure, the air spring examination requires a few key steps.
Crook says Firestone advises technicians to first check the outside diameter of an air spring for signs of damage, irregular wear and heat cracking. Being thorough is a must, adds Adam Diecks, marketing director at Point Spring & Driveshaft.
"Our process for inspecting air bags includes looking for cracking or dry rotting of the rubber, checking for rub marks on the bellows, making sure there are no cracks in plastic bases and that there is no oxidation or deterioration of aluminum bases," he says.
Air lines and the air spring piston should be checked next — air lines should not come in contact with an air spring, RP 643A says — followed by the spring's ride height, leveling valves and shock absorbers.
The latter is incredibly important, says John Messina, president at Tampa Spring.
"Nobody ever wants to hear about shocks, but they have a lot do to with air springs," he says. "We see a lot of springs that are damaged because of bad shocks."
That's why Messina trains his technicians to find the root cause of any failure discovered during an air spring and suspension inspection. Tunnel vision on a damaged air spring may get a customer back on the road quickly, but it won't always eliminate their problem, he says.
"It's easy to replace an air spring but you can't just do that," he says. "You have to inspect the entire system and see what caused the spring to fail. It's not always from road debris or something simple."
Mounting hardware should be checked next; then the entire air spring should be cleaned.
Spring manufacturers advise technicians remove any hydraulic oil, road debris and foreign materials found on the exterior of the spring, shocks and leveling valves. Firestone has approved soap, water and a trio of alcohols (methyl, ethyl isopropyl) as cleaning solutions for its air springs, but advises against the use of organic solvents, abrasives and direct pressurized steam cleaning.
Proper scrubbing of each component and "clearing any debris from between the flex member and piston will help prolong the life" of the spring, says Brinkman.
Soapy water also doubles as an air leak detector when applied to all air suspension line connections, valves and springs, as "bubbles at any point in the air system reveal a leak," RP 643A says.
"When you see bubbles that means the spring has been through an overextension situation," Hilkirk says.
And any component found damaged at any point during the inspection should be immediately replaced.
Fortunately for customers and service providers alike, replacing an air spring is a straightforward repair, says Gordon Botts, president at Botts Welding & Truck Service.
The first step is to lift the tractor or trailer by its frame to take weight off the spring. Once that's completed air fl ow can be cut to the spring, allowing the bag to become loose in its position.
From there a technician can disconnect the attached air lines, and begin loosening the bolts holding the spring to the suspension.
"You can typically get a spring out in just a few minutes," Botts says.
After the spring is removed the same steps are repeated in reverse to install the new component, making sure to follow any additional OE guidelines where available. Messina says the most commonly missed step in this process is improperly torqueing the bolts that hold the spring in place.
"One real problem is when techs tighten nuts with an impact wrench instead," he says. "There are torque specs for a reason and they need to be followed."
"We see a lot more failures due to overtightening than under tightening," adds Botts. "Overtightening stretches the fasteners and they lose their strength."
Any other components found damaged during the inspection should be replaced at the same time. And ideally, in pairs.
Both manufacturers and service providers agree when one part is found to be damaged, it is best to replace the corresponding unit on the other side to provide the customer uniform performance when leaving the facility.
"It may not be necessary to replace everything, and we wouldn't recommend that, but we do recommend replacing the opposite side because of load distribution and performance," Crook says.
Only when a customer specifically refuses an additional repair should it not be done, which Botts says unfortunately happens more than he'd like.
"We try to encourage guys to replace them all at one time, like they would their tires," he says. "But in all reality we seldom get them to replace more than one … They just think if another one blows they'll limp in and get it replaced next."
The last step in the repair process is aligning the entire suspension system to sync up the components so the truck can get back on the road.
"That's when you know you've finished the job," Messina says.