The following comes from the May 2016 issue of Truck Parts & Service. To read a digital version of the magazine, please click the image below.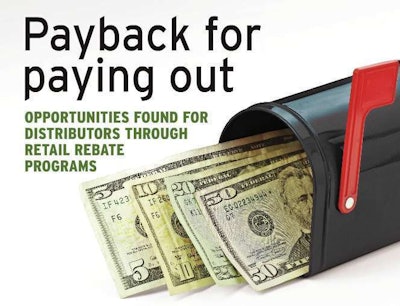 There are few sales tactics more ubiquitous in wholesale distribution than rebates.
Most commonly used by manufacturers to drive sales outward through a distributor network, rebates require customers to meet or exceed specific parameters set by a seller in order to achieve discounted prices.
In the aftermarket, rebates are a way of life.
Manufacturers offer them in many shapes and sizes, and distributors, service providers and their buying groups delegate significant resources to rebate management.
But rebates aren't required to function solely to facilitate business-to-business supply chain transactions. They work at the retail level as well.
And while not without its challenges, developing retail rebate programs can offer aftermarket businesses a valuable tool to stimulate sales, increase revenue and improve customer engagement, says Chexx Inc., a multi-national payout services firm.
"Not only do rebates create a higher level of customer satisfaction, [they] also help companies steer customers toward buying specifi c items or shopping at a certain store," Chexx says.
Most retail rebate programs are built around one of two parameters, a quantity threshold or a customer engagement requirement.
Quantity-based rebates are nearly identical at the manufacturer-to-distributor and distributor-to-end user levels. Built around volume selling, these rebates incentivize customers to buy often and/ or in bulk. These rebate programs require active documentation for sellers, but are ultimately the simplest rebates to redeem.
Customers who reach a volume threshold are rewarded. The rest are not.
Loyalty programs fall into this category.
Customer enticement rebates are more sales based. Distributors offer products with a post-purchase discount, and customers gain access to said discount once they provide a specific information requested by the seller.
These rebates boost top-line revenue by maintaining higher up-front pricing for ultimately discounted items, and by motivating customers to make purchases through lower total purchasing costs.
Regarding the former, selling 200 units at $75 with a $15 rebate moves gross sales totals higher than selling the same product at $60. And that doesn't even account for the rebate return process. Customers that commit to a $75 price but fail to follow through and redeem an available rebate push net sales higher than a simple $60 sale price.
A 2009 Consumer Reports survey uncovered that while 47 percent of retail shoppers always redeem rebates; another 25 percent never complete a redemption form.
Rebate enticement comes from customers who purchase a product specifically due to the available price savings.
Using the example above, a price-conscious customer who typically purchases a unit for $70 from one distributor may be enticed to purchase elsewhere for $75, in order to capitalize on a 20 percent rebate.
Rebate programs are "all about incentivizing," says Dave Lindeen with Corcentric, a business-to-business process efficiency and consulting company. "When done properly, both the buyer and the seller benefit."
Engagement rebates are most commonly used to clear out slower moving items.
Customers view rebate prices similarly to sales prices. If a rebate deal is good enough, most customers will at least consider making a purchase. The product doesn't have to be something the customer needs at that time; just something they could use in the future.

Redemption rates equal to or slightly above potential sale prices is typically the sweet spot for these products.
"Rebates are a strategic and tactical pricing tool. Every element in the price [structure] of a business should, therefore, be for a specific purpose," adds Colin Carroll, pricing expert at McKinsey & Company.
Another way rebates can move slow moving-inventory is by coupling multiple components into a single rebate. Pairing a high-volume item with a related product that moves slower can increase customer likelihood to buy the set, especially if the high-moving product is cheaper as part of the set.
The key here is again ensuring the rebate provides enough of a cost benefit for the first item to justify stocking the latter.
The potential to improve engagement through rebates is found within the forced customer interaction.
"The real value of rebates is shifting from a marketing and pricing tactic to a customer engagement and understanding strategy," says Michael Hinshaw, CEO at McorpCX.
Most rebates require customers to communicate with a distributor and provide specific information. A rebate is a customer data acquisition tool built into a sale.
Hinshaw says that data must be managed very carefully. Many customers today are acutely aware their data is being harvested from a rebate requisition form. That makes some uncomfortable. Harvesting that data and using it to create customer engagement requires discretion and tact.
Data pulled from a rebate should be used sparingly, and only to the customers benefit.
A customer who has a positive experience completing a rebate is still uncertain to return; while a customer who has a negative experience is nearly guaranteed to never come back.
"Dissatisfied consumers will have no problem finding other organizations to do business with," Chexx says.
Rebate functionality makes a difference here as well. Mail-in rebates are practical but antiquated. Phone and/or online rebate redemption systems are now available, and provide customers a much easier and more efficient experience.
"By digitally connecting all parties, data is accessible 24/7," Lindeen says. "That's not only good for the buyer, who is able to then claim the rebate within the timeframe and conditions required. It's also good for the seller, who can notify buyers when they are either close to achieving a higher rebate status or close to losing one."
The same can be said for eight-week redemption turnarounds. A customer submitting a form on Friday doesn't need a check on Monday, but improving redemption times is a sure fi re way to impress a customer.
And impressed customers are much more likely to be become returning customers.
"Ultimately, the goal for any company involved in business-to-consumer sales transactions is to deliver a pleasurable shopping experience for patrons," says Chexx. "Doing so will help the organization develop a positive reputation in the marketplace, one that will encourage others to shop and complete transactions as well."