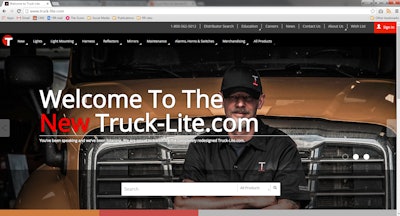 Truck-Lite Co., LLC, has launch a new, redesigned version of its website.
Truck-Lite says the new site was created with the user experience first in mind, incorporating powerful search and navigation technology. The result is an easy-to-use, intuitive website that is optimized for both desktop computers and mobile devices. Key features include a state-of-the-art navigation system, an enriched e-commerce platform, responsive design and a location-based, one-click distributor search, the company says.
"This important initiative focused on completely overhauling our existing website by creating a customer-friendly, accurate resource so that technical guidance and educated decision-making is available 24/7 for our customers," says Brian Kupchella, CEO at Truck-Lite. "We partnered with key experts to develop a site that is intuitive to users and delivers robust product information."
Truck-Lite says the powerful e-commerce platform is backed by an industry-leading product information management system, creating a single source of truth to ensure consistent product data across every medium.
"We totally redefined our product structure and rebuilt our data from the ground up," says Edwin Ludwig, Truck-Lite's digital marketing manager. "We are absolutely elated to offer this technology to our customers. From day one, our team set out to raise the bar far above and beyond industry expectations, always making sure to focus on the primary goal of functionally improving our customers' website experience. Truck-Lite can now easily provide our customers with complete product data and digital assets, including 360-degree photography of every catalog product, along with helpful merchandising association data."
Truck-Lite says it expects the dynamic search function and access to enhanced product support-including technical bulletins, product videos, FAQs and industry news- will dramatically increase consumer confidence. The site also provides 24/7 ordering for Truck-Lite's vast network of distributors.
"We understand that our customers need more information than ever to stay competitive and flourish in today's tech-driven marketplace, and we're really excited to deliver just that," Ludwig says.