The following comes from the June 2016 issue of Truck Parts & Service. To read a digital version of the magazine, please click the image below.
To read more articles from our special issue, please check out our TPSat50 archive page.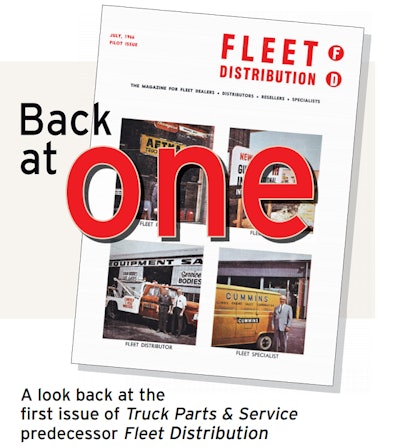 Right from the start, Truck Parts & Service knew its audience.
You see it in the titles of its first stories from the July 1966 pilot issue, then named Fleet Distribution: "Increase your fleet shop profits," "Specialist who has expanded in a special way" and "A fleet looks at his fleet distributors."
Nomenclature aside, there's no doubt who the magazine's target audience was from the jump.
And because we're celebrating our 50th anniversary, we thought it would be fun to go back through those first features and see if any of the advice provided in those pages remains applicable to our industry today.
Increase your fleet shop profits
The initial issue of Fleet Distribution was decidedly lacking on bylines and attribution. From what we can tell, this two-page feature was the result of an interview with someone at the Automotive Engine Rebuilders Association (AERA).
In it, the author and source address a multitude of product categories where service providers — referenced in the piece as jobbers and fl eet shops — can better serve end users and grow market share.
The first section of the piece provides tips for engine rebuilding and some guidance for performing brake jobs, but it is the latter half where the text seems most prescient.
Take this paragraph: "Over the years, there has been a dire need for more and more shops that could recondition transmissions and differentials and also exchange transmissions and differentials. These range from the 4-speed transmission up to 20-speed transmissions. It takes considerable time, material and money to rebuild these transmissions. It takes a lot of time if fl eets have to recondition them themselves. When one of the big units goes down, the fl eet is out of business with this piece of equipment until that transmission or differential is rebuilt. There is a lot of potential for the jobber shop in this area."
Can we 'ditto' this? Because all of it is still true.
Most small fleets and owner-operator customers still lack the skill and time to rebuild their own transmissions and differentials, and a significant number of them turn to the independent aftermarket for help. Fifty years after the fact and that paragraph is nearly word perfect to today's industry.
Then there's this snippet a few sentences later.
"In the eyes of the fleet maintenance man, the key man in your shop operation is the shop foreman or shop superintendent. The quality of work produced is dependent on his ability and his skills. His work requires much planning, follow-up and checking. His methods of control can prevent the costly comeback and customer dissatisfaction. Most important is his customer attitude. His telephone manners can either increase or decrease your shop work."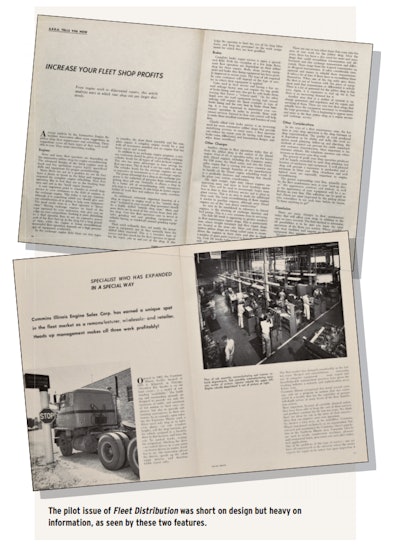 Truck Parts & Service attends task force sessions at both Technology & Maintenance Council (TMC) meetings each year, and we can tell you from listening to fleet managers addressing their woes — everything in the paragraph above is still true.
A bad shop foreman costs you and your customers. A bad shop foreman can turn business away, and a bad experience can turn a long-time customer into a former customer. That absolutely still matters.
Specialist who has expanded in a special way
If Fleet Distribution's first piece on shop profits looked at the industry more generally, this second piece proved to be much more specific.
Built around a tour of a Cummins Illinois Engine Sales Corp. dealership in suburban Chicago, this debut issue article offered real-world examples for how process improvements and best practices enhance turnaround time in a service facility.
And just like something you'd see in the pages of Truck Parts & Service today, this 1966 article led with a plug for technology.
Cummins Illinois' big productivity driver at the time was a new state-of-the-art intercom system installed at the entrance to its grounds. Drivers would stop at the call box when entering the facility and alert the shop to their service needs, and the shop dispatcher would immediately instruct the driver where to go next (service bay or parking spot) to eliminate yard chaos.
"No parked trucks waiting for assignment, blocking the drive … Needless to say, this innovation pleases the drivers, speeds up the whole repair process, and therefore, builds repeat sales."
It's still not a bad idea.
Service shops today continue to park trucks before they can be serviced so it makes sense to have a driver put their unit in the right space immediately, rather than driving to a service counter and blocking a throughway. An intercom would probably still do the trick, as would an email, text or audio alert sent to a driver before they even arrive with directions to a parking location.
Cummins Illinois also was on the forefront of service pricing in 1966 with its Cummins Illinois Fixed Price Program.
Similar to standard service rates we see today, Cummins Illinois' program featured standard labor and part rates for some of its most commonly performed repairs. The company said the program was developed to provide clarity for customers from the outset of a service event, and to reduce situations where a slow technician or late-arriving part would impact the final cost of a repair.
A half-century later these programs are necessities.
Service providers with inconsistent price estimates are a huge pain point for fleets. Most fleet managers at TMC say they accept service is costly and they're willing to pay for the best, they just like to know what to expect.
A fleet looks at his fleet distributors
Our first issue also featured an in-depth interview with Richard Kuether, who at the time was vice president at Fred Olson Motor Service in Milwaukee. Written for distributors as an insight into the mind of their fleet customers, this article offered a brief description of the Fred Olson fleet (382 units) before diving into Kuether's relationships with his dealers and distributors.
The article described Kuether's purchasing strategy as follows: "For some products such as replacement axles, [the fleet] tends to rely basically on one type of distributor. In this instance, they have found that on their International Harvester and Mack tractors, a genuine Mack and International Harvester replacement axle not only gives the best performance but allows less delay in securing a new replacement axle from local dealers."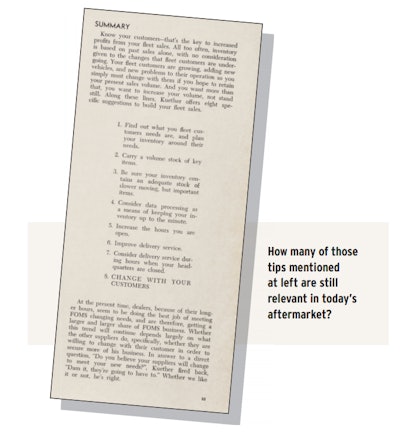 At the time that was a plug for dealers, but today it's easy to see how that quote could relate to the independent aftermarket. Changing like-for-like is a rallying cry for brand-house distributors everywhere, and Kuether was on board for the exact reason you'd sell a customer on the concept today. He wanted the best replacement part he could find.
And like today's customers, he wanted it as soon as possible.
"Availability — that's the key to getting our business," Kuether said. "There's more to availability than just having the part … Consider this — what happens on the second shift at 11 p.m., when four lamps are out on an interchange trailer and it won't pass inspection at the Wisconsin-Illinois border? Most jobbers have the lamps to get the trailer rolling, but unfortunately no local jobber will be open for nine hours, until 8 a.m., and the load on that trailer has been guaranteed overnight delivery. It can't wait nine hours and meet its schedule. Fortunately, most truck dealers in Milwaukee are open until midnight, so in this case, the dealers get the lamp business."
Kuether is speaking openly and candidly there. He doesn't care about price. He cares about downtime. With most aftermarket components, today's customers are the same way.
The article ends with a great list of tips from Kuether to the independent distributor. A fleets' list today would be surprisingly similar.
Find out what your fleet customers' needs are, and plan your inventory around their needs.
Carry a volume stock of key items.
Be sure your inventory contains an adequate stock of slower moving but important items.
Consider data processing as a means of keeping your inventory up to the minute.
Increase the hours you are open.
Improve delivery service.
Consider delivery service during hours when your headquarters are closed.
Change with your customers.