The following comes from the June 2016 issue of Truck Parts & Service. To read a digital version of the magazine, please click the image below.
To read more articles from our special issue, please check out our TPSat50 archive page.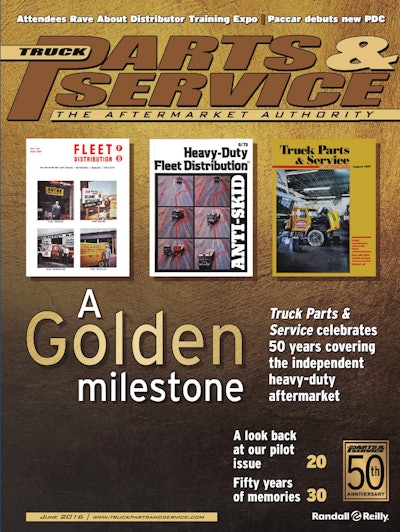 It was 50 years ago this month that production began on an ambitious new magazine for the commercial vehicle industry.
It wasn't the industry's first — trucking publications had existed for decades — but thanks to a unique focus and niche audience, it was undoubtedly groundbreaking. Named Fleet Distribution, the new magazine labeled itself as "the magazine for the fleet dealers, distributors, resellers, specialists."
Five decades and a few name changes later, Truck Parts & Service continues to be the only publication exclusively published for businesses operating within what is now known as the independent aftermarket. And as we celebrate its golden anniversary, now is as good a time as ever to tell the Truck Parts & Service origin story. Because while production on the pilot issue of what would become Truck Parts & Service began 50 years ago this month, the magazine's inaugural issue was nearly a decade in the making.
Jim Moss was only two years out of college when he first entered the trucking industry as an outside sales representative for Chilton Company in 1957. Chilton was a business-to-business publishing house, and thanks to the recently signed Federal-Aid Highway Act of 1956, the company was expanding exponentially in the trucking industry with its flagship publication Commercial Carrier Journal (now a sister publication to Truck Parts & Service).
Moss was tasked with drumming up business for the magazine, and within a year he had contacts at fleets and manufacturers throughout the Midwest. Not long after, he would embark on a project that would change his career and the trucking industry at large. Moss died in April at age 82, but Truck Parts & Service was fortunate to speak with him about his early career during a phone interview last August.
He described that life-changing project as follows.
"We were [all] asked to pick a town with at least 25,000 people, and then perform a survey about the trucking industry with all the businesses in the town that were in trucking. I was told it would help me learn the industry," Moss said. "I chose Anderson, Ind., which at the time was a big General Motors town."
The survey was more productive than Moss ever imagined.
Of course he learned plenty about his CCJ reader base and its supplier partners, but in doing the survey, he also was introduced to another cog in Anderson's trucking economy wheel.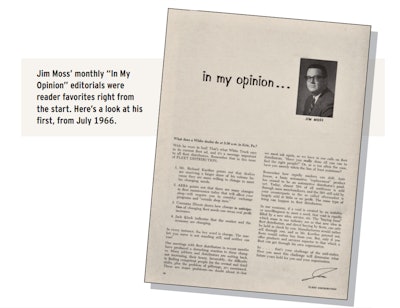 "I was going out and talking to a lot of truck fleets and manufacturers, but I also started meeting a lot of people who were in the trucking industry but weren't employees of either of those other groups. And I started meeting a lot of distributors of whom I was not familiar … So I went back to [my boss] and told him I had stumbled across something. A breed of parts distributors I didn't even know existed," Moss said.
The revelation led him to keep investigating, and sure enough, with more research, Moss said he found more distributors.
In an effort to leave no stone unturned, Moss had unearthed a completely overlooked section of the trucking industry.
"The entire business existed right under my nose," he said.
He didn't want to let his discovery go to waste. He scheduled a meeting with his bosses at Chilton and pitched them on a new magazine for this newly discovered market.
"They had no interest at all" in starting a publication for such a small market, Moss said.
But he didn't give up. He kept researching, kept learning more about his find, and not long after he'd managed to amass a network of distributor contacts he could use to turn an investor's head.
And it worked. On his father.
"I borrowed the money I needed and went heavily into debt but that's what it took" to get the publication off the ground, Moss said. "I was editor, publisher, salesman, chief bottle washer, floor sweeper … you name it."
Moss said his first issues were more newsletters than magazines. Producing a publication of any length is difficult, but doing it solo is nearly impossible. Moss said his work came out when he got it done, and was delivered to the people who asked for it.
But in spite of his challenges Moss succeeded. His work was impressive; and not long after advertisers, and even a publisher, stepped forward to help out.
Then, in July 1966, almost a decade after Moss's enlightening visit to Anderson, Ind., the first mass-produced, publisher supported Fleet Distribution was released to the trucking industry.
Marketed on the cover as "the magazine for the fleet dealers, distributors, resellers, specialists," Moss was direct about who he wanted to reach, and help.
"My position at the time was these people were different [than fleet readers] and had a different set of needs," he said. "No one was catering to their part of the industry."
Among the articles in the pilot issue of Fleet Distribution was a piece on new truck build rates, a profile of a Chicagoland fleet that addressed the carrier's biggest pain points when acquiring parts, and a feature with an engine dealer who had developed a best practice for checking in customers' trucks in its service department.
All three would be just as at home in Truck Parts & Service today.
And the aftermarket took notice. Moss sold nearly two dozen industry suppliers as advertisers into the pilot issue off sheer enthusiasm. Once the issue was published, others followed in droves.
Three years later Moss and business partner Bud Reese purchased Fleet Distribution from its first publisher and founded Kona Communications. It would be the duo's only publication for nearly a decade, before adding Successful Dealer in 1978.
"We were never affiliated with anyone else," Moss said.
That freedom allowed Truck Parts & Service to grow and evolve in lock step with its industry. Moss retitled the magazine Heavy Duty Fleet Distribution in June 1970, and knocked fleet from the title a few years later.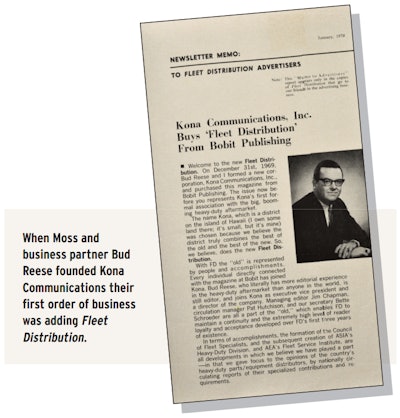 Each title change was a reflection of the magazine's readers and its market, Moss said. As the trucking industry became more 'heavy-duty,' so too did Fleet Distribution readers.
The magazine's biggest change on that front came in 1987, when Moss and company celebrated 21 years in the aftermarket by debuting Truck Parts & Service.
"The magazine's name is being changed to reflect the emergence of the truck parts and service business as a separate and distinct market," the magazine informed readers on its June 1987 cover. "With over 81 percent of our readers now operating service facilities, the name change is the last step in repositioning the magazine and defining its market coverage."
The magazine's widening focus on service would only continue to grow through the 1990s, so much so that in the early 21st century Moss was questioned by industry colleagues about the long-term viability of independent distribution.
Never bashful about sharing his opinion, Moss responded with emphatic support of the independent distributor. He debuted the Truck Parts Distributor of the Year award in 2002 as a way to honor the industry's most influential and successful distributors (Dave Scheer and Inland Truck Parts won the first award), and 14 years later the Distributor of the Year program continues to follow his lead.
It has done so the last nine years without him.
After five decades in trucking, Moss retired and sold Kona Communications and its publications to Randall-Reilly in 2007.
"Change is inevitable, and all any of us can do is try to manage that change in order to produce an improved product. I'm absolutely convinced that this change for Kona will do just that — produce a better Truck Parts & Service for you each month," Moss wrote at the time. "We are no longer a big fish in a small pond. Our pond just got a whole lot bigger. And you, our readers, will be the winners."
And as we celebrate Truck Parts & Service's 50th anniversary, we hope you feel the same.
Buoyed by Moss' early guidance and Randall-Reilly's current expertise, Truck Parts & Service is well positioned to continue serving the independent aftermarket for years to come. The magazine maintains strong relationships with sources throughout the industry, is an active sponsor of Heavy Duty Aftermarket Week (HDAW) and the Commercial Vehicle Solutions Network (CVSN) Aftermarket Distribution Summit, and will announce the finalists for the 15th annual Distributor of the Year award next month.
We thank you for five decades of loyal readership, and look forward to continuing our relationship for another 50 years.